Photos Courtesy of Ron Hall, Pepperdine University
California Gov. Jerry Brown Jr. was the featured speaker at Pepperdine's annual School of Law Dinner on Friday, March 3. He spoke about the importance of education and the law.
The annual dinner was held at the Beverly Hilton to celebrate the success of School of Law students and demonstrate the school's progress and commitment to the Pepperdine mission.
"You need rigor in your education, but rigor alone is not enough," Brown said in his speech. "If it is only rigorous, it leads to paralytic death. You need imagination, but if all you have is imagination, you have insanity. If you link imagination and rigor, I think you get Pepperdine School of Law."
Pepperdine President Andrew K. Benton said he believes the Pepperdine School of Law is unique.
"Every outstanding professor, every administrator and every dollar at this school is dedicated to giving our students both the legal and moral grounding to be successful servant leaders in the legal field," Benton said during his speech at the dinner. "The moral part of that is significant because it speaks to the values that differentiate Pepperdine from every other law school."
Gov. Brown was first elected governor in 1974 and re-elected in 1978. He was elected to a third gubernatorial term in 2010, and to a historic fourth term in 2014.
Since returning to the Governor's Office, he has helped eliminate the state's multi-billion dollar budget deficit, spearheaded campaigns to provide billions of dollars in new funding for California's schools (Proposition 30) and established a Rainy Day Fund to prepare for the next economic downturn (Proposition 2), according to a university press release.
Brown was introduced at the dinner by Rick Caruso, a well-known civic leader, philanthropist and Pepperdine School of Law graduate.
"Becoming governor, coming out of the great recession of the state of California is sort of like being named the captain of the Titanic after it hit an iceberg," Caruso said while introducing Brown. "It's a tough job, but the governor stood the test of time and he weathered the storm."
Brown began his speech by telling the Pepperdine law students, faculty, alumni and donors that Pepperdine's mission reminds him of the mission of the college he attended.
"As I read the vision of George Pepperdine, it is very similar to the vision of the Jesuits from Santa Clara," Brown said. "To mold students for a Christian life and the mystic undertaking creates bonds that are very hard to describe, but are impossible to forget."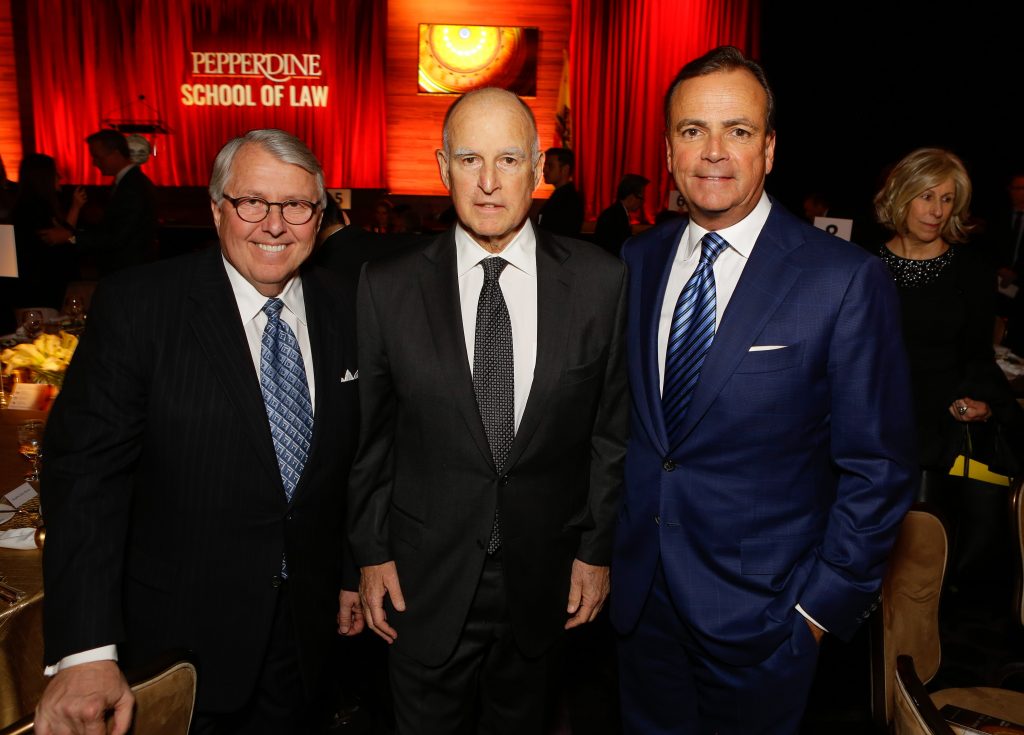 Brown said he noticed the audience is "a little more conservative" than other audiences he has addessed. He told the audience to relax because political categories are subject to change.
"My father used to be a Republican, and then he became a Democrat. And Ronald Reagan used to be a Democrat, and he became a Republican. So relax," Brown said.
Brown said he has "deep connections" to Pepperdine. He said that as an attorney, he and his partner Bill Norris actively opposed a proposed nuclear power plant that was going to sit very close to the Malibu campus.
"I'm almost an alumnus," Brown said.
He said he found law school exciting when he attended Yale Law School, but he did not pay much attention.
"I didn't find studying for the bar exciting," Brown said. "In fact, I found it so boring I often would fall asleep, and as a result, I flunked the bar the first time."
Law student Gregory Holm said he enjoyed hearing the governor speak at the dinner.
"it was well spoken and it wasn't very political," Holm said.
Brown's speech covered three aspects of the law: education, political reform and crime.
"Education is not something you can order up from a distance," Brown said. "It's lighting a fire, and you have to inspire the students and that's the teacher in his or her own creative presence in the classroom."
Brown spoke about the Political Reform Act of 1974 that he co-authored. The act regulates campaign finance, lobbying activity and conflicts of interest.
Part of the act stated that if a person owns property within 2500 feet of a project, a conflict existed.
Brown said he owned a loft in downtown Oakland when he was elected mayor of the city. The loft was within 2500 feet of the area he wanted to revitalize, so he would either have to break his campaign promise to redevelop downtown Oakland or he would become a criminal. He decided to litigate in court, where he invalidated a rule he helped create.
Brown's final topic of the night was prison overcrowding. He spoke about why he supports Proposition 57, which passed last November. The proposition provides certain inmates an opportunity for parole after serving a certain base term.
Brown said that inmates have "no incentive to avoid breaking the rules, to avoid taking dope, to avoid the gangs, to avoid violence," when they have a fixed term.
The idea of redemption fits "very well" with the whole notion of a Christian law school because the whole essence of Christianity is redemption, Brown said.
___________
Follow Bryce Hanamoto on Twitter: @bryce_moto