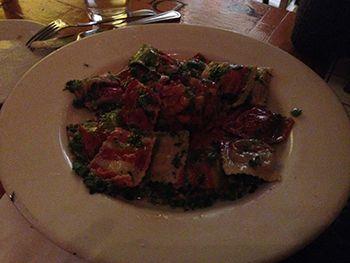 Photo by Corina Mun
Located on a residential corner in Santa Monica, Fritto Misto stands as the bustling, welcoming establishment on a block of otherwise quiet apartment complexes and empty parking lots. Though we arrived relatively late for dinner — around 9 p.m. — the cozy Italian restaurant was still crowded and filled with jubilant people who had obviously enjoyed their meals, which immediately made us excited about our spontaneous decision. Though its interior is relatively small — the entire restaurant consists basically of two medium-sized rooms — we were seated within ten minutes and our orders were taken shortly.
The menu boasts about 30 choices of pasta, which is, of course, their specialty as an Italian restaurant. There are plenty of vegetarian options as well. We opted for a large order of calamari ($10) to share as an appetizer, which ended up being nothing out of the ordinary and just enough for three people. As for our main entrees, we chose to try the chicken marsala ($14.50), the jumbo ravioli ($13.75) and the mushroom jalapeno ravioli ($11). The chicken marsala consisted of two boneless, skinless breasts along with sauteed mushrooms in a marsala wine sauce, served on a bed of linguini. The wine in the sauce was a bit overwhelming at first, but overall it complimented the saltier tastes of the mushrooms and the chicken. The jumbo ravioli came stuffed with prosciutto, mortadella and chicken, in a pool of garlic cream, caramelized onions and sun dried tomatoes. There was more than enough sauce to go around, which made the already savory dish burst with various flavors, from the cheesiness of the ravioli to the sharpness of the onions. The mushroom jalapeno ravioli, our vegetarian option, included fresh cilantro, fresh jalapeno, olive oil and pico de gallo, which served as a fresh juxtaposition to the thicker, more oily pastas that we ordered.
All in all, we decided that the dishes were almost incomparable, as they each offered a very unique flavor. The pastas all come in extremely generous portions; in fact, one of the very few qualms that we had was that the pastas were a tad too heavy for our liking. A variety of homemade desserts, baked in-house, also tempted our taste buds, but we decided that the entrees had filled us up quite well. I would highly recommend this for Italian food lovers, especially because the restaurant is a nice balance of traditional and fusion — the homemade flavor tastes undeniably Italian, but some of the ingredients mixed into some of the dishes (pico de gallo, for example) are definitely unconventional and make for a different twist in your meal.
A plethora of options awaits you, so try this restaurant out for yourself, depending on what you like and don't like in your pasta. The waiters and waitresses are very warm and friendly and will be glad to give you recommendations. Parking may be difficult, as there are only a few spots exclusively set aside for the restaurant in a backlot, but there should be plenty of street meter parking if you don't arrive during the climax of the dinner rush. Fritto Misto is only about a half hour from campus and is located on 601 Colorado Ave. in Santa Monica.
__________
Follow the Graphic on Twitter: @PeppGraphic
As published in the Nov. 7 issue of the Pepperdine Graphic.