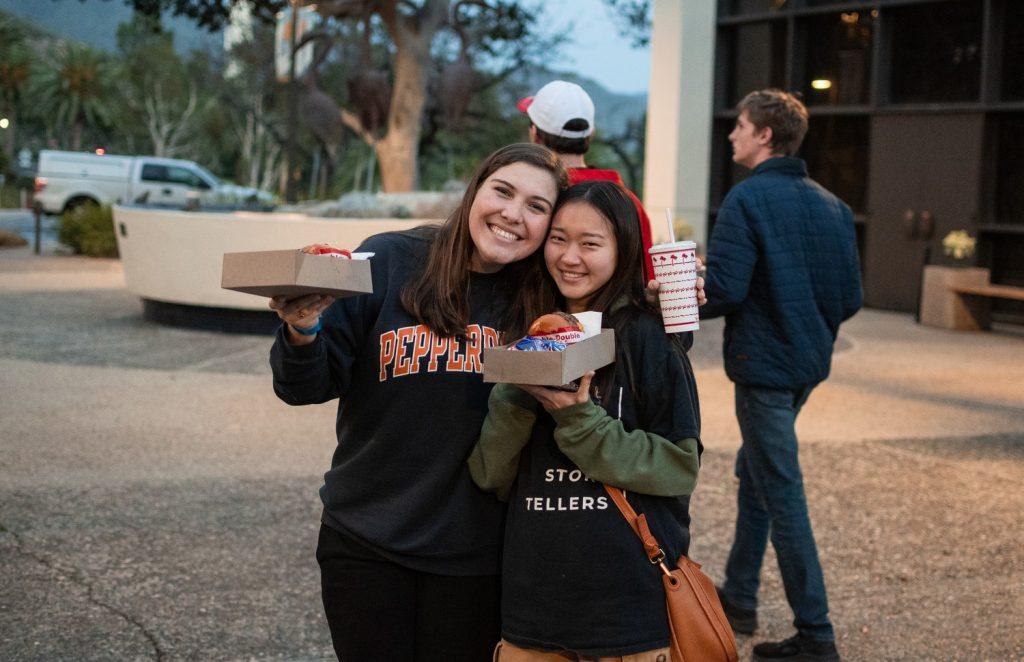 Seniors Katie Price and Claire Lee smile by the Stauffer Chapel. Spring NSO included a catered In-N-Out truck that they could enjoy. Photos by Lucian Himes
Raindrops and New Student Orientation leaders greeted incoming students expecting sunny skies at Pepperdine's Spring NSO on Jan. 5. Due to the rain, many events which are usually outside were moved indoors, said senior Katie Price, senior and orientation coordinator.
On Jan. 4, orientation leaders and coordinators trained and prepared to welcome new students onto campus with welcome signs and name tags. NSO is a time for the University to welcome students into the Pepperdine community as well as get the chance to move in and get to know campus, according to the NSO website.
Over 100 spring admits attended the event, Price wrote in a Jan. 18 email to the Graphic. There were nine students on NSO staff — four coordinators, and five leaders.
"I think that there is almost a little bit more responsibility on all of the people that are helping out with [Spring NSO] because oftentimes spring admits don't feel like they belong or like they're getting the same experience that a lot of the fall students do," said Jada Jensen, senior and orientation coordinator.
The orientation coordinators first check students and parents in and explain details of the NSO programming, Jensen said. Leaders help students move in and lead Campus 101 — where leaders give students a tour of campus. In the tour, leaders show students locations like the CAC shortcut and the PLC, because people sometimes do not know where that is, Jensen said. Leaders also conduct parent panels where parents can ask them questions.
Jensen said, most importantly, leaders get to know everyone. For example, during breakfast, lunch and dinner, when leaders try to sit with the most students they can. She said leaders' biggest responsibility is making the students feel welcome.
"It definitely helped with the transition," spring admit and first-year Libby Hill wrote in a Jan. 17 email to the Graphic. "If I had jumped right into classes with no NSO, I would have been so overwhelmed. I am so grateful that we got to experience an NSO even though I was a spring admit."
Price said there is a difference between fall and spring NSO. Oftentimes, fall NSO has more students, so it's more high energy, Price said, while spring NSO focuses on helping with the transition.
"It kind of gives [NSO] a more approachable feel, where the new students can go up and just sit with us and hang out," Price said. "It is compacted and it is kind of go, go, go, but in [spring NSO's] culture, it's ingrained and made to be a more laid back loving, nurturing style, and less of like, 'Get hyped. You're in college,' style."
As a student, Hill wrote she felt the energy being radiated to her throughout NSO.
"My favorite part of NSO was the welcoming environment and joyfulness that every single person at NSO exuded," Hill wrote. "Everyone was so happy to be there! It was great to be around and made me really excited to be a Pepperdine student."
This allows for the NSO leaders to develop a closer relationship with the students in the spring, Jensen said.
"You kind of get to form a relationship that I can't really describe to you," Jensen said. "You get to be the person that they come to you for registering for classes, and I have multiple girls that have texted me throughout this week about asking for help with WaveNet and asking for help with courses and asking my advice about what [classes] they think they should take and not take."
New students and NSO leaders form these relationships during NSO and continue to grow them in the rest of the semester. Price said she experienced this on the first day of the spring 2023 semester.
"On Monday I had a kid who I sat with at NSO and he was like, 'Hey, do you mind if I sit with you?'" Price said. "I was like, 'Yeah come on,' so we ate breakfast together on Monday, which was sweet."
There is not an exact statistic how students liked it because the Office of Student Activities did not send a survey out, Danielle Minke, director of student activities, wrote in a Jan. 11 email to the Graphic.
One thing Hill wrote surprised her was the amount of people she met.
"I did not meet as many people as I would imagine you would meet during regular NSO, but I got to meet a lot of other transfers and spring admits as well as orientation leaders who gave us a lot of great guidance and advice about life at Pepperdine," Hill said.
_________________________________
Follow the Graphic on Twitter: @PeppGraphic
Contact Anezka Liskova via Instagram @anezka.liskova or email: anezka.liskova@pepperdine.edu