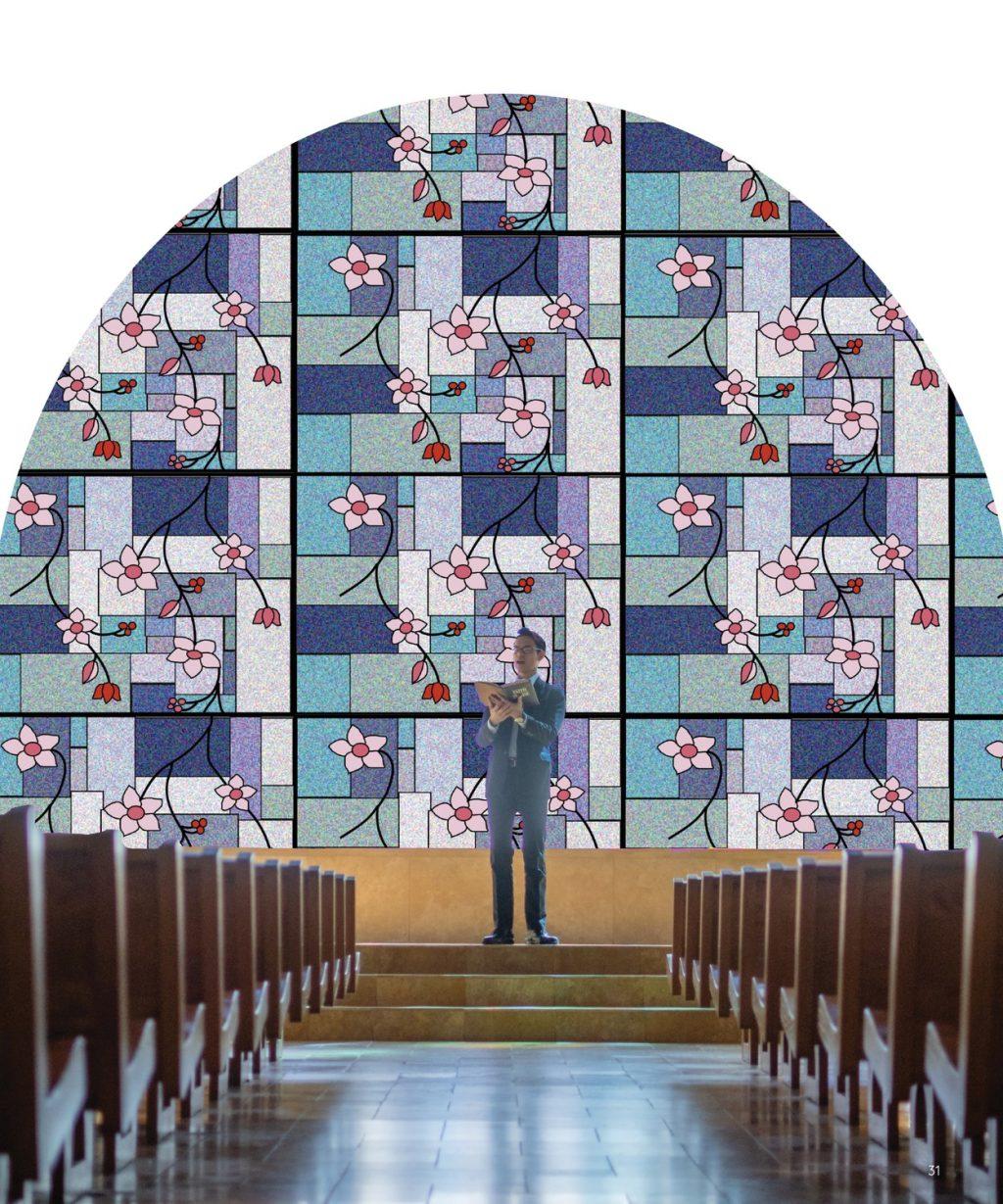 Sophomore John Silva is leading worship inside Stauffer Chapel. Photo by Lucian Himes. Graphic by Abby Wilt
Worship music — something that can be interpreted in several different ways while taking on personal meanings for different individuals.
Worship is defined as an act of praise, a prayer or a declaration, according to the Gospel Coalition. Worship can be individual or with a community and can help individuals grow in their relationship with God and others.
"Worship music has been one of my main ways to encounter God's living presence and grow in relationship with Him," Worship Chaplain Ko Ku wrote in a Jan. 26 email to the Graphic. "I have learned in my faith journey that worship goes far beyond music, but God often utilizes worship music to connect to the hearts of His people."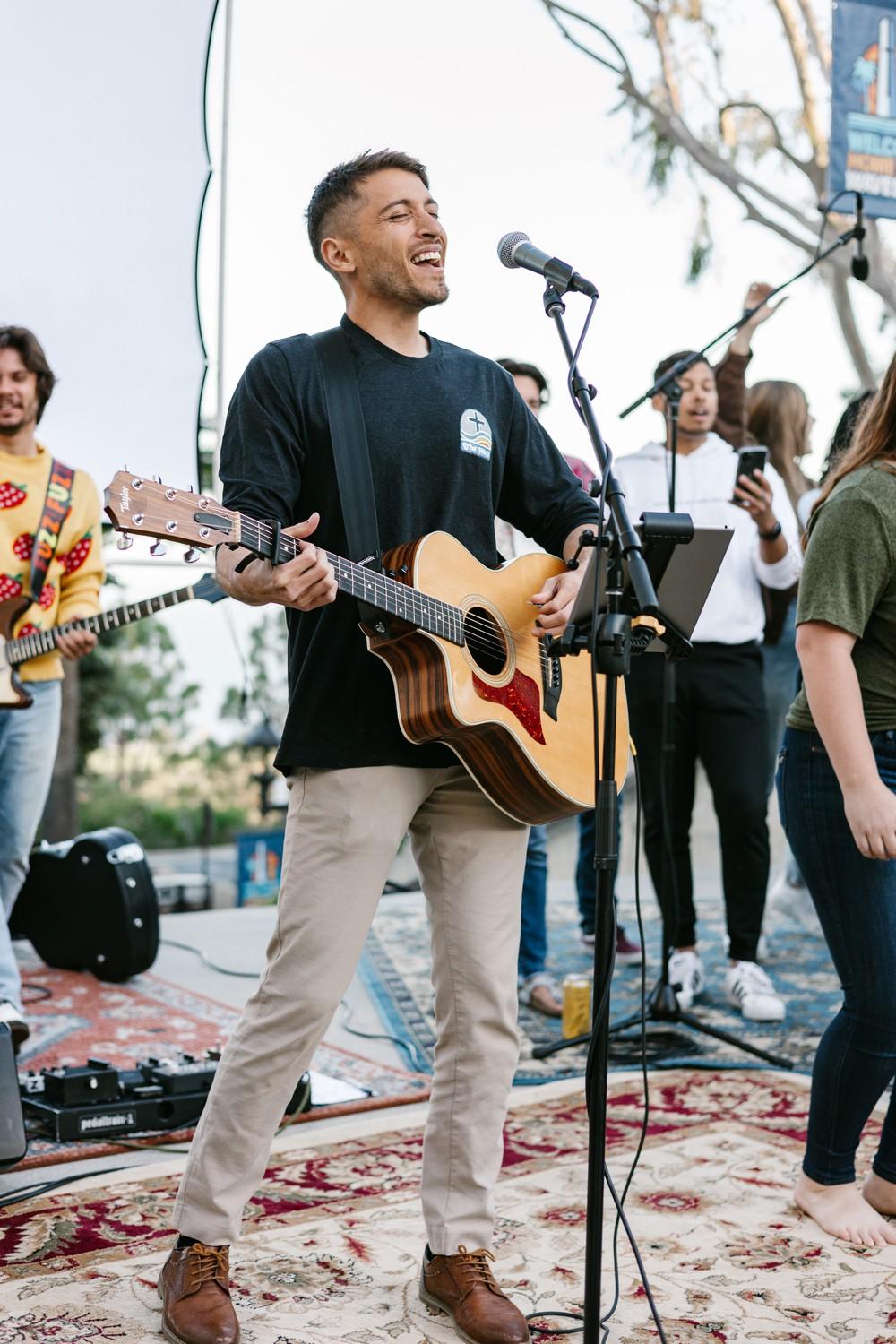 The word "worship" was first used in the Bible in Genesis 22:5, when Abraham told his servants to stay put while he went and worshiped. Later in the Bible, the book of Psalms is dedicated to worship — with each Psalm acting as a new declaration or act of surrender, according to the NIV Bible Blog.
One of the earliest forms of worship music dates back to the 7th century, when Pope Gregory I started Gregorian Chants in the Catholic Church, according to Worship Library.
Since then, several denominations have taken different approaches to praise through worship music, whether with instruments, a cappella, chants, hand-clapping or raising hands.
Beyond the Story

What did the reporting and research process look like for this story?

For this story, I started by looking around the Pepperdine community to find out who was leading worship music and who had a specific interest in it. It was so fun researching all of the different worship groups on campus and talking to members of them. I felt like I was knowledgeable about what worship music meant to me, but it was cool to learn what it meant to other people.

Can you speak a little bit about your sources and your process searching for them?

My sources all lead worship in the Pepperdine and Malibu communities. Their careers are dedicated to worship music, so I thought they would be my best sources. It was so inspiring to hear how they each started singing and playing worship music and to hear how leading worship connects them to their audience and to their faith.

What is your personal relationship with worship music?

I grew up listening to worship music and singing it in church, and it was always a way for me to grow in my faith. I have always loved how worship music uplifts and inspires me, and I never regret listening to it, whether through happy or sad times. Worship music has always been special to me, so I loved being able to write about it.
"Whether it's worship music in the car, practicing for worship services, leading worship or background instrumental worship music to accompany times of devotion and reading scripture, it is all intended to direct us back to Him," Ku wrote.
For some, worship music is the main way they connect with God and their faith. John Silva, sophomore Music major and music minister at Our Lady of Malibu, said he can read, listen to or sing worship music and then apply the lyrics to his own life, ultimately helping him turn his faith from a concept to a reality.
"Music is what really helped me connect with my faith on a deeper level than reciting a prayer or things like that," Silva said. "I just understood music, I feel it more."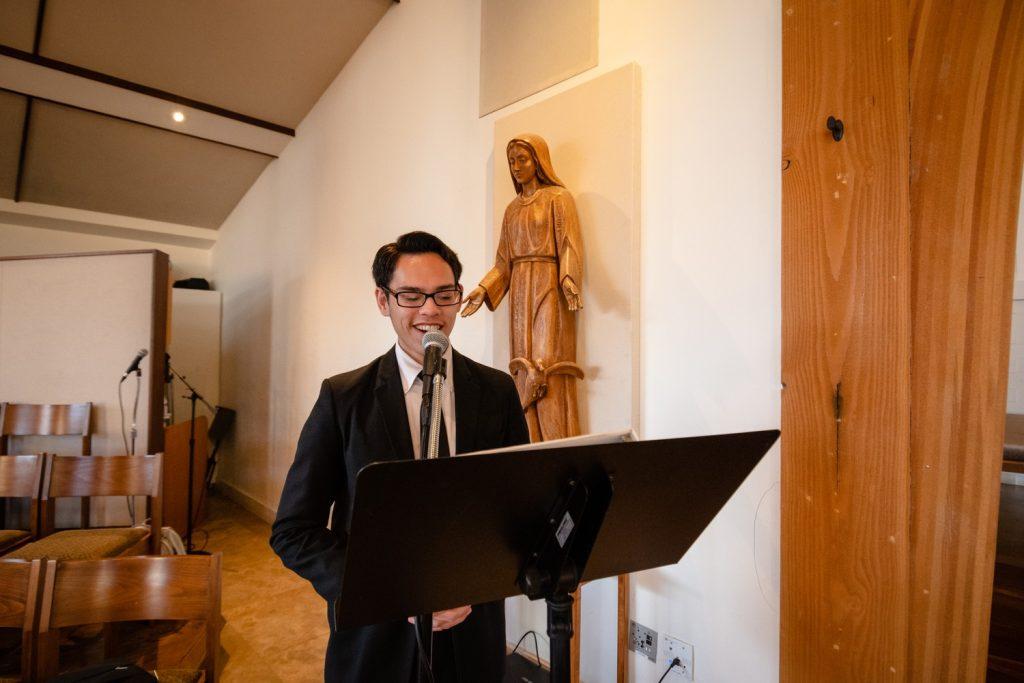 Silva said worship music is a way to go beyond the practical study of music — such as music theory or the study of rhythm and tune. Instead, it is a way to listen to the word of God and connect to what it is teaching you.
"There's just an unspoken feeling or power that music has to move us," Silva said. "And that combined with the gospel message — it is a powerhouse."
Senior Jadyn Gaertner said she had a similar experience — realizing worship isn't about her but about praising God.
"I'm not doing this for myself anymore," Gaertner said. "This is actually just for God, and so that was a really cool moment."
Gaertner started singing worship music her junior year of high school and now sings for The Well, after previously being involved with Celebration Chapel and UCC worship. Gaertner said through her experience of leading worship, she has come to love how it is an opportunity to be unified with everyone around her, all worshiping God together.
"It was a chance for me to just experience God alongside of a whole community who are doing the same thing," Gaertner said. "Everyone's singing, and everyone's just unified."
Gaertner, alongside many others, said she loves Lauren Daigle and Hillsong. She recommends readers to listen to her current favorite song, "Weathered" by Dante Bowe, who played at the fall 2022 Pepperdine Worship Summit.
As a music minister, Silva said he takes scriptures from the readings during each mass and then finds songs that connect to those readings — ultimately working to connect the worship with the message of the day.
"It's not about how good I sing; it's not about performing," Silva said. "It's about spreading the word of God."
While worship music is a way to praise God, it also allows believers to connect to one another.
Ku, who has been directing worship teams for 12 years and leading worship for 10, wrote worship brings communities together. He said he has seen the Pepperdine worship community gather and sing as an act of surrender.
"Worship has forever changed the trajectory of my life," Ku wrote.
______________________________
Follow the Graphic on Twitter: @PeppGraphic
Contact Abby Wilt via Twitter (@abby_wilt) or by email: abby.wilt@pepperdine.edu
About the Author

Abby Wilt is the managing editor for the Graphic and a reporter for NewsWaves 32. She is a junior Journalism major and Multimedia Design minor and is from Wenatchee, Wash. She wrote this story because of her love for worship music and for sharing stories about people's faiths and religions. In the future, Wilt would love to pursue broadcast journalism and continue telling impactful stories to her community.