Photos by Shuyue Luo
Pepperdine's Classical Guitar Department students kicked off their semester of Mary Pickford-Stotsenberg Performances on Tuesday, Sept. 11 in the Payson Library, filling the Surfboard Room with acoustic music.
The first performer of the night, junior Joseph Hertz, began with two pieces. Then, senior Hope Mueller, junior Jonathan Pryde, freshmen Keaton Woodburn, Josiah Frias and Wesley Ruby also performed classical pieces.
"The concert went extraordinarily well," Mueller said. "It was wonderful to see and hear how hard everyone has worked even in just the first couple weeks."
These feelings seemed to be shared across the guitar department.
"The concert was a complete success," Hertz said. "There were only a few light criticisms from Parkening. We had a good crowd come out to listen."
One member of this crowd was senior Alexis Raymond.
"I truly enjoy all of my peers' performances," Raymond said. "On this occasion, however, I especially enjoyed Jonathan Pryde's presentation of 'Catalonian Song [arr. Jack Marshall]' as it was a new addition to my knowledge of guitar repertoire, and was played effortlessly."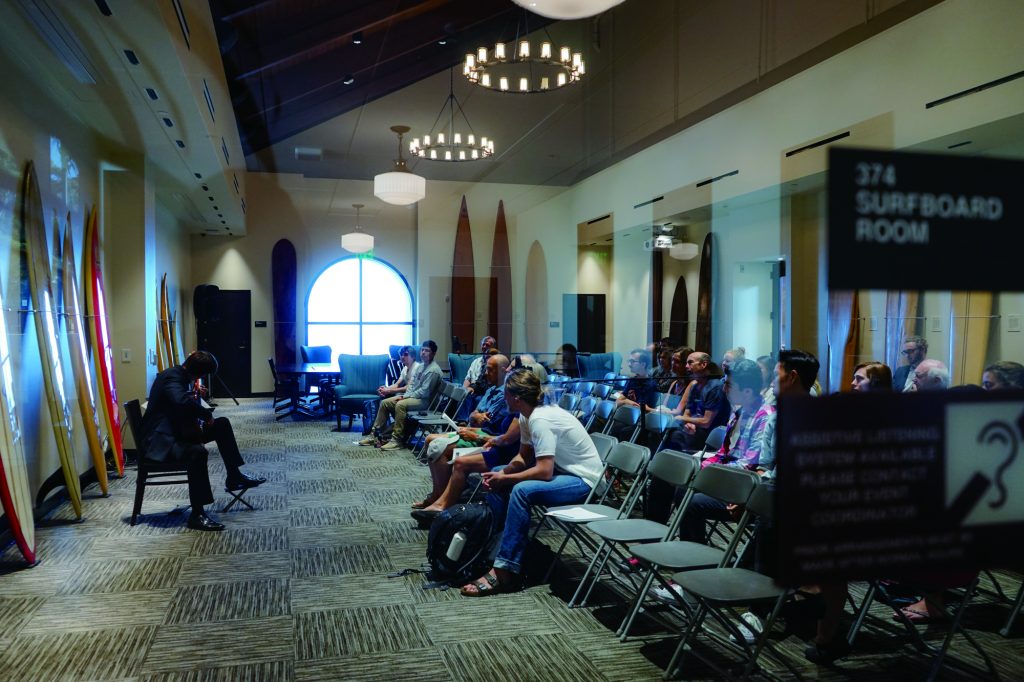 The guitar department's fall semester is tightly packed with concerts. After their first concert Sept. 11, they also played Sept. 14 and 15. Additionally, every guitar major is required to play twice a semester at Music at Three, which is a weekly recital for all music majors. Meanwhile, guitar minors must perform once a semester.
There are also monthly concerts in the Surfboard Room at 5 p.m. on the second Tuesday of every month, known as the Mary Pickford-Stotsenberg Performances, as well as at the Malibu Public Library at 3 p.m., on the second Friday of every month.
Guitar students also perform in a concert series in October and November and are asked to put together ensemble pieces, duets between another guitarist or a vocalist, to perform at the end of the semester, Mueller said.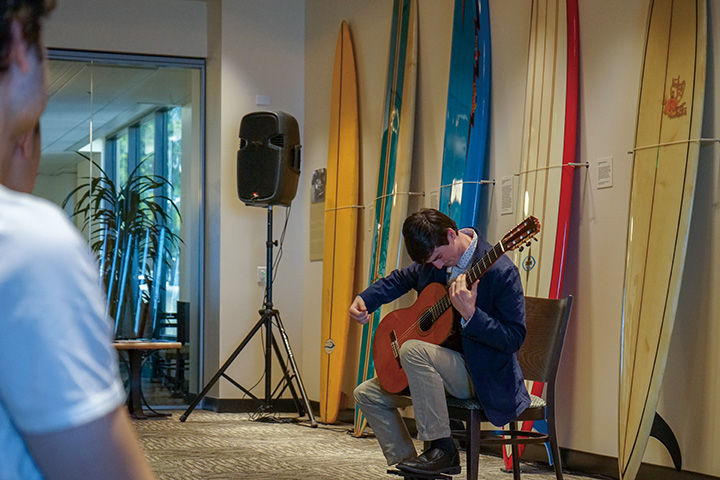 Students in their third year at Pepperdine perform their Junior Recital, a half-hour long concert that showcases the skills a student has accumulated in the department. They also perform a Senior Recital in their last semester.
When midterm season approaches, the guitar ensemble class is assessed through a recording session, said Hertz. These professional recordings can be used to showcase a student's work, act as a resume for music-related jobs, or be used in the creation of an album.
But Pepperdine's guitar department is unique. Many students, such as Hertz, attribute Christopher Parkening to their decision to come to Pepperdine.
"[When choosing schools], I was personally looking for the closest person to Segovia, and Christopher Parkening was his best student," Hertz said.
Christopher Parkening is a Distinguished Professor of Music and chairs the Guitar Department, and, according to his website, is celebrated as one of the world's most prominent masters of guitar. He was trained under the musician commonly known as the father of classical guitar, Andrés Segovia, who said of his student, "Christopher Parkening is a great artist — he is one of the most brilliant guitarists in the world."
"It is my desire to not only teach my students good guitar technique, but also to emphasize the importance of playing with beauty, warmth and lyricism," Parkening wrote in an email. "Also, I am very grateful for the opportunity I have at Pepperdine University to be a spiritual role model to my students and teach them to grow and become mature men and women in the Christian faith."
According to his website, Parkening has performed around the United States, such as the White House, Lincoln Center, Carnegie Hall and the Grammys, and has amassed awards such as the Lifetime Achievement Award and the American Academy of Achievement Award. This spring, the Parkening International Guitar Competition, the most prestigious classical guitar competition in the world, will be held on campus.
Students in the Classical Guitar Department at Pepperdine University work closely with Professor Parkening, attending weekly private lessons with the award-winning protege. Many students speak highly of their professional relationship in their studies with him.
"Our pieces are not necessarily for [Professor Parkening], but they're all influenced by him," Hertz said.
"Being a Parkening student has been an unparalleled experience," Mueller said. "To both be making history by being the first woman to attend and graduate from Parkening's program will have a lasting impact on my life."
__________
Follow the Pepperdine Graphic on Twitter: @PeppGraphic