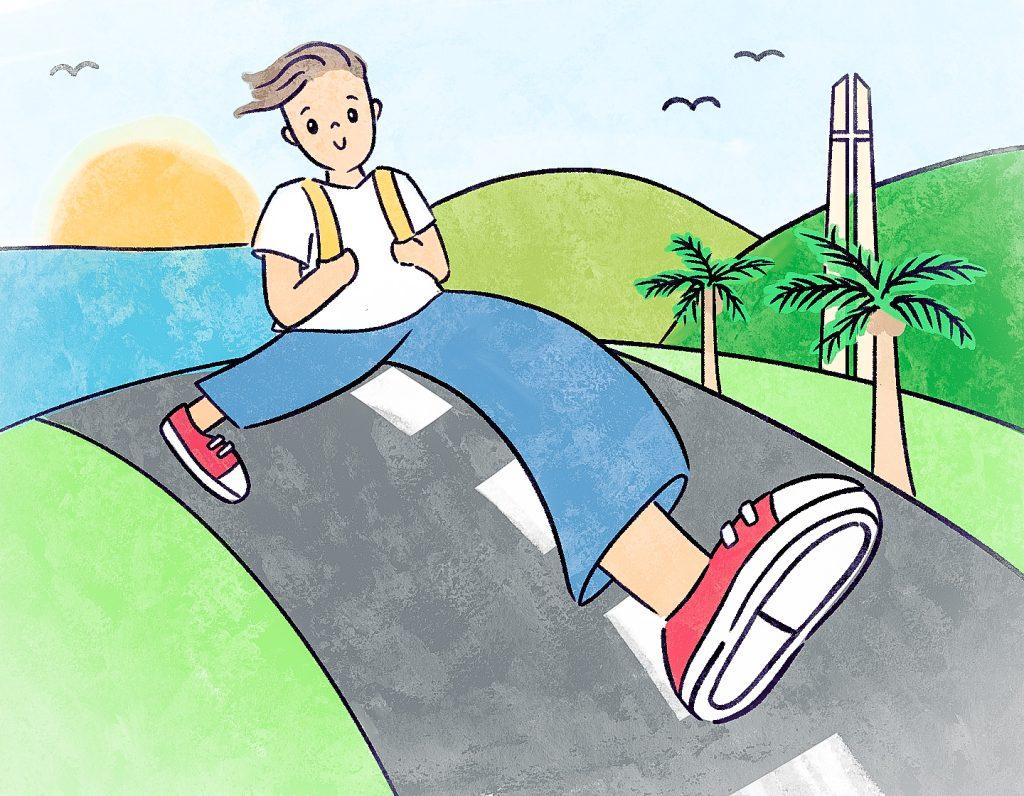 Art by Vivian Hsia
After returning to campus after winter break, Pepperdine greeted students with the words "Welcome Waves!" painted on the infamous Rock in Mullin Town Square, signifying the start of a new year.
As spring semester starts, students said they take mental and physical steps to get ready for a new set of classes and to get back into the groove of another academic semester. Senior Jade de Bruyn said she has mixed emotions on this back-to-school season.
"It feels exciting," de Bruyn said. "There's new opportunities, but at the same time, it feels uncertain and almost dysregulated a little bit."
Dysregulation explains the feelings of distress in reaction to an event or changes. The first week of school marks a time of widespread change for students across Pepperdine's campus.
To manage with these hesitancies, students have traditions in place to prepare. A trip to Target for new school supplies is a tradition de Bruyn said she does the weekend before the first week of school.
"I always do like a mini school supply shopping trip," de Bruyn said. "Most of my school supplies would be just on my computer, but I like to get new folders, a planner and new pens just for fun."
A key part of junior Arabella Crites' back-to-school traditions also includes getting a new planner to write out her schedule, tasks and more. This year, her planner is her favorite color — purple.
"My undated planner has a bullet journal in the front of it and so I fill that out with my goals for the year about like physical, mental, emotional, spiritual goals that I have," Crites said. "So I usually write those down and try to stick to them."
Setting goals for oneself is one way to build positive habits and it's important to set new goals and revisit old ones, according to Positive Psychology.
"My goal is to drink more water, especially whenever I'm in classes," Crites said. "Last year, my goal was to get more sleep and I did really good on that and now I'm getting six-to-eight hours every night."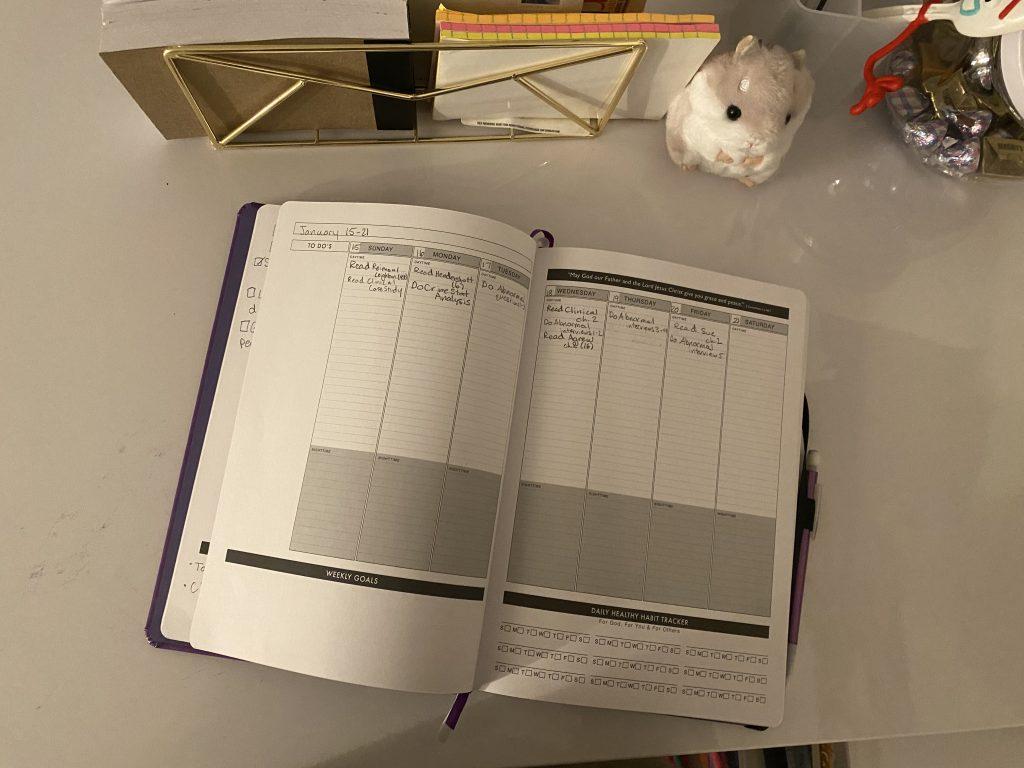 Crites' purple planner with her tasks and homework for the week of Jan. 15 through 21. For over a decade, Crites said she has bought a new planner every school year. Photo by Arabella Crites
Besides buying supplies and setting goals, a technology and bedroom cleanup is a tradition de Bruyn implements before every semester. She said she practices this by exporting her photos and deleting apps to create space on her phone and laptop.
"Organizing and cleaning my surroundings helps me concentrate, helps me feel less stressed and helps me feel more in control," de Bruyn said. "A new semester already feels overwhelming and out of control but preparing in advance eases that sense of dysregulation."
For senior Sahara Thomas, she said she calms her first-week nerves by getting a head start on the days before classes begin by looking through her classes on Courses and checking her school email.
"I try to see if my professors uploaded anything because I hate procrastination," Thomas said. "So I might as well just see if they've uploaded it early than just checking in on day one."
The first day of classes marks the beginning of a new, four-month long course load and adjusting to a different schedule for students across campus. Implementing a consistent routine into one's life promotes better mental health, according to Channing Brown, assistant professor at University of Alabama at Birmingham, however, navigating a new school routine can still be hard. Mindfulness is a practice de Bruyn said she uses to cope with the academic stress.
"Mindfulness, I would define as the practice of being aware of your surroundings and in the present moment," de Bruyn said. "I think that's probably my favorite coping mechanism, just taking even just a minute at a time to just sit like not be on my phone, not have any distractions to sit, close my eyes and observe what I'm thinking and feeling without feeling judgmental."
Getting into the groove of ones' tasks and schedule takes time. Thomas said she takes steps to start sleeping earlier for her morning classes and tries to stay organized when she receives new course material in class.
"It can be stressful getting all the syllabus stuff but I try to tell myself 'just a day at a time,'" Thomas said. "That's why when I get the syllabus I like to break stuff up, so it's not insane, so it's not like I have so much to do."
Despite the uncertainties, Crites expressed a sentiment of excitement for her sixth semester at Pepperdine as a Psychology major.
"It's always good to see familiar faces in my classes, and I'm taking a mix of new professors and professors that I've had before, which is also nice because it keeps it exciting but it's also comforting," Crites said. "And I love finding my new classrooms and getting settled in and choosing my seat on the first day."
______________________
Follow the Graphic on Twitter: @PeppGraphic
Contact Jackie Lopez via email: jacqueline.lopez@pepperdine.edu