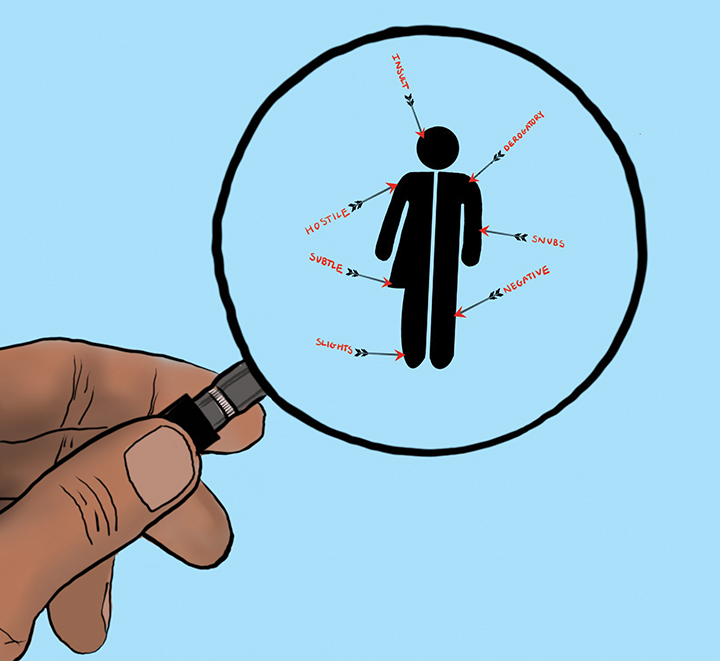 Art by Caitlin Roark
A micro-aggression directed at the Black/African American student body took place this semester on campus. During the Theatre Department's casting of "Ragtime," a professor involved with the upcoming show handed out flyers to students with dark skin to recruit performers for the show. Students of color later voiced their feelings of confusion and belittlement as to why a Pepperdine professor would single them out in this way. This instance shows how far Pepperdine has to go in dealing with and communicating issues of marginalized groups on campus.
A micro-aggression is a comment or action that subtly and often unintentionally expresses a prejudiced attitude toward a marginalized group. Addressing these comments through communication and understanding should be done to help others learn about another culture and keep a positive atmosphere of love and respect.
Micro-aggressions on campus, like the "Ragtime" incident, can be connected to racism of the past. For instance, the killing of Larry Kimmons who was shot and killed by a Pepperdine security guard March, 12 1969. The shooting happened at Pepperdine's South LA campus, and the officer received nothing more than a $500 fine for ending a young Black student's life.
Kimmons' death encouraged "White flight," when Pepperdine chose to move from Los Angeles to Malibu, according to David Baird's 2016 book "Quest for Distinction: Pepperdine University in the 20th Century." White flight is the phenomenon of White people moving out of urban areas, particularly those with significant minority populations, and into suburban areas or fringe areas.
The killing of Kimmons was an act of blatant racism and aggression that will sadly taint Pepperdine's history. However, Pepperdine's White flight was a micro-aggression, since instead of actually dealing with the issue, Pepperdine distanced itself from it.
Another highly marginalized group sometimes greatly overlooked on campus are international students. Pepperdine data shows that international students account for around 10 to 14% of the entire student body and stretch from about 45 different countries.
International students experience micro-aggressions in the form of neo-racism which is "discrimination on the basis of cultural difference or national origin rather than by physical characteristics alone and appeals to 'natural' tendencies to preserve group cultural identity," according to Professor Jenny J. Lee in her article "International Student Experiences of Neo-Racism and Discrimination," published by the Higher Education Journal in 2015.
International students are then forced into a cone of silence and feel domestic students and faculty are above retribution, Lee wrote. When these acts become routine, students of diversity can then become numb to the subtle acts of violence.
Marginalized groups owe it to themselves to speak up against these acts of ignorance. Change and progress are forces that propel those brave enough to communicate its message.
Being brave doesn't require a person to start marches or speak to high levels of administration. Being aware of our comfort level and telling those others the feelings we harbor about issues is how progress starts. Be open. Be honest. Enlighten those on the issues and feelings of those who are part of the minority so that they can be expressed and seen in the majority.
So what can Pepperdine do next? Well, progress starts with everyone coming together to voice, listen, learn and discuss these issues of micro-aggressions on campus. This can be in the form of students-of-color-led convocations, making SEED (Seeking Educational Equity and Diversity), the voluntary faculty diversity training program, mandatory and even simply taking to time to listen to friends of different backgrounds.
By banding together, Pepperdine can continue to grow and to fight prejudice and micro-aggressions against the minority.
The notion of not feeling loved or accepted on a Christian campus centered on the love of Jesus is a quandary that needs correction. Micro-aggressions are small and can spiral into larger issues of racism, discrimination and self-loathing. Yet, by beginning conversations and starting to speaking to others one-on-one or in small groups can blossom into an entirely new atmosphere of acceptance and tolerance on campus. And just maybe, the entire world.
__________________________
Email Anitiz Muonagolu: aj.muonagolu@pepperdine.edu