Photos by Arthur Puu
Pepperdine University hosted the 2018 NCAA Division I Men's Basketball Championship West Regional at Staples Center from March 22 to 24. For some of Pepperdine's sport administration majors, the event was an opportunity to volunteer and get hands-on experience in different departments of the sports industry.
Pepperdine is in a partnership with AEG, Staples Center and the Los Angeles Sports & Entertainment Commission, and hosted the Sweet Sixteen and Elite Eight rounds in 2013 and 2015.
Freshman Matthew Rosato believed the experience was memorable and compared it to the work he has been doing for Pepperdine Athletics at Firestone Fieldhouse.
"It was everything that I hoped for and more," Rosato said. "It was great to work along with people I was familiar with and also with the Staples Center crew. Something that I overheard that I took home was 'it was basically the same production we do at Firestone but on a much grander scale,' which basically shows that us as Pepperdine students can put on a production at whatever scale we need to."
Pepperdine's connection with Staples Center and AEG has extended far beyond the court, with the University opening a classroom in the downtown Los Angeles arena.
"When we unveiled the classroom in Staples Center, we had some of the head officials from the NCAA and the selection committee crew," Rosato said. "It was really great just to shake their hands, talk with them and follow up with emails."
"It was really unique not only from the aspect as far as working with other Pepperdine students, but being able to work with Staples Center staff," senior Jessica Stallworth added. "We were able to use the Pepperdine classroom that's down at AEG/Staples Center and talk to affiliates from the NCAA, the Mountain West conference, to commissioners and people like that, so having the experience from working on the court and doing game days, but also learning and networking was something else."
As Sports Administration majors, Stallworth, Nikolas Adia and Rosato all applied many lessons they learned in the classroom into their West Regional experiences.
"In Dr. Watson's classes, we have a lot of hypotheticals and case studies, so to actually be there basically 24/7, doing things and putting things out on the court and dealing with situations that came up," Stallworth said. "One situation came up [with ticketing] where this one person didn't have their credentials, so figuring out how to deal with those things on the fly, but because we're so prepared within our major, it's really cool to see it all come into fruition."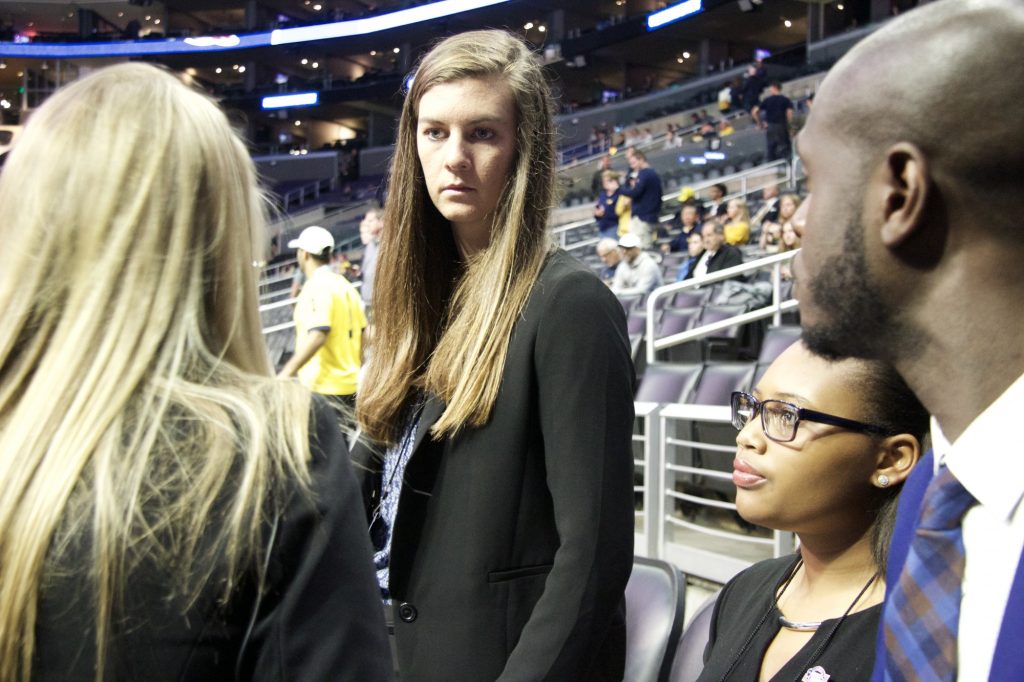 From left to right: Juniors Tarah Wylie, Celeste Maxwell Brown with Director of Marketing Katie Ristow
Stallworth worked in the tickets department and talked about working on the tickets months prior to the event.
"For me, I was working in ticket managing so for the several months leading up to the regional, it was my job to sort the tickets into different allotments for the different seats, for Michigan, Texas A&M, Florida State and Gonzaga," Stallworth said. "I had separated those tickets in advance, but didn't know until the teams got there. It was also cool to meet the teams and give them their tickets and go about the whole process and see this is what we've been putting work into."
Adia worked as part of the communications department, posting official Snapchat stories to the official NCAA March Madness account.
"As an avid social media user, I see a bunch of Snapchat stories covering events like this, but to be the one behind it all was a whole new experience for me," Adia said. "It just gives it a whole new perspective."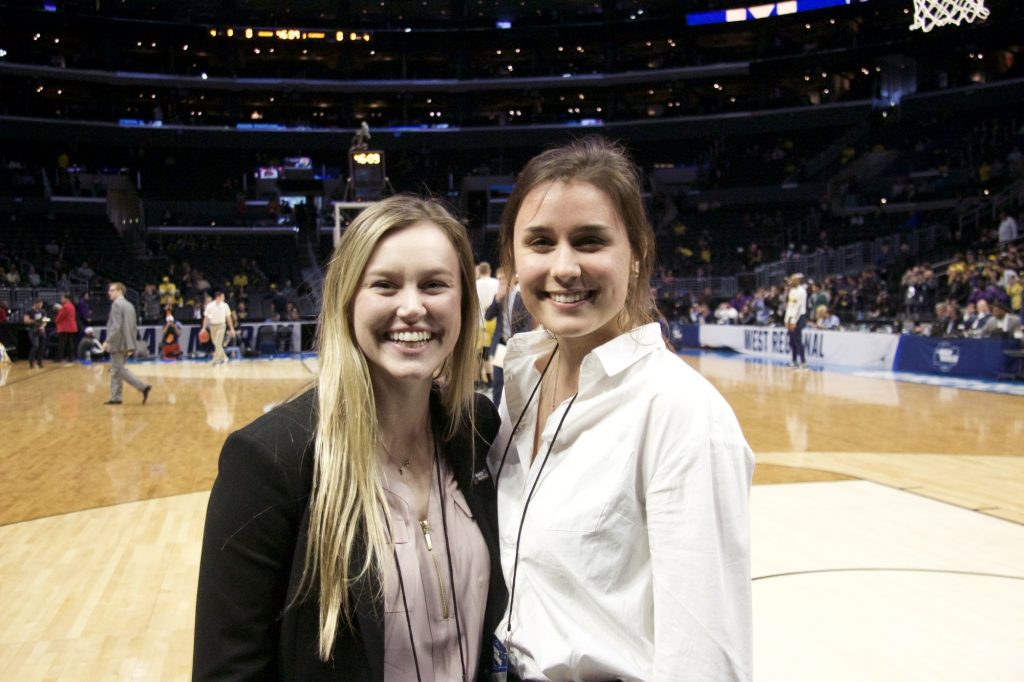 From left to right: Seniors Christine McKee and Sarah Gow
For Rosato, he expressed the same sentiments, saying the lessons he has learned in sports administration classes not only has helped prepare him for working in the industry, but also connecting with current professionals in the field.
"Dr. Watson has made it a point that sports administration is all about networking and getting to know whoever you can so I definitely tried to make the most out of the connections at Staples Center and the NCAA," Rosato said.
The experience volunteering at the 2018 West Regional and visiting the new Pepperdine classroom in the arena added to the Pepperdine experience for the student volunteers.
"This was the culmination of my four years," Stallworth said. "It's just so fun, not only to get to spend more time with my classmates and friends, but also with the Pepperdine Athletics staff and Staples Center staff. Not only were we working really hard and grinding for 12 hours straight everyday, but just to see that everybody there was super passionate and wanted to be there [is] what really made it such a great memory."
Rosato added that volunteering at the West Regional showed him how important March Madness is to the culture of sports.
"The energy [is such a huge part]," Rosato said. "You don't really understand March Madness until you're there and the players give it their all. It was incredible to see the crowd filing in an hour and a half before the game even started, and just to see the excitement on everyone's face."
Adia said the madness on the court only made the Pepperdine experience more memorable.
"This event is crazy, it's absolutely beyond everything you can imagine," Adia said. "It's an opportunity that I myself love and I believe all classmates and the Pepperdine team would love to be a part of. This is a great opportunity for everyone."
The University will again host the NCAA West Regional in 2020 — the Waves' fourth hosting opportunity in eight years.
___________
Follow Arthur Puu on Twitter: @arthurpuu