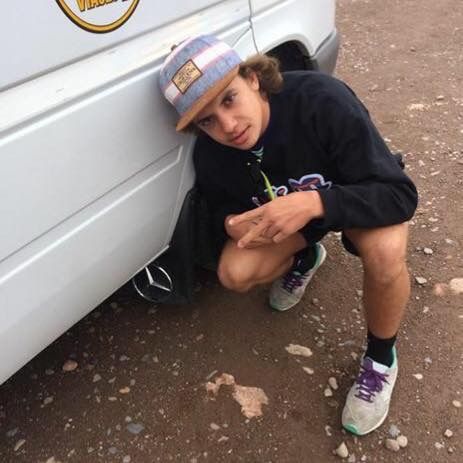 Pepperdine sophomore Cameron Johnson. Courtesy Facebook
Pepperdine sophomore Cameron Johnson died Wednesday in the village of Baños in Ecuador. He had been traveling with other Seaver students during winter break from Pepperdine's Buenos Aires abroad program, but it is not clear if he was with Pepperdine students at the time of his death.
The cause of Johnson's death has not been released.
Pepperdine Seaver students, faculty and staff received an email Thursday afternoon with a statement from Charles Hall, dean of International Programs, informing the community and offering condolences to Cameron's family and friends. The email included statements from Buenos Aires Program Director Rafa Martinez, friend Stuart Slayton and RA Elizabeth Waters.
In the email Martinez wrote that Cameron was "a phenomenal human being. He was always helping people and was always there for everyone. He was also a great student… But at the end of the road as Christians, we know we are always together. Chau Cameron, nos vemos pronto en el paraiso. Tu amigo, Rafa." (Bye Cameron, see you soon in paradise. Your friend, Rafa.)
Slayton wrote, "Cam lived a life of spontaneity, care, and love that brought smiles to all of our faces, day in and day out."
Waters wrote, "A member of our Buenos Aires family has departed this life and is now watching out for us from above. Cameron, you are kind, considerate, and a friend to all. You are always there for the people around you, and your sense of humor never fails to make us laugh. I will not talk about you in the past tense because you are alive in Christ, and I'm confident that today you made heaven a little bit funnier, a little bit lighter. May your memory be eternal, Cam."
Dean Hall remarked in the email that, "During this time of great loss, we again are reminded of the importance of community support. Losing a fellow student and member of our University can be very difficult." Hall encouraged students in need of support to contact the Counseling Center (310.506.4210) or the Office of the Chaplain (310.506.4275), as well as the Seaver Dean's Office (310.506.4280).
Sophomore Class President Scott Hutchins responded to the passing of Johnson on the Pepperdine sophomore class private Facebook page writing he was, "deeply saddened to hear of the loss of Cam Johnson. He was an amazing individual that brought joy and laughter to so many peoples lives. It is times like these when communities come together and mourn together. I humbly ask that everyone take a moment of silence today to remember and honor Cam."
This is the second death of a Pepperdine student in a week. Freshman Daniela Benavides died New Year's day in a car crash in Biscayne, FL.
For those who wish to send condolences to Johnson's family, please send your cards, notes, or letters to: International Programs, Tyler Campus Center Suite 131, Mail Code 4230.
__________
Follow Madison Harwell on Twitter: @mad_har