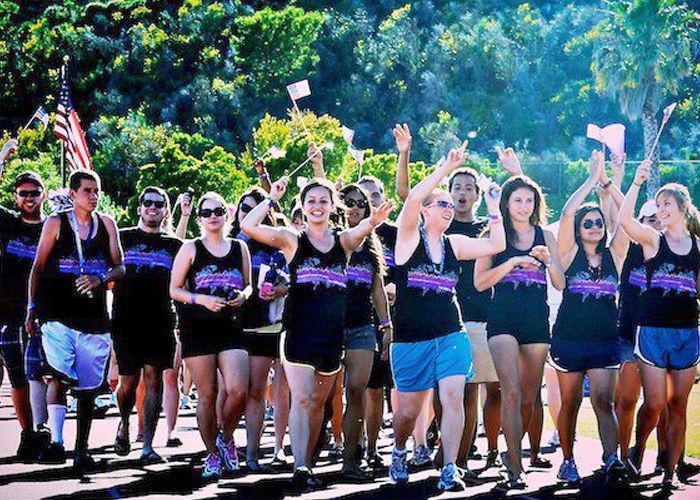 Photo Courtesy of Acadia Osborne
After two years cooped up in Firestone Fieldhouse due to rain and construction, the fifth annual Relay for Life will return back to Tari Frahm Rokus Field on Friday, April 4 at 5 p.m.
"This year we're excited to be back … under the stars on the track," Pepperdine Colleges Against Cancer President senior Acadia Osborne said.
PCAC hosts the 24-hour event that raises money for the American Cancer Society. Anyone who would like to participate can sign-up on the Relay for Life website up until any time during the relay. A minimum $100 donation earns you a free T-shirt and free food.
The sign-up process is divvied into teams so that participants can walk in shifts from Friday to Saturday. As of Tuesday, April 1, 41 teams totaling 229 people have raised nearly $6,000, according to the website.
Freshman PCAC Online Chair and Relay Team Coordinator Jayci Givens has experience with Relay for Life from high school and spoke to the affects she has witnessed: "I love seeing the positive impact and the meaning that it has for people that I know and people that I've met through Relay. It's a really powerful event."
In addition to the walking, Osborne said the relay also features three main ceremonies to introduce survivors, remember loved ones and talk about the fight for the cure; as well as live musical performances, tug-of-war contests and other games to win prizes.
Over the past five years, Pepperdine's Relay for Life has raised over $250,000 for cancer research, according to Osborne. Gamma Phi Beta sorority leads the 2014 team donors with $1,300 as of April 1.
"Cancer never sleeps so neither do we," Givens said.
_____________________________________________________________________________
Follow the Graphic on Twitter: @PeppGraphic