The Pepperdine IGNITE Club arrives at Sundance Film Festival. Photos courtesy of Bryan Munguia
On a seemingly ordinary Sunday evening, while most students were binge-watching their favorite Netflix show or getting ready for the week ahead, a group of 15 Pepperdine students volunteered at the exclusive screening of "Four Good Days" alongside Mila Kunis and Glenn Close, as part of this year's star-studded Sundance Film Festival.
The students, all members of Pepperdine's IGNITE Club, will be in Park City, Utah from Jan. 23 to Feb. 2 volunteering and participating at the festival. They will have the opportunity to see exclusive screenings and attend a variety of select programs and panels.
Pepperdine IGNITE's founder, senior Bryan Munguia — who is an advertising representative for Pepperdine Graphic Media — said he started the club so those with a passion for film could come together and find their people.
Munguia, a lifetime film lover, said he noted the absence of a film club at Pepperdine and took it upon himself to bring fellow cinephiles together.
"I always wondered why there was never a film club on campus," Munguia said. "I wanted to build that foundation for students to come in and find their people."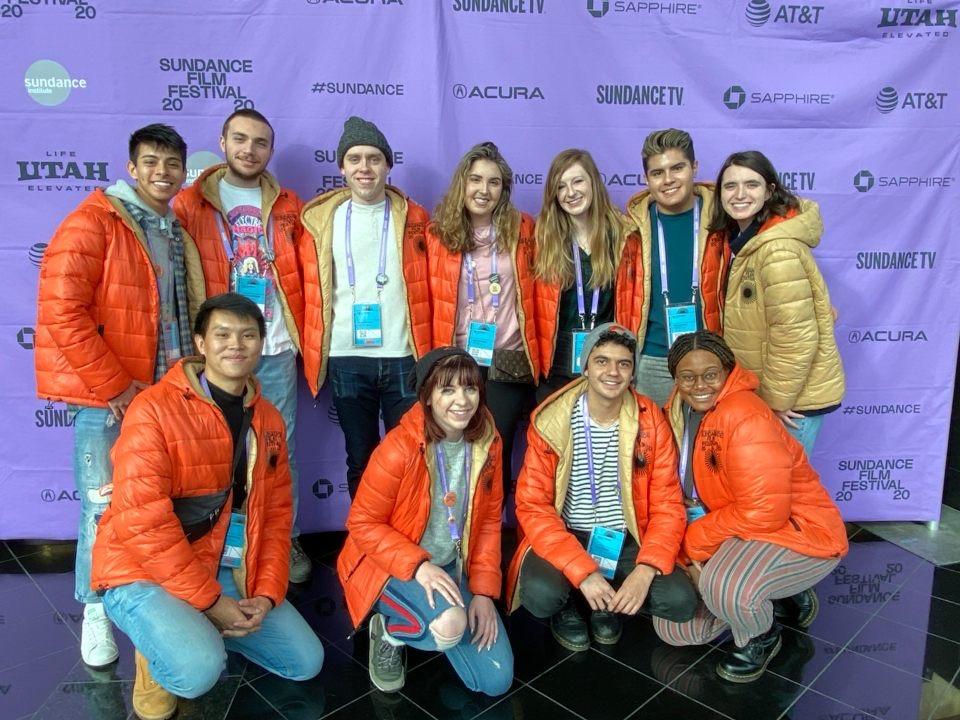 Several club members smile for the cameras sporting Sundance 2020 jackets.
English and Film Studies Prof. Joi Carr, the club's faculty advisor, said the Inter-Club Council and the Institute for Entertainment, Media, Sports and Culture sponsor the club and that it has provided students with an opportunity for full immersion into the festival's environment.
"Fifteen Seaver students were selected as IEMSC Sundance Fellows," Carr wrote in an email. "They also have access to festival screening and high profile industry events and networking opportunities."
The trip, Pepperdine IGNITE's most anticipated event, is the club's first major outing and has afforded members with an opportunity to network and work alongside the industry's finest. It has also allowed students to see some of the most important independent films of the year, Munguia said.
The Sundance Film Festival is a platform for film lovers and students to learn about the industry. In this annual event, filmmakers, storytellers and audiences gather in Utah for exclusive film screenings, performances, panel discussions and more. At its heart are independent films, in line with the Sundance Institute's search for "new voices and fresh perspectives." Those attending the event are able to engage with prominent figures and be present at exclusive screenings of highly-acclaimed work.
Senior Reed Campbell, member of IGNITE and fellow Sundance attendee, said the event has helped her meet people, network and further understand the business.
"There's so much purpose in it," Campbell said. "There's so much to learn and so many experiences to be had."
Munguia said it also provides for a new way to appreciate film.
"You recognize beyond the message," Munguia said. "You see all the levels of the industry that took to make this like photography, performances, coloring or how well it's edited."
Munguia and Campbell said their fascination for the film industry solidified around their teenage years. To this day, their passion remains unyielding.
"It was around high school when I started to realize how much of a unifying, community-building experience TV and film can be," Campbell said. "I want to go specifically into the television industry because of the community it creates and what it can provide for people in their homes and lives."
The Pepperdine IGNITE Club has allowed like-minded individuals to come together and build community on campus.
"I feel like I'm in a community and group who has such similar interests as me, which is so special," Munguia said.
So far, Munguia said, the group has been focusing their energy and resources on the much-anticipated trip to the festival, but they have big plans for the future.
"One of my personal goals is to bring the people that we've been meeting [at Sundance] to campus and create more networking opportunities with alumni that are plugged in across the industry so students can have mentors," Munguia said. He also expressed his desire to hold on-campus screenings and events.
Munguia said the group is looking forward to participating in this week's IGNITE events, where they will be attending special panels and unique screenings.
"[Being a part of Sundance] has this great impact," Munguia said. "It makes you feel like you're in the middle of something important."
_______________________________________
Email Maria Belen Iturralde: belen.iturraldechiriboga@pepperdine.edu