Photos by Kaelin Mendez.
Waves Weekend brought music, community and fun to Pepperdine over the weekend of Oct. 12.
During this celebration of community, Seaver College Alumni Relations, Pepperdine University Libraries and the Crest Associates hosted a reception for the third Alumni Art Showcase on Oct. 13. The event allowed for current art students to connect with distinguished Pepperdine alumni and celebrate their art, ranging from abstract landscape to contemporary impressionism. One of these alumni included Reagan Brewster, class of 2017.
"My teacher contacted me to submit my piece for this," Brewster said. "It's been great to see other alumni's work and talk to other artists."
Over ten artists were featured at the event and awards were handed out to three outstanding pieces at the exhibit. First place went to 1997 alumna Sherri Kolodny's piece "Caviar Dreams." Second place went to 2011 alumna Lindsay Carron's piece "Magical Child." Third place went to 1981 alumna Cynthia Eddings's piece "Cotton Candy."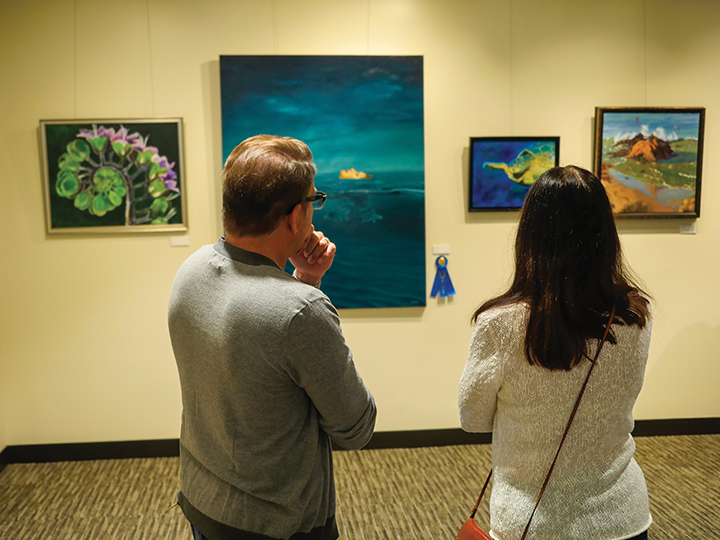 The event brought together many artists, alumni and guests. One of these guests included visitor Hannah Messerly, friend of the event's creator, Shannon Celia, class of 1998.
"The art is incredible," Messerly said. "It makes me want to learn. It's beautiful to see the different genres of art represented in these paintings."
Matt Ebeling, Executive Director of Alumni Affairs, said there was a large number of attendees.
"Time and time again I see people coming in this way," Ebeling said. "It's very energizing, it's reflective and imaginative. It's an honor that we get to be a space that houses your art for this short time before it goes on to bless other people."
The Crest Associates played a vital role in allowing this exhibit to come together and bridge the gap between students and alumni. Executive Director Heidi Bernard said that the library is a place of connection between different groups on campus, and that could be seen through this exhibit.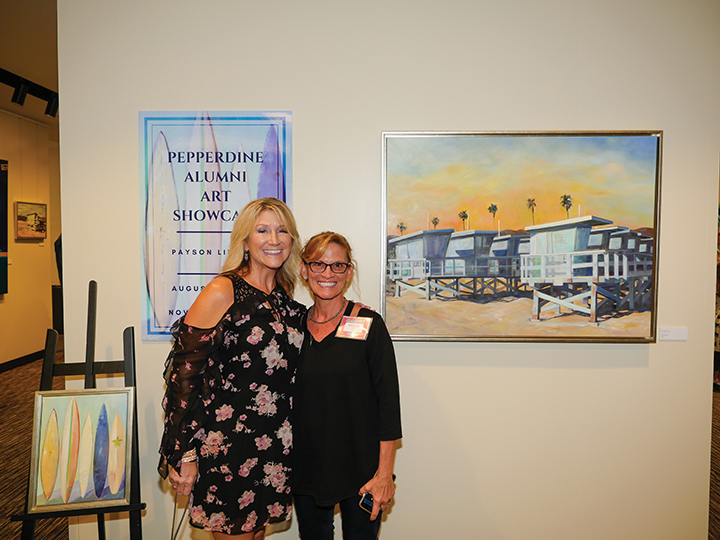 Celia said she was enthusiastic about art and explained how she founded this event, which had also been held in 2014 and 2015.
"I started asking around, and I realized how many professional artists there were that had graduated from Pepperdine," Celia said. "Kevin Short already has a lifetime introspective on his work, and I'm preparing for my second solo show. And there are also award winning artists like Marian Fortunati that graduated from Pepperdine."
The exhibit included pieces from Fortunati (1982), a contemporary California impressionist. Her work is in a variety of collections throughout the United States, Europe, China and Australia. She is a part of a variety of organizations, including the California Art Club, American Impressionist Society, Oil Painters of America and others. She is a founding member of PAC6 Painters, which is a group that focuses on painting the American landscape.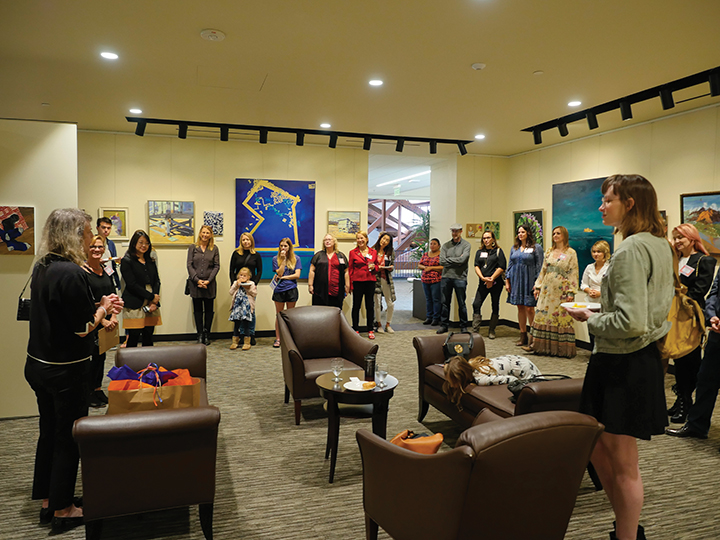 Other artists featured included Kathrine Keyworth (2010), Emily Branch (2012), Melissa Jolley (2000) and many others.
In addition to bringing the show back, Celia said she hopes to continue to bridge the gap between alumni and current students. On Oct. 20 she will lead a mentor session between alumni and two classes of art students in Payson Library.
In addition, Ebeling said that an online gallery is in the works so that Pepperdine artists have a place to share their art as they create it, which many are enthusiastic to do.
"Art is the universal language," Celia said. "There's love, joy, sorrow, hope and healing on these walls. As artists, we're honored to share it with you."
The exhibit will remain in the Payson Library until Nov. 6.
__________
Follow the Pepperdine Graphic on Twitter: @PeppGraphic