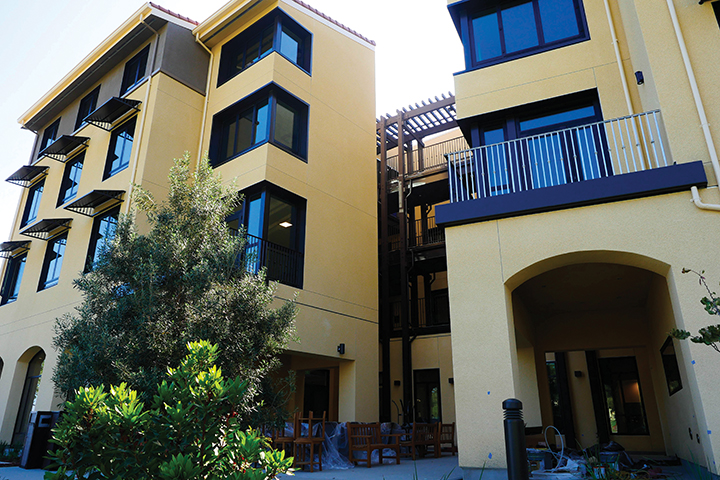 Photo by Kaelin Mendez
Pepperdine housing costs have steadily increased in the past decade. Every year students consider whether to live on or off campus. Although students may pay less money in rent to live off campus, the costs of furniture, utilities, renter's insurance and transportation, including gas, can add to the off-campus price tag. Options vary in price and convenience, and the debate between off-campus and on-campus housing continues.
Average housing rates on-campus have increased by $1,800 total for a year of housing from 2012 to 2017, according to Pepperdine's Office of Institutional Effectiveness.
From the fall of 2017 to fall of 2018, the rates of first-year dorms and rooms in Rockwell Towers increased about $150 for a semester of housing, according to student financial records.
"Certainly, the addition of Seaside Hall will increase revenue to the university, but there are also many additional expenses (facilities, maintenance, operations, programming and staffing) that come with a new hall," Robin Gore, director of Housing Operations, wrote in an email.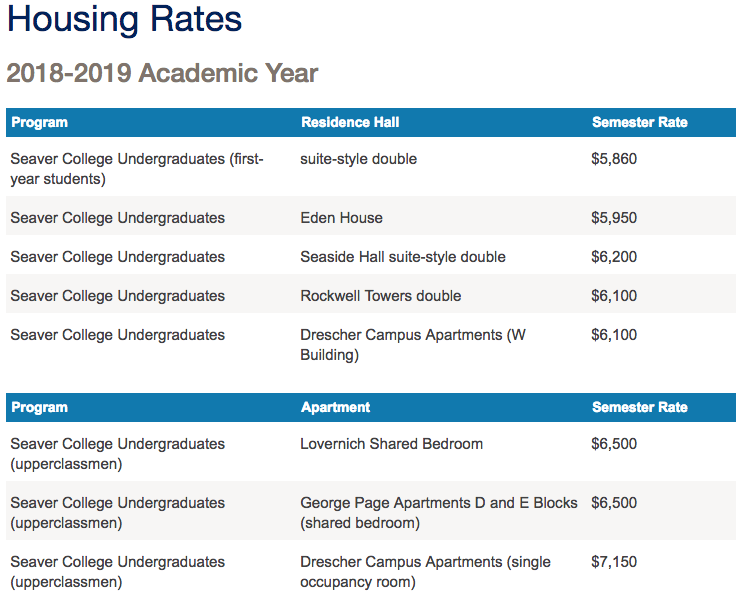 Photo courtesy of HRL Community page
Pepperdine housing competes with off-campus options like Avalon, an apartment complex on the other side of Malibu Canyon that offers two-bedroom apartments for roughly $2,700 a month ($10,800 a semester), according to ApartmentList.com. This is excluding utilities, parking fees, application fees, renters insurance, Wi-Fi, cable and deposits.
Senior Micaela Patuel, Avalon resident, said she pays $1,500 a month for a private room with one house-mate and full utilities. However, she signed an eight-month lease and is therefore obligated to pay for the apartment even when school is not in session. This amounts in total to about $6,000 in total a semester for Patuel.
Senior Courtney Jobe, resident of Calamigos Ranch, an off-campus complex off of Kanan Dume Road, said she pays approximately $1,400 a month ($5,600 a semester) to live alone in a one-bedroom, one-bathroom, furnished, kitchen-less studio. The $1,400 includes all utilities: water, electricity, Wi-Fi, a Netflix subscription and a TV. Jobe's Calamigos studio is comparable in terms of square feet to a Towers dorm. Jobe signed an eight-month lease as well.
"Being an older student, I just wanted the privacy and didn't want to deal with a roommate," Jobe said. "Living off campus just allows you freedom that Pepperdine doesn't allow you."
Calamigos Ranch will no longer be offering this single-room living situation next year, Jobe said, but will offer communal home living at a similar price.
The bill for off-campus living also varies depending on the lease. Senior Lily Spirtos, who lives in the Malibu Canyon Village Condos, commonly referred to by Pepperdine students as "The Stinkies," said she pays $1,000 a month to live in a two-bedroom apartment with one roommate and two other housemates. All utilities are included in the $1,000 monthly cost and the lease is for 10 months. This would amount to about $4,000 per semester, but Spirtos is still obligated to pay rent outside of the semester because of her lease.
Malibu Canyon Apartment resident and senior Laura Ann Pacos said she lives in a three-bedroom apartment with one roommate and two other housemates for about $800 a month including all utilities. She signed a nine-month lease. This amounts to about $3,600 a semester.
Junior Sahib Natt said he shares a home about 15 minutes from campus with four housemates, but no roommates. He pays about $1,070 a month ($4,280 a semester) including full utilities.
"I figured it was cheaper and I didn't want to abide by the rules of Pepperdine," Natt said.
Some, however, said they are willing to forego this freedom for the convenience of living on-campus.
"Originally I wanted to live on campus because I didn't have a car and there's not great public transportation here," Taylor Palmer, senior and Lovernich resident, said. "After getting a car, I didn't feel like commuting, and though living off campus is just as expensive as on campus, loans help with my housing — that wouldn't be an option off campus."
First-year housing resident and junior RA Monique Newman cited simplicity and campus engagement as good reasons to live on campus.
"It's more convenient because it's closer," Newman said. "I can just walk everywhere. I don't have to think about parking. It's easier to be a part of the campus community when you live on it. You hear about the social events that are happening."
Senior Taylor Pinkerton also lives on-campus for convenience.
"I only have a semester left, so it was the cheapest option because you can't really rent for just half a year," Pinkerton said. "I also have an 8 a.m., so it's easier to live on campus just to be closer."
On-campus housing can be covered through student loans.
When the costs of the living situations of Patuel, Jobe, Spirtos, Pacos and Natt are averaged, they amount to $4,696 a semester compared to $6,490 for upperclassmen housing. That being said, these students must pay for the entirety of their lease as well as moving, furniture, and gasoline costs. This additional inconvenience is why students like Newman, Pinkerton, and Palmer choose on-campus living.
__________________________
Follow Pepperdine Graphic Media on Twitter: @PeppGraphic