Photos by Kaelin Mendez
Pepperdine students, faculty and staff came together to "Take Back the Night" on Monday evening, gathering at the amphitheater for an evening of worship, testimony, music and various forms of art to educate the community about all forms of violence and abuse.
"'Take Back the Night' puts us on the path to stop all forms of relationship and sexual violence," SGA Executive Vice President Isabella Ordaz said at the event.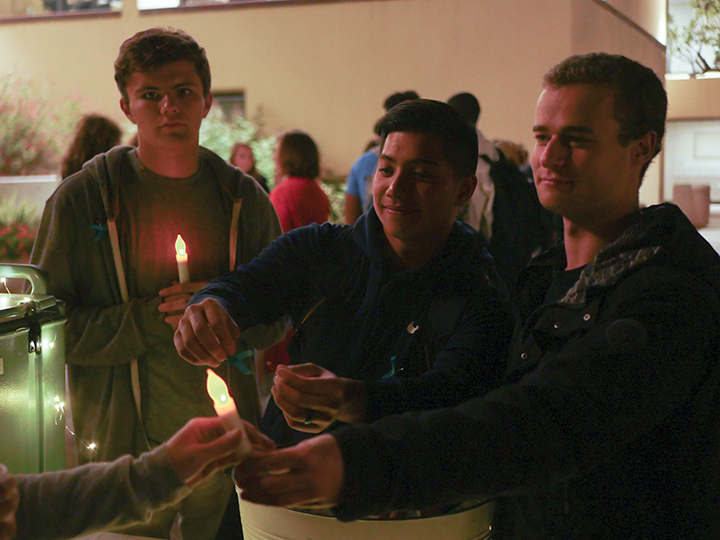 Hosted by the Student Government Association, the Office of Title IX, and Health and Wellness, the event served to make students aware and educated of all forms of sexual, relationship, and domestic violence and abuse. Health and Wellness Education Coordinator Allie McIntosh said the intention of the event was to make students aware of the resources on campus to prevent and protect against sexual and relationship violence.
"'Take Back the Night' is an event that has been happening since the 1960s. Schools and organizations across the nation put on these events as a way to raise awareness on issues of sexual and relationship violence," McIntosh wrote in an email. "We loved that Pepperdine had committed to a Sexual Assault Awareness week every Spring, but we're looking for an event that we could put on in the Fall. That's when the team behind the event decided that it was time for 'Take Back the Night' to make an appearance at Pepperdine."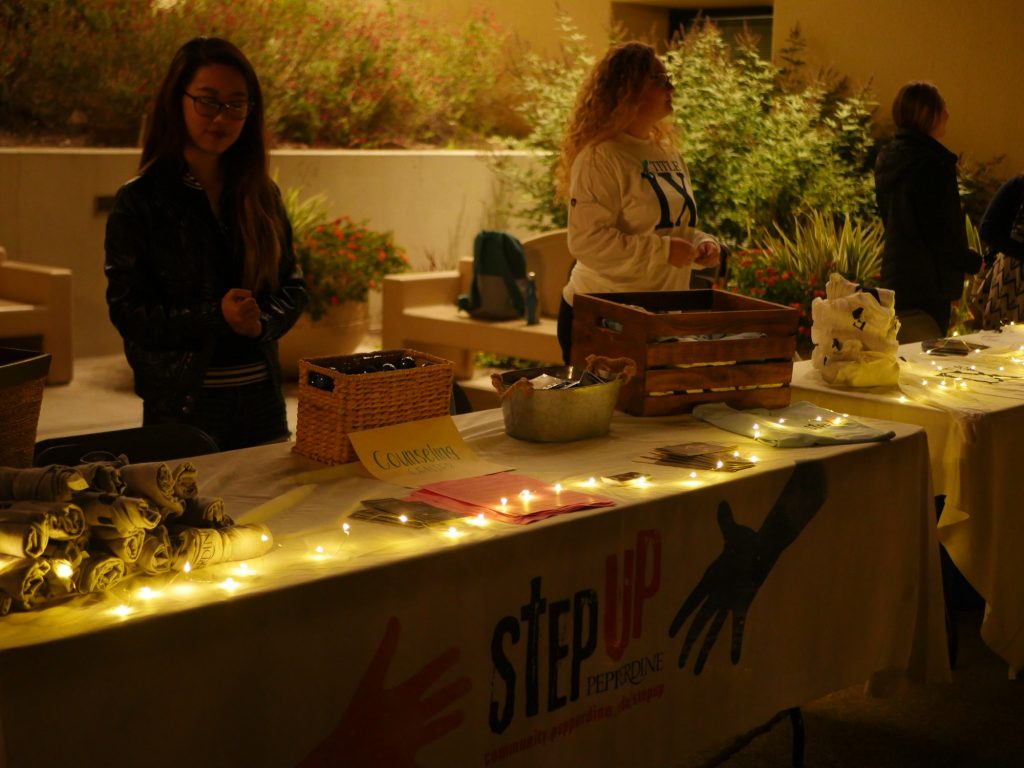 Booths with representatives from organizations including Crossroads, Housing and Residence Life, Relationship IQ and the Athlete's Leadership Council, to name a few, lined the rim of the amphitheater. They provided tools their organizations offer for students to better educate themselves on the topics of healthy relationships and signs of unhealthy relationships that can turn violent.
Co-President of Crossroads Sarah Neiman emphasized the importance of the presence of Pepperdine's first-ever club for the LGBTQ+ community and their allies on campus at the event Monday evening, as well as the impact their presence at this event has on the LGBTQ+ community at Pepperdine.
"I think because the (LGBTQ+) community here isn't really strong, it's hard to reach the people that are really experiencing it, and it's hard for them to share their stories," Neiman said. "I think we're moving in the right direction, especially with Crossroads being here, but it's just difficult to reach the people that maybe feel shy, or they can't come out, or they can't talk about their story."
Neiman said Crossroads being present at the "Take Back the Night" gathering was important to send a message to campus that LGBTQ+ individuals also experience relationship and sexual violence and abuse.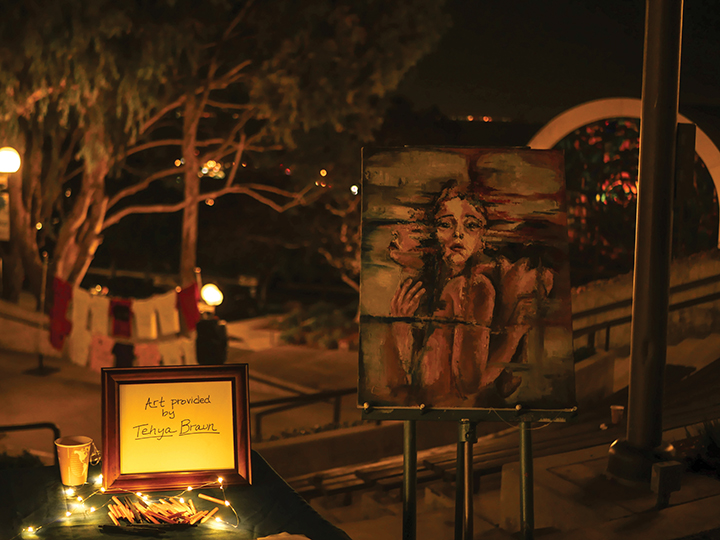 Performances by two members of Dance In Flight, two members of the cast of Pepperdine Theater's "The Interference," and other student musicians portrayed their own intended message regarding the topic of relationship and sexual violence and abuse.
Staff Therapist and Alcohol and Other Drug Coordinator Sparkle Greenhaw was present at the event to offer services to anyone who may have been triggered by the event or who may want more information regarding counseling services on campus.
"This is an event to help build community around a difficult topic, and we want to be here to help bring that topic to light, to be able to be a partner with all these other offices that are out here in order to say that it's important that we bring it to the forefront, that it is a safe topic for people to talk about and to be able to provide any support that we could to students that may need it," Greenhaw said.