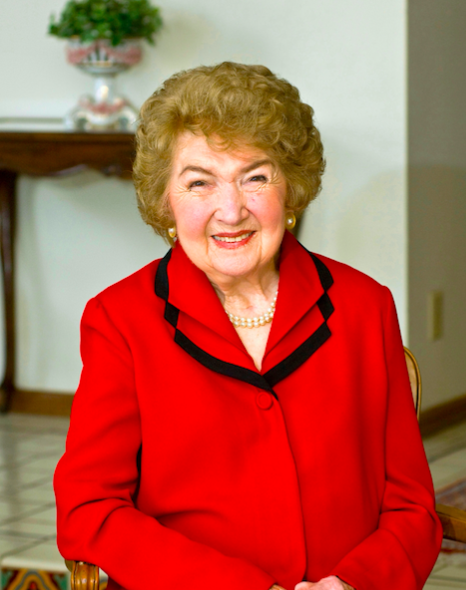 Photos courtesy of Pepperdine University and Pepperdine Digital Collections
The Pepperdine community gathered alongside family, friends and colleagues to honor the life and legacy of Helen Young, the former first lady of Pepperdine, wife to former President Norvel Young and founder of the Associated Women of Pepperdine. The memorial service was held Friday, Jan. 5, in the Firestone Fieldhouse. Young passed away on November 30. She was 99.
Speakers from the Pepperdine community and members of Young's family spoke at the service. Topics ranged from personal stories about Young to reflections on her impact on the Pepperdine community.
Jerry Rushford, director of the Rushford Center for Research on Churches of Christ and the Stone-Campbell Restoration Movement, offered a reflection on Young.
Rushford told a story of a trip that he and Young went on to the United Kingdom. He said Young went to the UK after the death of her husband to take part in a literary and hymnal pilgrimage. One night after seeing the play "Les Miserable" Young, Rushford and their group hopped on the tube to get back to her hotel. While on the tube Young noticed a downtrodden and disheveled woman and she went up to her and said, "You are beautiful."
"We say goodbye to Helen in a way but it was Helen's indomitable faith in the ultimate triumph of the risen Christ that found lodging in our hearts and we followed her and we believed her and we shared that faith," Rushford said. "And because we shared that faith we are persuaded we are persuaded that we will be with Helen again."
Ken Durham, the Batsell Barrett Baxter Chair of Preaching and Associate Professor, Lipscomb University, and former minister at the University Church of Christ at Pepperdine gave the welcome message of the service.
"We are gathered to honor the life and to celebrate the faith hope love and victory of Helen Young," Durham said. "To pay tribute to someone who left an indelible and exquisitely Christian mark on this community and God's kingdom community everywhere."
After giving a brief summary of her life he closed his welcome with a prayer.
"And as we remember her we ask that you give us the courage and faith to live lives with the kind of gospel clarity and delight that she lived among us. And we ask today for a special measure of your comfort, father, for her loss is a profound one," Durham said.
President Andrew K. Benton gave a reflection on the life of Young. He touched on who she was as a member of Pepperdine's community, the mark she left on the campus and the strength of her character.
"The portrait I would like to paint of Helen for the future generations would be vivid with life, soft in inherent warmth, rich in comfort and all the while leaning forward, ever forward into the future," Benton said.
During the service, a video played that described Young's life and her contributions to the University over a slideshow of pictures of her. These were interspersed with interviews from Chief Human Resources Officer Lauren Cosentino, Benton, Dean Emeritus of Seaver College David Baird, Young's Daughter Sara Jackson who is also Pepperdine's senior vice chancellor, Young's Daughter Emily Lemley, Rushford, Chief Business Officer Edna Powell, Professor Susan Giboney, and Associate Vice President and University Registrar Hung Le.
Four members of her family took to the stage. Her grandson Religion Professor David Lemley and her three children each delivered a message about Young.
David reflected on what Young was like as a grandmother.
"As we grew our lives were marked by opportunities she created for experiences, education, relationships and faith that made us who we are," David said. "She made time for our events, she was quick to celebrate what mattered to us."
Jackson told of how her mother's character affected the lives of those around her.
"Mother was never intimidated because she learned from her mother that all people were just people who needed her friendship," Jackson said.
Matt Norvel Young shared how his mother was humble, kind and opened her arms to everyone.
"Time is the coin of love and (Young) had time for everyone. It didn't matter who you were or your class or status," Matt Norvel Young said.
Emily Lemley thanked members of the community for coming together to honor her mother. She then spoke about how anyone who interacted with Young had their life changed.
"I never go anywhere in any group setting that someone doesn't come up and say your mother changed my life, changed my marriage, changed my attitude, changed my career," she said.
She then told a story about how Young sat with a Chinese woman in Hong Kong for 20 minutes after the woman had attempted to commit suicide. Helen Young and Norvel Young were leading a tour in China and they stopped in Hong Kong. When they got off the ferry in Victoria Harbor they noticed police converging at the end of the deck rescuing someone. The guide dismissed it saying it was a common occurrence and to ignore it. The police moved the woman to a bench and then drove away. Everyone on the tour group got on the bus except Young who was sitting next to the woman holding her on the bench.
Emily Lemley closed saying the family releases Young to Jesus.
"We children and grandchildren and great-grandchildren, we commit the soul of Helen Maddox Young to God the Father, her father, and to Jesus Christ, her lord," Emily Lemley said.
Additionally, Durham read from Proverbs 31 but only the parts he said that were "pure Helen."
"'Strength and honor are her clothing and she smiles at the future. She opens her mouth in wisdom and the teaching in kindness is on her tongue. Charm is deceptive and beauty is fleeting but a woman who honors the Lord she shall be praised'," Durham read.
He closed with a short message to Young.
"Rest in peace in God's holy peace dear Helen. The one you honored so with your life says well done good and faithful servant you been faithful over little I will set you over much. Enter into the joy of your Lord," Durham said.
The video that played during the service also featured a clip from an interview with Young. Young provided her thoughts on going to heaven.
"It is a blessed thing to look forward to," Young said. "And I don't want, I think people get morbid if they think you're just taught thinking about going on to heaven and I it isn't that way at all I think. Its apart of life and something that will be wonderful."
The full memorial service can be viewed online.
_________________________________
Follow Pepperdine Graphic on Twitter: @PeppGraphic