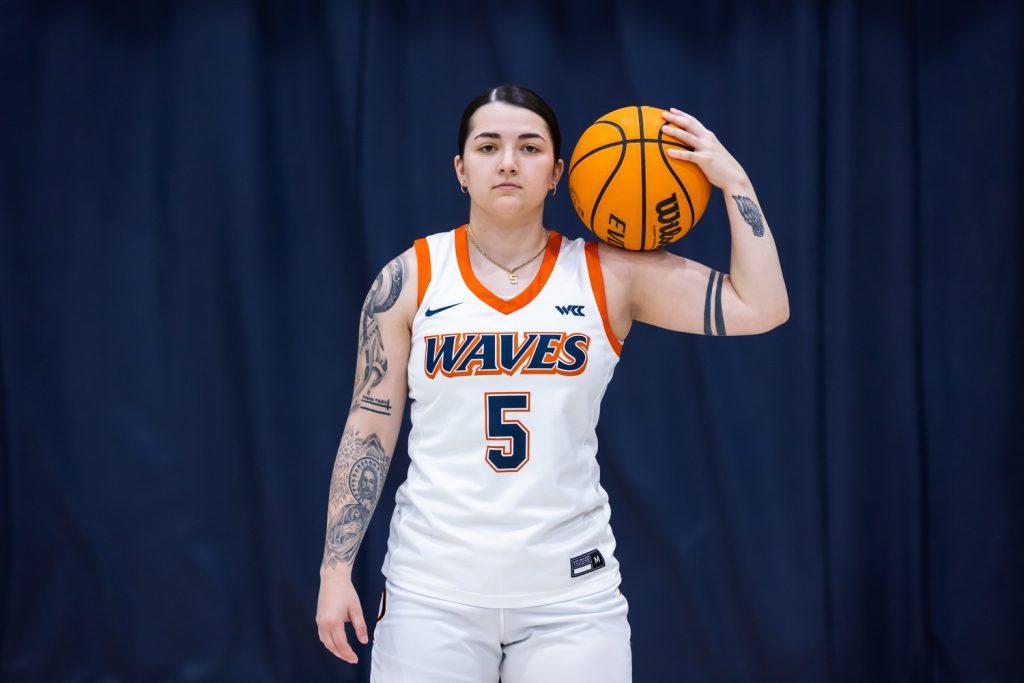 Junior Isabel Montoya, women's basketball point guard, poses with a basketball. Montoya said she's expressed resilience and stillness in her recovery. Photos by Lucian Himes
Junior Isabel Montoya, women's basketball point guard, said her first experience with basketball was playing pickup in elementary school.
"It was the first sport where I really had to prove something," Montoya said. "I really fell in love with getting better and making friends out of it — and then I learned you can get full-ride scholarships."
Montoya, however, has not seen the court since the 2020-21 season. She said she suffered an anterior cruciate ligament tear her sophomore year and discovered a hip injury last semester.
"It's not my first rodeo, unfortunately," Montoya said. "This recent one was a labral tear in my hip."
After exploring treatment options, Montoya said she underwent her fifth injury-related surgery to treat the tear.
Injuries like Montoya's labral tear often have a lengthy recovery process, forcing athletes to miss playing time, said Dr. Grant Garrigues, a shoulder and elbow injury specialist and co-team physician for the Chicago White Sox, Chicago Bulls and DePaul University.
"The rotator cuff or the ulnar collateral ligament or hip labrum, they're so full of stout, structural tissue," Garrigues said. "There's not a lot of robust blood supply and healing response, so they heal very slowly."
How athletes recover from injuries is a complex and difficult process that can change the mindsets of athletes, said Dan Krizan, athletics counselor for Pepperdine Athletics.
"There is maturity and resilience that is grown from having those experiences," Krizan said. "On the flip side to that, it can be quite frustrating."
Krizan, a former athlete himself, was a member of George Washington University Swim and Dive from 2008 to 2012. He said his position at Pepperdine functions as a hybrid between the Counseling Center — such as being on call for the Counseling Center's 24/7 crisis phone line — and supporting athletes, particularly with their mental well-being.
"One of the biggest things that [an injury] does is that it allows them a chance to explore more identities about themselves outside of their sport," Krizan said.
Baseball first-year pitcher Adam Troy, who is recovering from his first major sports-related injury, an ulnar collateral ligament tear in his elbow, said he has had an extensive recovery process.
Garrigues said UCL tears are exceedingly common among pitchers.
"Whenever a pro athlete throws, they're throwing at the limit of what the body can take," Garrigues said.
UCL reconstruction, more commonly known as Tommy John surgery — named after Hall of Fame pitcher Tommy John, the first pitcher to undergo the surgery — is the go-to treatment for UCL tears, Garrigues said.
It is a common misconception that players will actually improve in performance following Tommy John surgery, Garrigues said, however, 85% of patients can return to their initial physical performance following the procedure.
Troy underwent this surgery in June and said he has been on a 14-month recovery plan since. He has approached his rehabilitation with discipline and drive, he said, but still feels the difficulties that come with recovery.
"There are still those days when you're out there at baseball practice kind of watching from the sidelines, and you're just not wanting to do your rehab," Troy said. "And you feel like you're wasting a little bit of time."
Often, Garrigues said the athletes he encounters have a mindset that through mental fortitude and grit alone, they can expedite their recovery process.
"There are biological processes that take what they take," Garrigues said. "And you have to have some patience for it."
Repeated experience with these processes has brought patience, Montoya said.
"I'm having to really calm my mind and everything inside my body while on the wait and understanding, 'OK, you have to heal,'" Montoya said. "Usually as an athlete, you don't like being still at all."
It is in discipline, along with a caring and supportive training staff, that Troy said he has found the patience to allow himself to heal.
"There are those days," Troy said. "But having the discipline to be able to say, 'If I want that, I need to do this today, now, and I need to do it as best I can.'"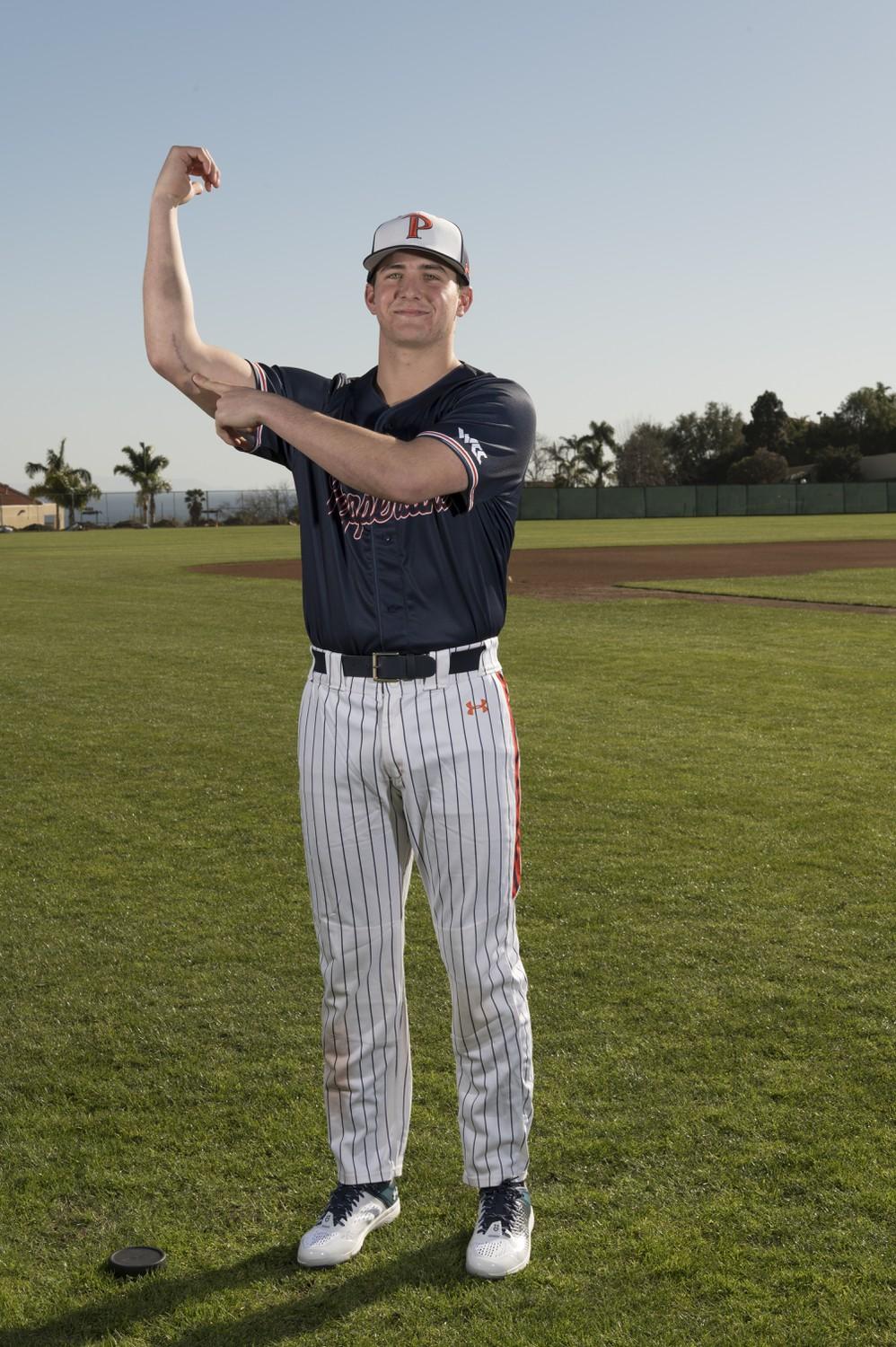 For Troy, he said this means sticking to his throwing program — an eight-to-nine-month plan that eases him back into throwing by incrementally increasing the distance and power that he throws.
"There are days when it feels like I never got surgery, and I feel brand new, and I feel like I can just throw at 100 miles an hour," Troy said. "Even though you want to just go throw as hard as you can, just trust the process and stay at your 75-80% clip."
Montoya said she can apply these lessons to the court, as she plans to play for the Waves in her senior year.
"As a point guard, it's really important to be calm and still," Montoya said. "You bring the ball up the court, and it's chaotic. People are face guarding you, or one of your teammates is getting doubled [teamed] or you're getting doubled [teamed], and everybody's now tense, so let's bring up the ball, remaining calm."
Troy, who is only at the start of his athletic career, said he hopes to come into a more leadership-oriented position in the future. His primary goal, however, remains performance-based.
"Goal No. 1 of all baseball players is to be a starting pitcher in the rotation," Troy said. "That's my goal. I want that for myself."
Much of her mindset surrounding failure, Montoya said, is a result of her overcoming her injuries.
"Do I want to manifest that? Absolutely not," Montoya said. "But I'm not allergic to the sweat and the hard work that comes with failing."
Troy said even prior to his injury, his favorite thing about baseball is that the sport is riddled with small challenges waiting for athletes to overcome them.
"Baseball is a game of failure," Troy said. "If you get three hits out of 10 at bats, you go down as a Hall of Famer."
___________________
Follow Currents Magazine on Twitter: @PeppCurrents and Instagram: @currentsmagazine
Contact Max Pohlenz by email: maximillian.pohlenz@pepperdine.edu