Photo courtesy of Alex Forero and Dr. Susan Rice
Pepperdine named two new members, Brett Biggs and Seth Haye, to its Board of Regents over the summer.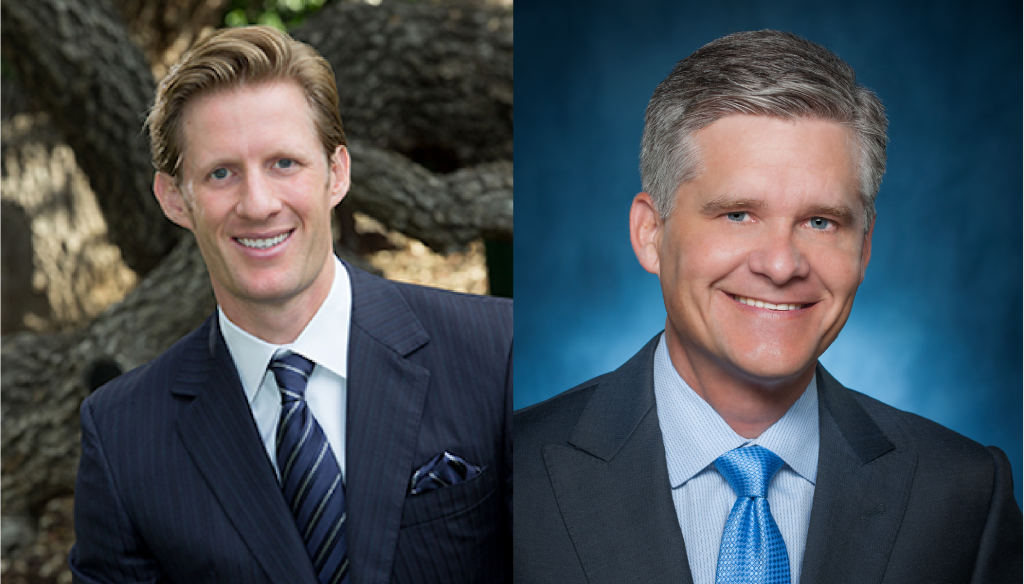 Biggs is the executive vice president and chief financial advisor of Walmart Inc., and Haye is an executive director and portfolio management director at Morgan Stanley. Both have received accolades for their work in the corporate sector, and both are involved in a number of philanthropic organizations on and off Pepperdine's campus.
"Pepperdine is unique with our commitment to both mission and academic excellence," University President and Chief of Staff Marnie Mitze said. "Our regents really care about this place and our students."
Mitze said Church of Christ affiliation, diversity, ability to give and commitment to the university mission are all important factors when assessing prospective regents.
Biggs and Haye are familiar with the university's mission. Biggs' daughter, Hadley, is a sophomore at Pepperdine and writes for the Graphic. Haye attended Pepperdine and is a member of the 2017 inaugural Top 40 Under 40 List. Mitze said people may not fully understand the level of governance that is required of regents.
Senior Amelia Hemsley is one of those people.
"I honestly have no idea what the Board of Regents does," Hemsley said.
The 40-member board is the governing body and chief policy directorate of the university. According to the New Regent Orientation Manual, regents must dedicate themselves to upholding the university's values, acting as ambassadors to advance the University and supporting the University financially.
"As a non-for-profit institution, our governing board is not compensated," Mitze said. "So there's a big difference in the recruiting process and getting people who care so much and are passionate enough about Pepperdine to be willing to give up not only their valuable time, but also their resources and expertise. It's a real commitment on their part, so it's not a task that one accepts lightly."
All members of the Board of Regents serve on one or more committees.
President Andrew K. Benton and Chairman Edwin L. Biggers oversee the membership committee, which is responsible for selecting new regents. Every June, after a stringent vetting process, the membership committee recommends a slate of regents who are up for reelection, as well as new regents.
"We all receive a list of all the candidates and their bios in advance of the Board of Regents meeting, and then we are provided a slate to vote for them, either yes or no," Regent Dr. Susan F. Rice said. "There's a very careful process and good practices that are conducted."
The entire board then votes for candidates on a confidential ballot that requires a three-fourths majority for approval.
Biggs' and Haye's approval comes at a pivotal time. The role of the Board of Regents is especially significant this academic year, as they are tasked with selecting a new University president.
"It's a nine-member committee and soon, after the closing date for applications on Oct. 12, they will begin working through candidates files," Mitze said.
Rice is a member of that search committee. She said the committee has partnered with an independent search firm and are working to ensure that they are pursuing the candidates who are most qualified, and most committed to a Christian university and the highest and best practices of higher education.
"We developed a plan," Rice said. "We were committed to the idea of transparency, and openness, and willingness and interest in hearing from all different groups. We developed a survey tool and sent it out to a number of groups within the database, and we had a number of open discussions with different groups on campus."
Rice said the committee will meet in-person next week to review where they stand in the search. If all goes according to the schedule, the committee will be conducting a series of confidential interviews.
In addition to the presidential search, the Board of Regents will spend the year focusing on the financial elements of the university, enrollment, international program and specific issues pertaining to any one of Pepperdine's five schools.
"Every decision that we make is kind of surrounded by the realization that Dr. Benton won't be implementing that after another year or two, so that's part of this overarching environment in which we will be making decisions this year," Rice said.
_________________________________
Follow the Graphic on Twitter @PeppGraphic