Photo by Kayiu Wong
An empty Waves Cafe sits barren and quiet after students were sent home in March. The wait to grab a seat will be continued through the fall semester, as Sodexo prepared grab-and-go meals for the few students left on campus.
The decision to determine Pepperdine's long-term food service partner will have to wait at least another year, thanks to COVID-19.
Pepperdine will continue service with food provider Sodexo for the 2020–21 academic year, as the decision regarding a new long-term contract is delayed indefinitely due to the uncertainty surrounding the pandemic.
In February 2020, Pepperdine Dining Services limited the candidates in its Request for Proposal (RFP) process to three finalists: Bon Appetit, Chartwells and Sodexo.
"That was blood, sweat and tears into the RFP process, so for [the Dining Services RFP] team, it was a difficult decision, but I think it was the right one," Nicolle Taylor, vice president and chief business officer at Pepperdine, said of the delay.
The proposals and presentations by the three finalists were complete in February, but the committee had not yet made its final decision when the worst of the COVID-19 pandemic struck.
"It would be difficult under those circumstances […] to make that sort of long-term commitment when we really didn't understand at all what the future was going to look like, particularly within the next year," Taylor said.
Additionally, Sodexo's experience with Pepperdine's emergency procedures allowed the school more flexibility to adapt to the ever-changing conditions that COVID-19 causes on campus.
"Familiarity with the campus and with our campus community is important in a crisis," Taylor said.
Sodexo had a small trial run during the initial campus lockdown of spring 2020, in which the Waves Cafe and other Malibu campus cafeterias provided only prepackaged meals to the limited number of students remaining on campus.
"You can count on food service in the fall being grab-and-go — everything being individually portioned, no self-service, no buffet-style food," Taylor said.
Pepperdine Dining Services brainstormed several new ways to distribute food during the fall 2020 semester: mobile ordering, food trucks and partnerships with local restaurants.
The mobile ordering platform will direct students to a distribution point on the Malibu campus. The food trucks and restaurant service plans have since been put on hold indefinitely due to Pepperdine deciding to deliver all fall classes online.
"Meal service will be centralized out of the Waves Cafe," Taylor said. "And of course we will continue to meet nutritional needs. […] It will be good for you, certainly, but it will be a pared-down service."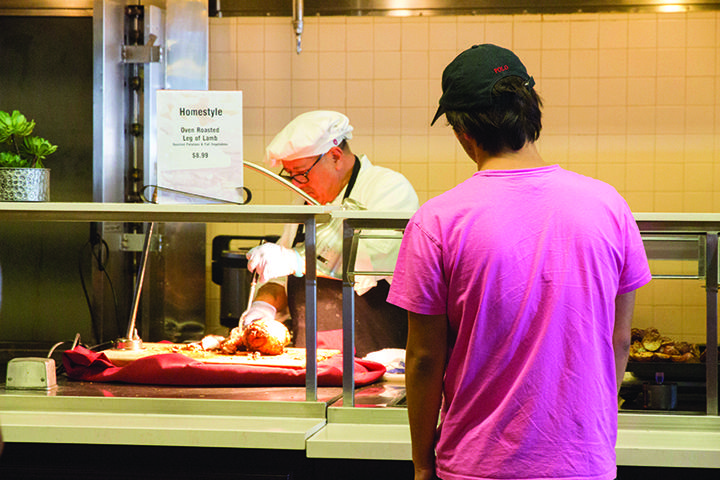 Initially, Pepperdine Dining hoped to reopen the cafeterias at Drescher Graduate Campus and the Caruso School of Law, as well as other on-campus options including Starbucks and the HAWC, in a modified form.

The plan indicated that Jamba Juice, Nature's Edge and Cafe Fresca would be closed, but Jamba Juice and Nature's Edge would serve as mobile order pickup or food distribution sites, and the Cafe Fresca would be replaced by an outdoor food distribution site or a food truck.
Those possibilities have been scrapped for the time being. The Waves Cafe will be the only dining option on campus when the fall service program potentially begins August 10, as the move-in process for first-year students is scheduled to begin.
Taylor said a few additional options may be available to on-campus residents at some point in the fall semester: small food markets so students can cook in apartment-style housing, as well as other distribution points nearer to residence halls for food reserved through the mobile ordering service.
The potential mobile ordering platform would allow students, faculty and staff to browse menu options and collect their meal from a certain distribution location at a certain time.
Of course, like anything else during the pandemic, these plans are fluid and subject to change.
One guarantee is that the cafeteria dining experience at Pepperdine will look far different in fall 2020, and likely spring 2020, than ever before.
The University is considering "limited or no indoor seating," depending on guidance from the Los Angeles County Department of Public Health, Taylor said. Conversely, outdoor seating, for dining and generally across campus, would increase.
Any form of self-service station, from toasters to soda dispensers, will be unavailable in the cafeterias.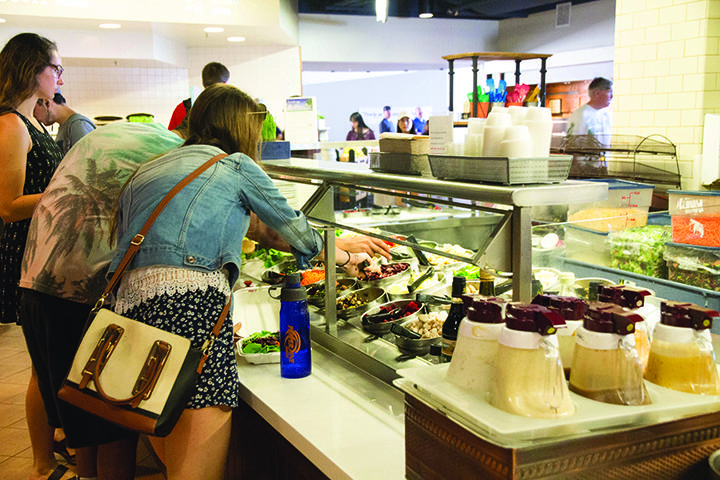 "You're going to be able to shop for what you want, [and] it's also going to have some variety," Taylor said. "[But] then it will also be limited because we're only able to offer certain types of packaging and kinds of food."
The ability of Pepperdine to provide on-campus resources depends on ever-changing guidance from state and county health officials. The University hopes to allow students who live off campus to visit campus to the greatest extent possible, but its decisions rely on this guidance, Taylor said.
"The only thing that the university is allowed to be open for is minimum basic operations that support distance learning and the limited students that we have on campus," Taylor said.
If the state and Los Angeles County issue differing restrictions for universities or dining, Pepperdine will have to follow the more restrictive measures.
Pepperdine usually hosts close to 2,500 students living on campus but will have less than 10% of that number when online classes begin Aug. 17, Taylor said.
"We want to be able to give our students all the security and understanding to be able to make your decisions," Taylor said. "And yet we're on this fluctuating foundation because we don't know what's being allowed, and what's being allowed tends to change pretty quickly."
It is possible that Pepperdine Dining's efforts to bring food trucks, restaurant service and other creative options to campus in 2020–21 will be realized in the spring semester, but those plans are rolled back for the near future.
Beyond the upcoming semester, Pepperdine intends to take up the RFP process again in the spring of 2021 and hopes to sign a new long-term contract in 2021.
"Our plan is to restart the RFP process and give the finalist competitors the opportunity to revise their bids based on what we believe will be the potential landscape for Dining Services going forward," Taylor said.
Though the pandemic could delay the process further, the University will at least renegotiate with Sodexo again in advance of the expiration of the current agreement.
______________________________
Follow the Graphic on Twitter: @PeppGraphic
Contact Karl Winter via email: karl.winter@pepperdine.edu