Photos by Hadley Biggs
Pepperdine's Firestone Fieldhouse weight room is closed due to a water intrusion and rodents. The gym has been closed since Thursday, Aug. 29.
"Last week the university began work to address a water intrusion due to condensation in the ceiling of the Firestone Fieldhouse Weight Center," Alex Forero, the public relations manager of Pepperdine, wrote in an email. "During these repairs, Facilities Services discovered evidence of rodents."
In the meantime, students can exercise at The Cage — an outdoor fitness space located behind the tennis courts. It does not have any cardio machines, but it contains weights, medicine balls and other strength-building equipment.
"I have been using the Drescher gym and the Firestone gym depending on my workouts," senior Priscilla Magana said. "I went to the cage last night and it did not have the equipment I needed. There are no mirrors to check my form. I know other students are frustrated there are no cardio machines."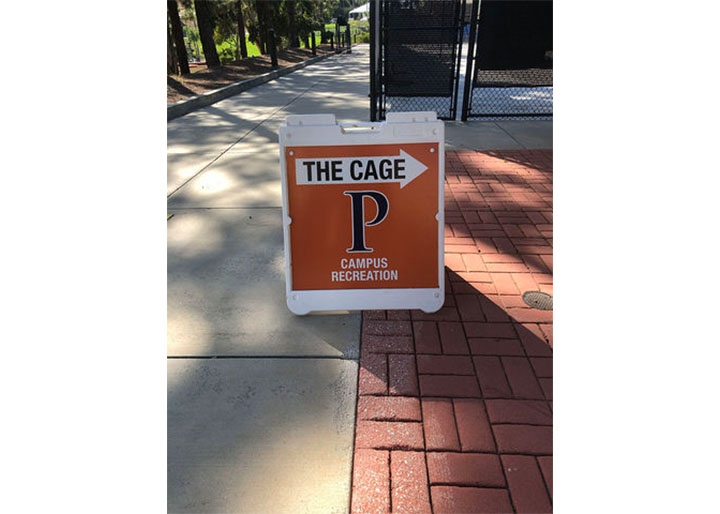 There is a plan for a temporary gym in the parking lot behind the baseball field, Director of Campus Recreation Robb Bolton said.
"We're trying to work as quickly as we can to provide a place for students to work out, instead of just shutting [the gym] down," Bolton said. "The hours should be the same as the Firestone gym, but we will have to see based on the lighting in the parking lot."
The temporary gym will open soon, according to Campus Recreation's website.
"There will be power, lights and air conditioning. It will be a great temporary solution," Associate Dean of Student Affairs Doug Hurley said. "The temporary gym will include almost all the same equipment from the Fieldhouse weight room."
The gym is expected to be open again in three to four weeks, Hurley said. In the meantime, students are encouraged to work out in The Cage or in the temporary gym in the parking lot behind the baseball field.
"To properly repair and sanitize the Weight Center, all ceiling tiles and insulation are being removed and replaced," Forero wrote. "The room and all of the equipment housed inside will also be sanitized. The Weight Room is expected to fully reopen by Friday, Sept. 20."
The Towers Residence Hall, Seaside Residence Hall and Drescher all have gyms in their buildings, but they are only accessible by keycards of the residents that live there.
"It's a bit inconvenient for myself and the rest of the student body that the gym is closed," senior Holly Reynolds said. "Thankfully, Pepperdine has other gyms on campus. I have been using the Drescher gym."
______________________
Email Hadley Biggs: hadley.biggs@pepperdine.edu