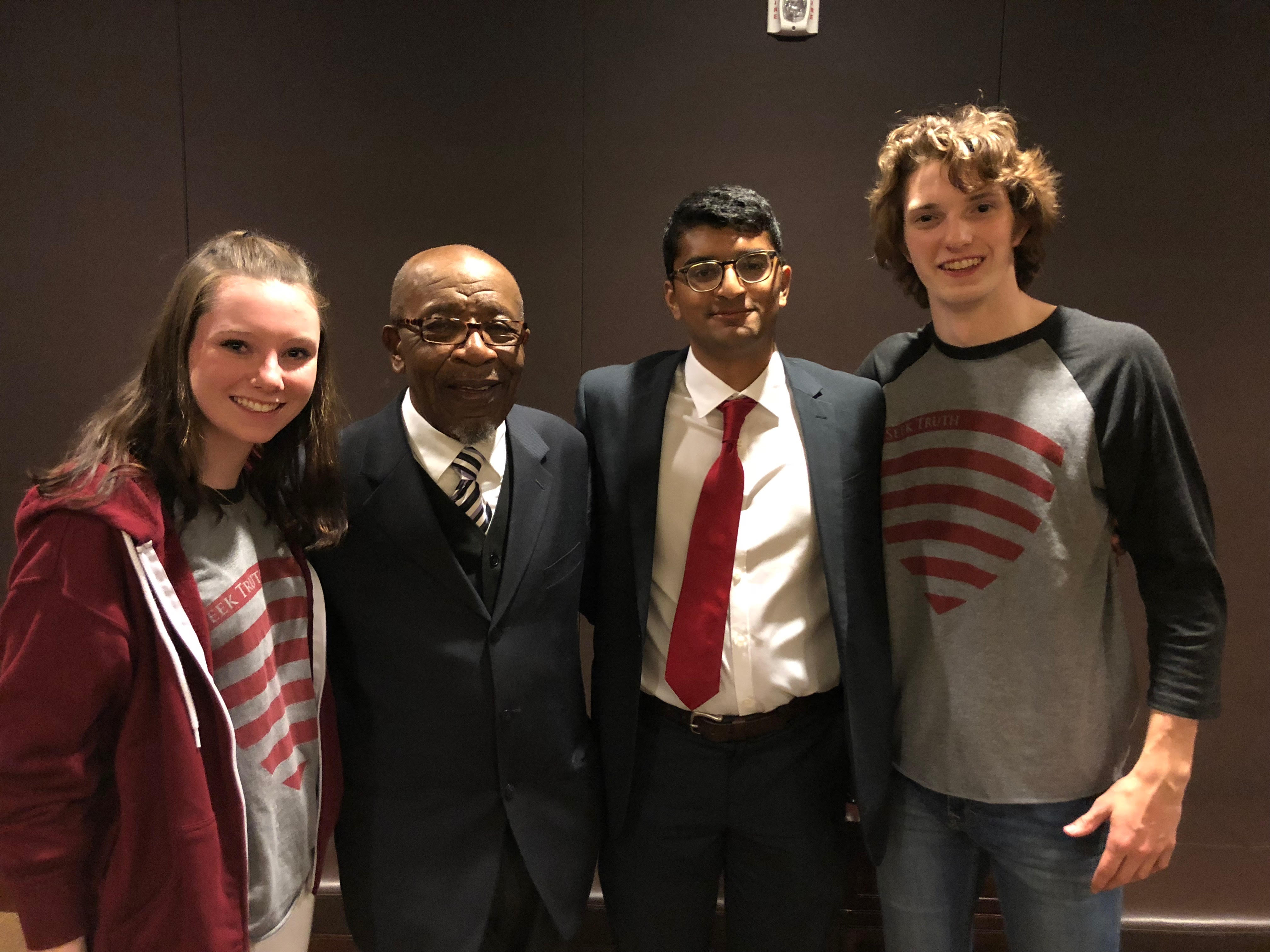 Photos Courtesy of Erin Miller
On Monday, Feb. 11, the same day as the Westboro Baptist Church picketed the Malibu campus, the Pepperdine Veritas Club is holding its annual forum on the meaning of Evangelicalism in the current world.
The Pepperdine Veritas Club is looking forward to its annual forum, entitled "Evangelicalism: Love or Fear?" which will take place tonight at 7 in Elkins Auditorium. This year, the club will welcome Mark Labberton, the president of the Fuller Seminary, to discuss the meaning of Evangelicalism in conjunction with his book "Still Evangelicalism?"
"The club is a big community where people are super interested in discussing ideas," Ben Hancock, sophomore and Pepperdine Veritas Club co-president, said. "[We] want to discuss very challenging ideas while handling them with as much grace as possible."
Freshman member Zac Coleman said he believed having their forum on Evangelicalism and why it is such a politically charged movement is very relevant in the United States, but especially on Pepperdine's campus.
The first Veritas Forum began at Harvard University in 1992. Now, universities have held over 2,000 forums across the United States and Europe in order to help students and faculty answer life's most difficult questions.
The Veritas Forum came to Pepperdine in 2009. Since then, the Pepperdine Veritas Club has held weekly meetings and invited an annual speaker to the Malibu campus.
The club is looking forward to seeing the turn out for the forum and hopes that they meet new prospective members through it, Hancock said.
"I think everyone should join because first and foremost, we are friends and that is the most important part," Hancock said. "Also, these are questions that everyone is pondering."
Hancock said the club brings a speaker, usually a professor, to its meetings every two weeks to have a discussion on faith or philosophy. In the weeks without a speaker, the members speak about past speakers or pose new questions to explore.
"We are a super awesome and super friendly group of people," Hancock said.
Coleman said he was interested in the Veritas Club the moment he saw it at the Waves Expo in August.
"We bring up problems or questions that we have about religion or philosophy and have an open discussion about what each person thinks," Coleman said. "We collectively try to discover the truth."
Hancock said he believes the best thing about the club is that it is not Christocentric. Its mission statement, "Veritas is a diverse community of thinkers seeking spiritual truth together," encompasses and encourages all faiths, Hancock said.
"All faiths 100 percent are welcome," Hancock said.
Another thing that makes the club so interested in this topic and excited for the forum is the Westboro Baptist Church protest because it is an Evangelical church.
As stated in a press release Sunday, Westboro Baptist Church will be at the Malibu campus Monday, Feb. 11 at 8 a.m. to protest Pepperdine University, its students and faculty.
The other reason that this year's topic is so relevant is the prominence of the Evangelical movement in our world, Hancock said.
The word 'Evangelical' encompasses not only a religious group but for some people, describes a political group, Hancock said.
"I think that there needs to be clarity among everyone when this word 'Evangelical' gets tossed around, about what that means and what we want it to mean," Hancock said.
Freshman Raymond Rider said he is growing more interested in the Veritas Club as he learns more about it.
"As a philosophy minor, I heard about Veritas but didn't know much about it," Rider said. "I recently saw their booth in the Caf and stopped and talked with them for a while."
Since he is very curious about exploring moralism and apologetics, Rider said he was very excited about hearing about the club's events and values.
"I am very interested in getting involved and I think that a lot of other people would be interested in being involved with them if they understood their mission," Rider said. "I'm really looking forward to the event on Feb. 11 because it's going to discuss an issue that I have frequently thought about."
Coleman said students of all interests and majors would benefit from attending the forum.
"I believe that every Pepperdine student would benefit from hearing this lecture because it's a topic that encompasses everyone, whether you're religious or not," Coleman said.
Hancock agreed.
"Regardless of your faith background, the conversation surrounding Evangelicalism is desperately needed on every university college, but especially Pepperdine," Hancock said.
_______________________________
Follow Rowan Toke on Twitter: @rowantoke