Photos Courtesy of Kira Brown
The Pepperdine theatre program brought Euripides' Greek Tragedy, "Medea," to Smothers from April 4 through April 7.
The show presented Ben Power's modern-adapted version of the play, which was first performed in 2014 at the National Theatre in London.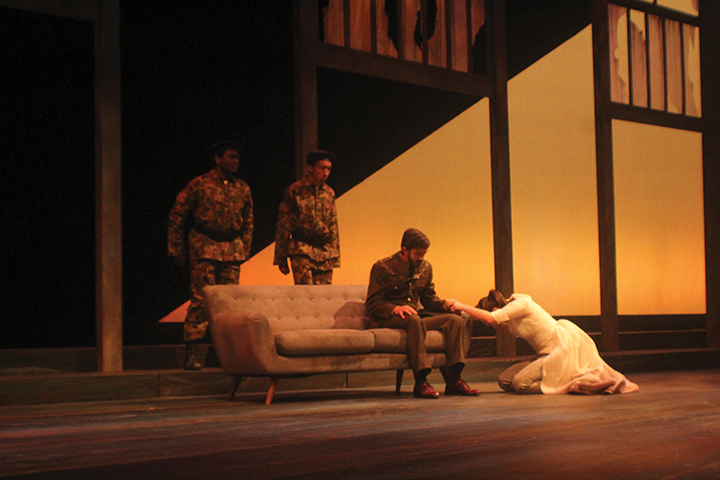 The play follows the inner struggles of a wife, Medea, as she carries out her calculated desire for revenge and justice against her unfaithful husband, Jason. After Jason leaves Medea alone with their two sons, Medea is pushed over the edge with rage when she finds out that he intends to marry the daughter of the King of Corinth. When Medea's nurse and the chorus, comprised of the women of Corinth, overhear her emotional turmoil, they fear for what she will do to herself and her children.
The show, which was not intended for audiences under 12 years of age, presented a series of adult themes that audiences can find relevant to this day and age.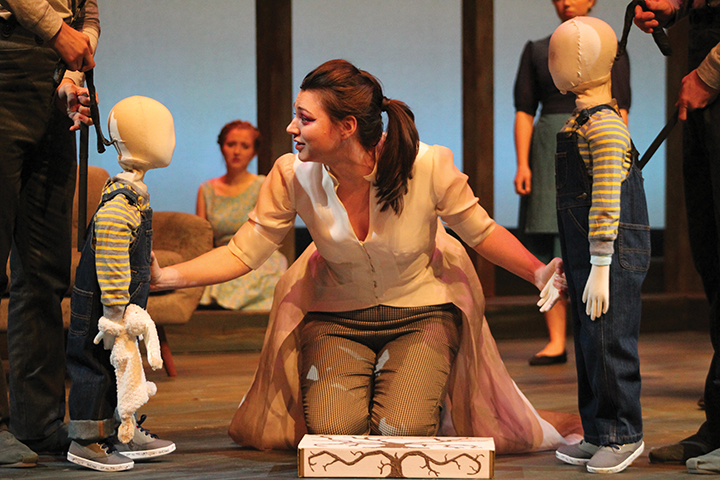 "I thought it was not only fantastic, but super relevant," junior audience member Will Perrin said. "Heart break, vengeance, justice … immigrants in a foreign land; these themes are all super relevant in America in 2018."
Freshman George Preston, who played Jason, said the dark themes of murder, revenge and loss made it the most challenging role in his acting career so far.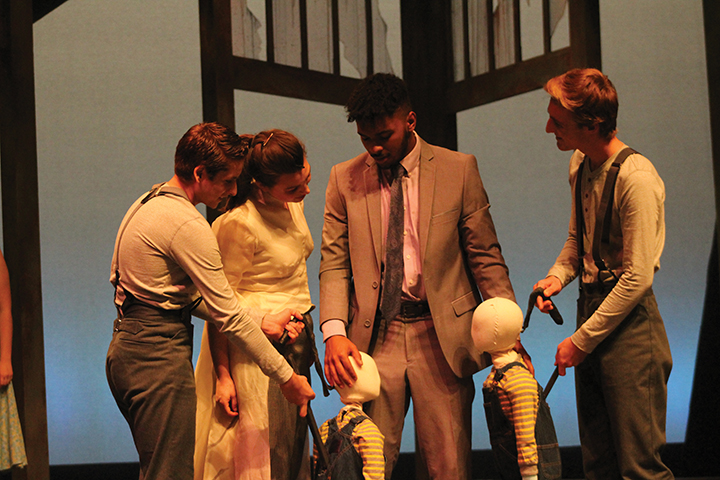 "I was really fearful of the role because I've never been that vulnerable on stage before in my whole career. Every night I would read a devotional or research where people were losing their children and try to see how that would affect me. I used a lot of prayer to connect that deeply because it's something I've never come close to experiencing," Preston said.
Medea's heinous actions toward Jason and her children lead many to interpret her character as psychotic or on the verge of a break with reality. Senior Sarah Barney, who played Medea, gave the character the benefit of the doubt.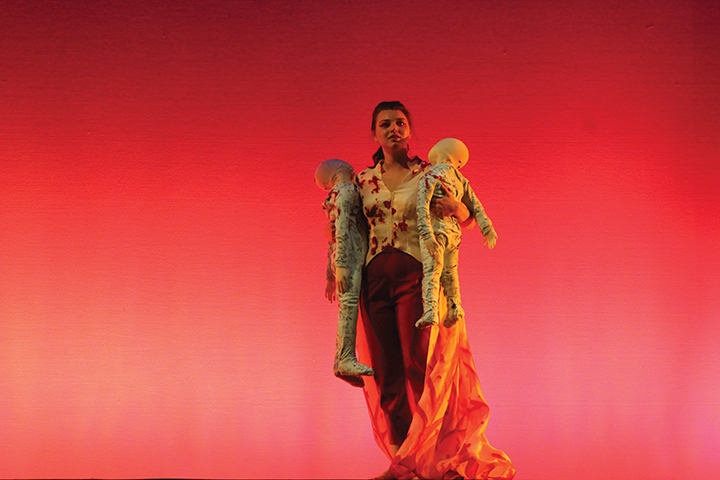 "I had to have a sit-down talk with myself about how I was not going to judge her. I personally came to the conclusion that she's the sanest person on that stage," Barney said.
Barney hopes that audiences saw Medea as a woman subject to the tragedies around her rather than the typical interpretation of Medea as an insane women blinded by rage.
"I think there's a lot at stake when it comes to not writing her off as crazy, because when you do that, you lose so much of the nuances and the heart of the story," Barney said.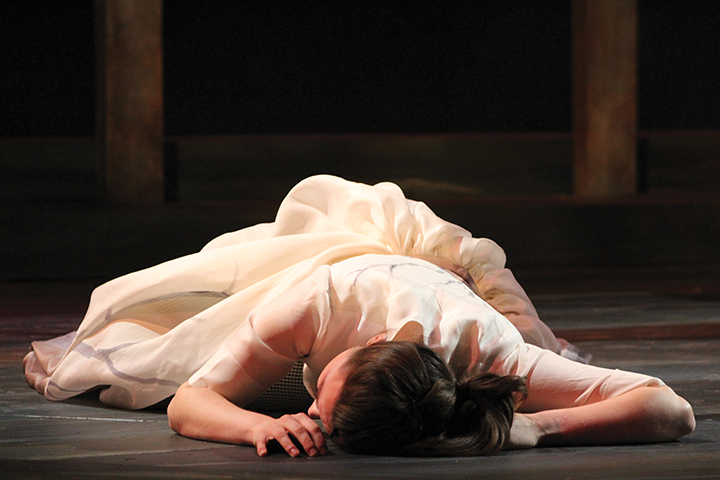 Barney said that after spending so much time with her character, she challenged herself to see the role more three-dimensionally.
"She moves forward thinking this is the only way for justice to be restored for right and wrong to have their day. There's always a hope that someone sides with her, even if they don't agree with what she did," Barney said.
The lighting, set and soundtrack provided an immersive experience for the audience.
"I wasn't ready for the score, I thought the electric soundtrack was super cool. They utilized the colors and screens in the background and lighting really well. I thought it was really immersive and cool," audience member Perrin said.
Sound director Kyle Wurtz said that he wanted the score to aid the storytelling and build up tension for the audience.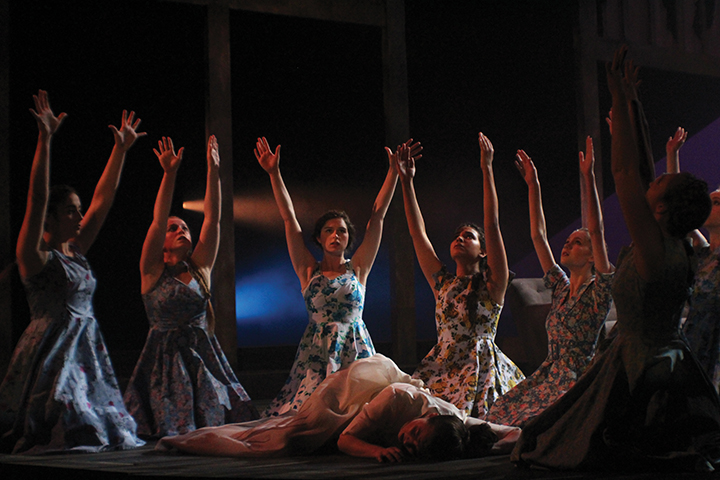 "I had to portray with music a connection to this world … It was abstract, but I wanted to set up what we were going to be experiencing in this play," Wurtz said.
Wurtz wanted to utilize lighting in combination with sound to develop Medea's character.
"[Medea's] a demi-god, so we had to convey that power and darkness that was behind all of this," Wurtz said. "The lighting went right along with it. All the lighting that you see is moving lights programmed to move in time with the music."
The play provided an overall emotive experience for theatre-goers. Junior audience member Rachel Munzar said she was surprised by how affected she was by the show.
"I had been warned that it would be a really emotional experience, but I was surprised at how emotional I actually got. I really felt something. It was incredible to see that." Munzar said.
_____________
Follow Pepperdine Graphic on Twitter: @PeppGraphic