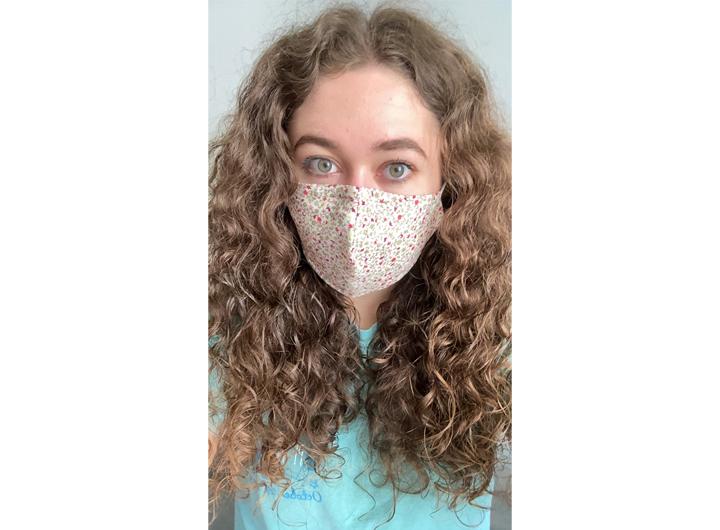 Junior Emily McNutt wears a mask to reduce the spread of COVID-19. Both McNutt and her parents tested positive for the virus this spring. Photo courtesy of Emily McNutt
Pepperdine students across the globe have felt the adverse effects of the COVID-19 pandemic. A particular group of students, however, have had the unique challenge of testing positive for the virus.
The University is aware of 49 cases of COVID-19 among students, faculty and staff in the Los Angeles area and beyond, according to Pepperdine's COVID-19 University Updates page. Pepperdine obtained these positive test results through testing done at the Student Health Center before the campus closed, through self-reporting by those who were tested off-campus and by individuals who were not tested but could assume beyond a reasonable doubt that they had contracted the virus.
Junior Cameron Zohary learned he had contracted the virus after returning home to Virginia from the London program. While Zohary had some concerns about his own health given his preexisting asthma, he said his biggest concern was for the health of his family members, including his great aunt, grandmother and grandfather, whom he came into contact with before learning he had the virus.
"I wasn't afraid for myself," Zohary said. "I thought that I killed my grandparents."
Zohary said none of his family members ever tested positive for COVID-19. Still, he remained quarantined in his parents' basement for the duration of his illness and strictly avoided contact with any family or friends.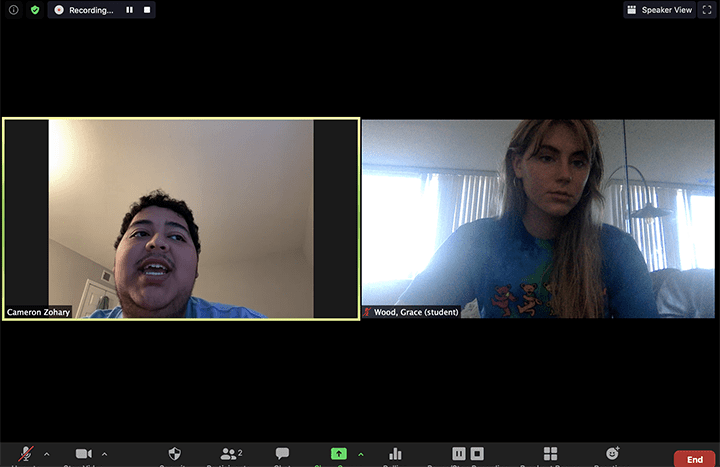 "It's feeling like you're dangerous and everyone else is a glass house," Zohary said. "I have a backyard at my house in Virginia, but I just didn't want to go [outside]. I was like, 'What if my droplets fly to the neighbors?' And so, I went outside probably once a week for, like, five seconds, just because of fear and anxiety."
For Zohary, the symptoms manifested like a bad flu. He said on top of the usual cough he has due to asthma, he experienced a brief loss of appetite, some fatigue and dehydration. While he said he wouldn't wish the experience on anyone, he came out of it relatively unscathed.
"I was very lucky," Zohary said. "We were expecting it to be much worse for me. […] I got diagnosed mid-March, and by April 9, I was cleared."
Zohary, however, said the pandemic has been hard on his family financially and the time spent in quarantine took a toll on his mental health. He said even after he had made a full recovery, he still had to reconcile that his life wouldn't return to normal.
"Even though I was over [COVID-19], I was still staying at home, not doing anything," Zohary said. "I had a mental breakdown. I'm like, 'I am that 20-year-old living in their mother's basement.'"
As the pandemic swept through California in March, students had to tie up loose ends on the Malibu campus before being able to return to their homes. Junior Raica Kwizera was serving as an RA in White House when Pepperdine students learned the campus would close due to COVID-19.
"It was a matter of ignoring how I felt so I could figure out everybody else's situation," Kwizera said. "When the announcement came, it was more of, 'What are my residents going to do? How am I going to be a sense of comfort for them? How am I going to be there for them in this time?' Figuring out what I was going to do came after."
Kwizera said she learned she had contracted the virus upon landing in her home country of Rwanda. Although she was asymptomatic for the duration of her time in quarantine, which took place in a hospital in Kigali, she still was unable to see her family for over six weeks because her test results were continuously positive.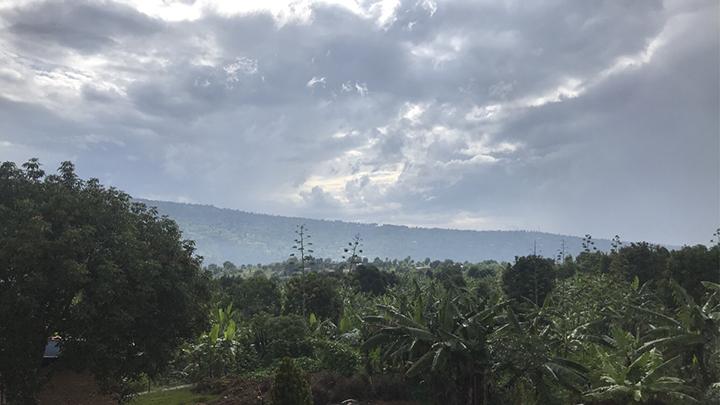 "I had [COVID-19] for 44 days, which was longer than anybody else [in Rwanda] at that point," Kwizera said.
Kwizera continued to do her schoolwork while in the hospital and said her professors and classmates accommodated her unique circumstances. She also said being in the hospital with other people dealing with COVID-19 helped her feel a sense of support and community during the trying time.
"I think mentally that helped — seeing people who are in the same situation as you," Kwizera said. "It was very hard with people outside of the facility constantly asking me, 'How are you doing?' But once you were there, you realize everybody is in the same situation, almost everybody is asymptomatic, you're fine — it made the situation a lot better."
After receiving two back-to-back negative tests, Kwizera was eventually able to reunite with her family, which she described as a surreal experience. She said that while the time spent in quarantine was difficult, she was grateful to be in Rwanda rather than in the U.S. and that her parents were still able to keep working.
"Even when I first found out that I had it, I was like, I'm so glad to have it here in Rwanda than in the U.S. because I know that there's more of a set process, there's not as many cases, there's attention to details," Kwizera said. "I think something that people in the U.S. should hear and take seriously is that it really is a communal effort. I think everybody has got to take it personally and see that it's up to them."
Junior Emily McNutt discovered that she and her parents had contracted COVID-19 shortly after she returned home to Arizona from the Lausanne program. While all three of them experienced different symptoms, McNutt said her most notable symptoms were loss of taste and smell, headaches and body aches. Like Zohary, McNutt said she mostly felt afraid for her parents' health rather than her own.
"Both of my parents used to smoke, [and] they're both over 50," McNutt said. "That was sort of the bigger fear — not knowing when it was like, OK, they probably won't get worse, not knowing when it was in the clear. There was less of a personal fear but definitely a worry for my parents, which was crappy to also feel on top of already being sick."
McNutt said her family felt fortunate to have been financially stable while in quarantine, despite having to stay in their house for over a month.
"We were in a privileged position that no one lost significant finances because of it," McNutt said. "My dad already works from home, and my mom's a teacher, so no one lost jobs or had serious hardships in that way. But we were out for five weeks, and if we were a family that needed someone to be working that whole time not in the house, that would have been devastating."
An aspect of having COVID-19 that McNutt said surprised her was the fact that no one in her household ever ran a fever during their time spent in quarantine, which she said made her wary of the fact that many businesses and schools' reopening plans are contingent upon temperature checks.
"A lot of reopening plans don't take things into a strong consideration of how much reasonable interaction you have with another person in this setting, or how symptoms look differently for different people or that your symptoms can develop a little bit later than when you contracted it," McNutt said.
Zohary said young people need to take COVID-19 more seriously and not think of themselves as immune to the virus solely because of their age.
"People are acknowledging the problem but thinking they're invincible," Zohary said. "Young people have this complex where they think nothing wrong can happen to them until they have it."
_________________
Follow the Graphic on Twitter: @PeppGraphic
Email Grace Wood: grace.wood@pepperdine.edu