Photos by Sherry Yang
Students came together for "Divided We Stand: The Story of Identity and Community at Pepperdine," a dialogue exploring how to encourage respect between people of differing beliefs, on the evening of March 28. The convocation event included a screening of the documentary "Divided We Stand" by senior Tara Jenkins. The film features 21 students from different backgrounds who discuss their perspectives on identity and community at Pepperdine.
Jenkins led an open discussion after the viewing, along with several students featured in the film. She said she wanted to create a space where students could freely speak about what they think Pepperdine can do to build a better community.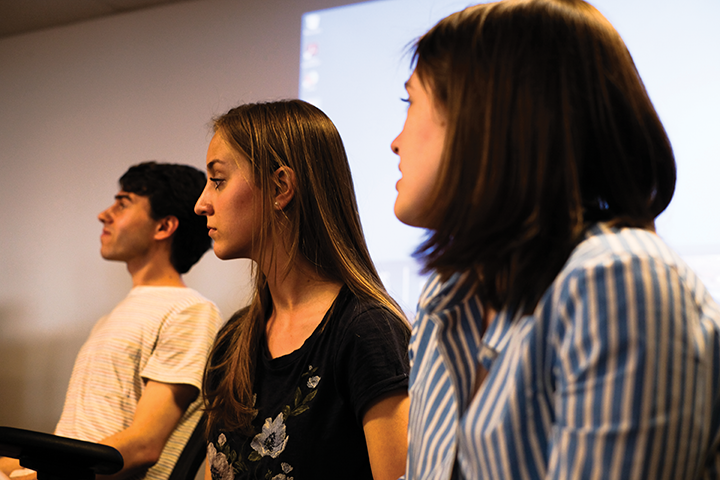 "I've been really interested in whether the Pepperdine community reflects the disjointed nature that we see on a larger scale," Jenkins said. "I tried to get a wide variety of the Pepperdine community to find out how inclusive our society and Pepperdine really is."
As a Christian university, Pepperdine has a duty to create an accepting community, Jenkins said. During the panel discussion, she encouraged students to talk about their experiences as "outsiders" trying to find a home at Pepperdine.
"Really if I had to describe my experience at Pepperdine, it's been 60 percent bad and 40 percent good," senior Damir Kaliyev, a member of the LGBTQ+ community who said he thinks he could have received more support at a different university, said. "But I did receive a lot of support from the students here, too."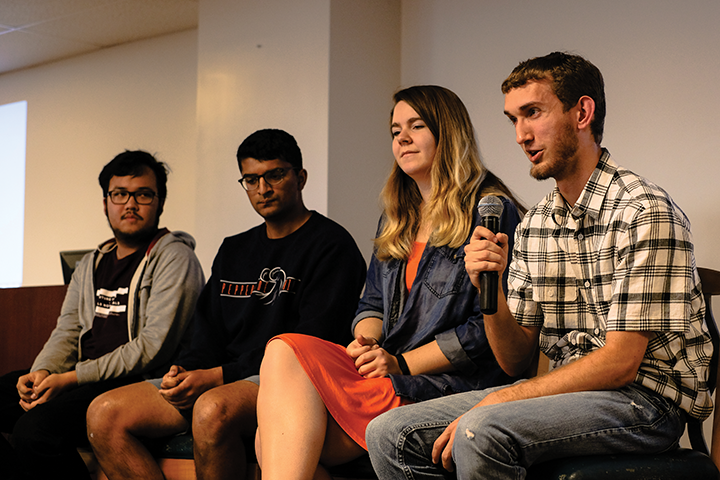 Senior Michaela Meyer, an atheist raised in a liberal home and an assistant editor at Pepperdine Graphic Media, said fitting in was initially difficult for her as well.
"I never wanted to go to a Christian school," Meyer said. "The assumption that everyone here is Christian — which isn't actually true — made it hard to find a [wider] variety of people. But I think overall it's been a positive experience."
Senior Cote Keller, a conservative libertarian, said he also struggled to fit in.
"Learning to retain my core beliefs while 'fitting in' with [more liberal] people was one of the struggles that I faced freshman year," Keller said. "[But] I think I came out better for it, and I'm glad I've been exposed to people from different backgrounds."
After talking about their own experiences, students discussed how they think Pepperdine can create a more inclusive environment.
"I think what really would bond us is an idea of acceptance and love," Junior Michael Mossucco said. "Everyone wants to be accepted [and] loved — so just [by] understanding what another person is feeling — you can identify with them."
Panel speakers agreed that having open dialogue can foster a more respectful environment.
"Practicing listening is something we can all do," Keller said. "Going that extra mile and extending your ear and your arm to someone with whom you disagree vehemently."
A Q&A with the audience followed at the end of the panel. Some members of the community stayed after the event to greet Jenkins and the other students.
"I thought it was great," Professor John Barton, director of the Center for Faith and Learning, said. "In the end there what I was thinking is how mature and nuanced all of them were. All different perspectives and different sides of the Pepperdine community but they talked about it fairly and with one another, and I thought it was really encouraging. I didn't know what to expect, to be honest. But I found it encouraging and inspiring."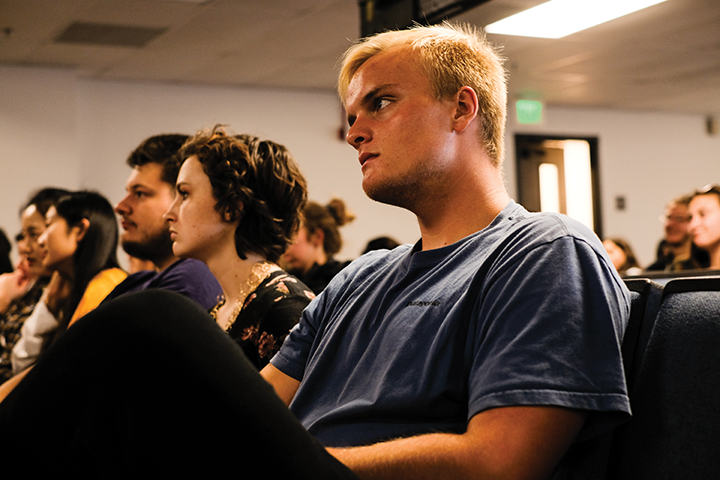 Freshman Audrey Rhynerson agreed.
"I think it's important for us to start these kinds of dialogues — especially in our community," Rhynerson said. "Even if the conversations are hard to have and listening to the other side is hard, coming to terms with our differences and addressing the things that divide us is really exciting. And there's a lot more potential for us to keep going."
Rhynerson said she would like there to be more events like this going forward.
"I'd like to see us be more open and more direct," Rhynerson said. "And really look at and analyze and discuss the specific things that divide us."
___________
Follow the Pepperdine Graphic on Twitter: @peppgraphic