Photos courtesy of Arian Behboodi
Donating to charity just got easier with the new app, GivnGo.
Founded by Pepperdine alumni CEO Arian Behboodi and COO Zachary Darwish, GivnGo is an app launched two months ago that allows users to donate their spare change to the charity of their choice. The app is available on the app store for free for iOS users and makes it easy for people to donate their extra change to make a big difference in the world.
"We can all sacrifice a cup of coffee a month to give back," Behboodi said. "Five dollars is not a ton of money to give up. For $240 you can give a child a surgery that will save his life. It's crazy how much you can make an impact with a bit of change."
GivnGo's mission statement is "by sharing your spare change, you can make the world change," according to the website.
The app has different donation options to donate spare change to the user's favorite charity, according to Industry Today. These options "include one-time donations and a monthly recurring option." There are also "'Round Ups,' which allows users to give back every time they make a purchase by donating their spare change," according to the article.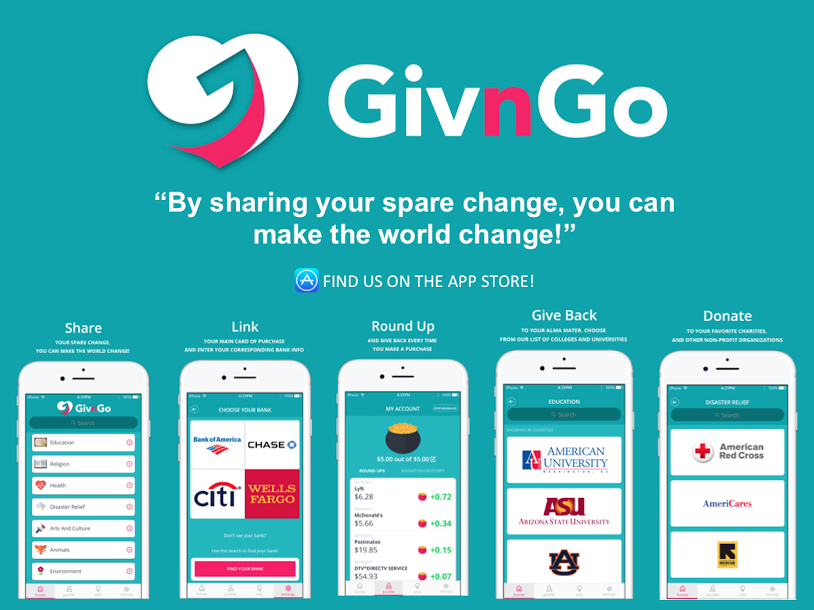 The app has over 100 charities, as well as universities for students to give back to their alumnus.
"We have 110 non-profits [on the app] that we selected through partnerships or the big charities like Goodwill, American Red Cross, Toys for Tots or World Wildlife Foundation," Behboodi said. "We support all denominations and backgrounds. We also have a religion and LGBTQ+ section on the app."
Behboodi came up with the idea while studying in the JD/MBA dual program at Pepperdine Law school with Darwish. Behboodi received his bachelor's degree studying history at UCLA before going to Pepperdine and always had a passion for charity. As an undergrad he worked for fundraisers and wanted to give back to the community.
"We wanted to start an entrepreneurial venture that helped make the world a better place," Darwish wrote through email. "With GivnGo, a new, quick and easy process was born to help move 'giving' truly into the 21st century."
GivnGo began in 2015 and has taken two and half years in the making. The app has over 150 users since GivnGo's soft launch in early August, but the goal is to get close to 10,000 users by the end of the year, Behboodi said.
"We have actually only been in the app store for a few months, but in that time we have raised thousands of dollars for various charities," Darwish said. "As our brand name grows and as more and more charities sign up with us, we expect the number to grow exponentially."
Behboodi and Darwish hope GivnGo will inspire people to donate and give back to their communities and schools.
"Our company hopes to increase the total number of people who give back, as well as to increase the total dollar amount contributed to charities, schools, and religious institutions every year," according to the company's website.
In the future, GivnGo hopes to work with Pepperdine students and teach students that it's possible to give back even on a college budget.
"There's a lot of good stuff on the horizon," Behboodi said.
_____
Follow the Pepperdine Graphic on Twitter: @PeppGraphic