Photos by Brett Bean
The Pepperdine Volunteer Center and the Office of Intercultural Affairs finished the Week of Peace, Hope, and Justice with the event, "Prayers for the Nation, Letters to the President," Jan. 20 at Stauffer Chapel.
The focus of the event was to create an open space for the Pepperdine community to discuss, pray and write letters to President Donald Trump. The Week of Peace, Hope, and Justice centered on engaging the community to address topics such as social justice and equity in an open, free space.
"The ultimate goal of this event is to give people space to process whatever thoughts and feeling they may have regarding the inauguration," Graduate Programming Adviser Jimesa Coxsey, said. "It's really just for people to process in different ways, and I hope this was a space where people felt they could do that."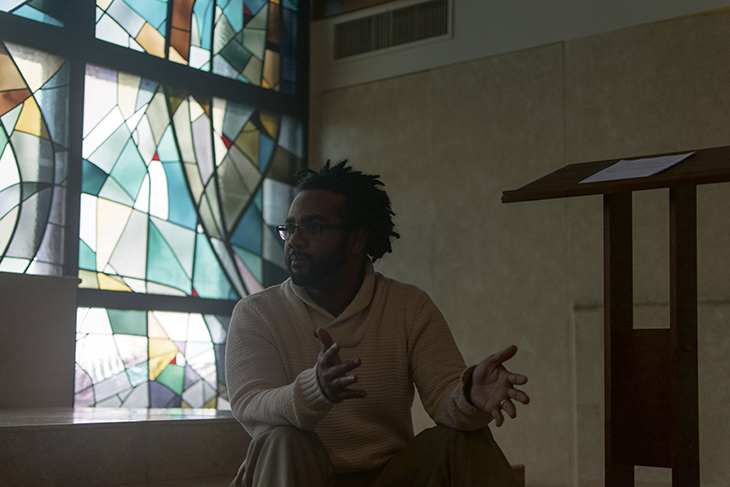 The Week of Peace, Hope, and Justice kicked off Jan. 16 with the MLK Day of Service and culminated with this event.
"In the context we see a lot of how the season leading up to the election revealed how our nation is divided in ways previously unknown or ignored by the broader community," Bryce Coefield, assistant director for Intercultural Affairs, said. "This event is not to diminish the deeply held values and difference we have, but to show that we also have, those that identify as Christians, a common identity in Christ that allows us to come together and engage with conviction and civility in these sort of conversations."
Sophomore Lindy Do said she was encouraged to go to the event after attending The Well on Jan. 19.
"I went to The Well on Thursday night, and after listening to a message about how we should stand up for those that are treated unjustly, I felt that coming today would put me in the right mindset to pray over the country and for those who may not have the opportunity to speak up for themselves," Do said.
The event started with an open discussion and a time for prayer and was followed by the opportunity for students to write letters to the President.
"The event perfectly aligned with the inauguration and the topics that were talked about throughout the week, the presidential campaign and the topics in the elections really tied into the week too," Ellie Resendiz, senior and marketing, graphic design and social media intern for Pepperdine ICA, said. "I was excited about the overall week and I spoke with students who were excited to have a platform for these conversations to take place, so I thought it was perfect to end on this note."
___________
Follow Sebastian Lopez Barba on Twitter: @SebLopezBarba