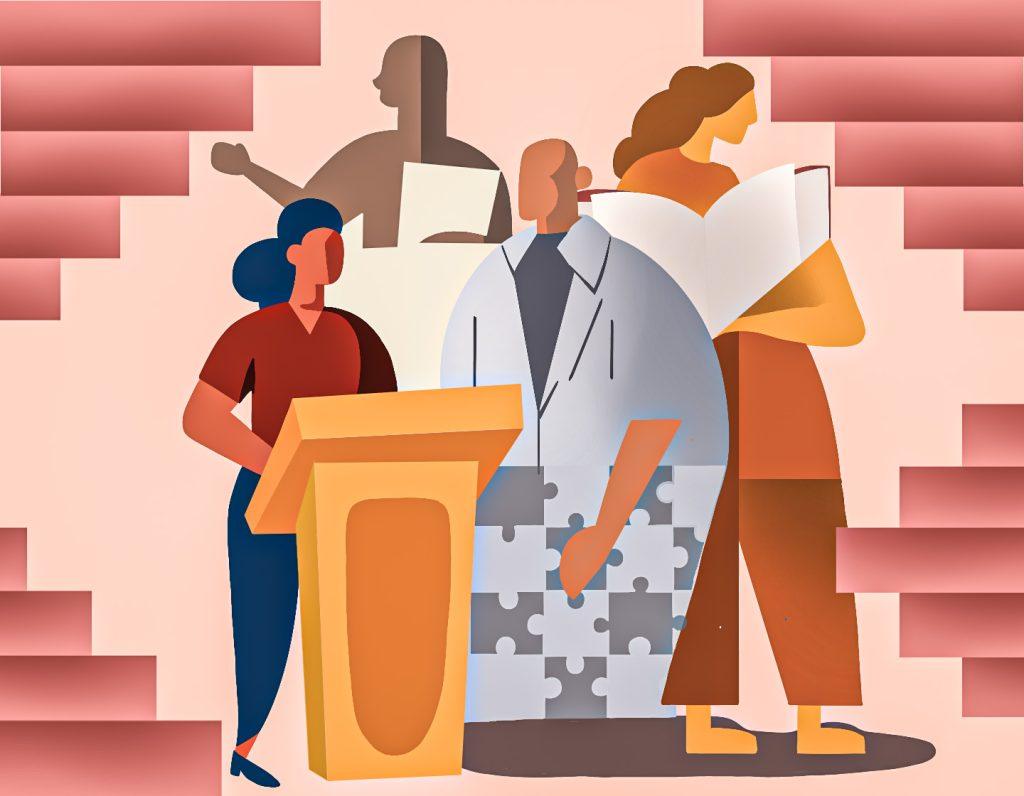 Art by Vivian Hsia
Transparency Item: The Perspectives section of the Graphic is comprised of articles based on opinion. This is the opinion and perspective of the writer.

Ethnic minority professors teaching diverse classes often participate in more services due to their identity. Official acknowledgment of the extra work done by those faculty members should be emphasized more.
For Communication Studies students, COM 313: Introduction to Intercultural Communication is one of two mandatory GE classes, along with COM 180: Public Speaking and Rhetorical Analysis. Both classes are housed in the Communication Divison.
COM 313 fulfills the GE requirement of World Civilizations and Cultural Competence. It is also included in the curriculum of International Business, Sport Administration, Intercultural Studies and Liberal Arts for Education, according to the Seaver academic catalog.
In this introductory course, professors lead students to examine and reflect on communication that happens in various situations, involving cultures different from the predominant ones.
Charles Choi, associate professor of Communication, said he appreciates that Com 313 is part of the World Civilization requirement. Choi said the class is "very fitting given the diversity of the United States and the increased exposure to diversity in a continuously globalized world."
The textbook for COM 313, Communication Between Cultures, covers topics from different meanings of the same nonverbals in a foreign context to the spiritual and philosophical beliefs that lead to distinct value systems.
Identity in culture is a part of the course. Choi said there is tension in such class discussions.
"Because we are talking about deep-rooted issues that stem from one's personal identity, it's easy to become emotional about some of the topics," Choi said. "I want to be sensitive, but I don't want to shy away from difficult conversations, either. It's a delicate balance, and we do our best to honor the emotions and feelings of each other throughout the semester."
Associate professor of Communication Diana Martinez said while selection for faculty members to teach a particular class is based on a combination of teaching interests and research background, COM 313 has professors with diverse ethnic identities.
This summer and fall, the faculty of COM 313 includes professors of Asian-American, Latinx and African-American descent, according to WaveNet, the Pepperdine course registration system. In contrast, nearly 72% of the overall faculty and staff composition is white at Pepperdine.
Sarah Stone Watt, divisional dean of Communication, who also teaches COM 313, said there is a tendency for students to seek help on particular topics from particular professors. Students choose those who may resonate the most when encountering difficult situations involving identity. Though the encounters can take place elsewhere, they go back to diversity-course professors.
"Because of the nature of the class, students recognize they can go to the professor for help working through those issues, so they do," Stone Watt said. "It's very likely that a student, who had one of these classes before and knows the professor, would go to them for help navigating the same situation in another class."
While professors serve as mentors to students after class, they are putting in emotional labor, Martinez said. Emotional labor refers to the regulation and management of emotional expressions in front of others as a part of their professional role, according to sociologist Arlie Hochschild, who first coined the phrase in 1983. Unlike physical labor, it is less visible and tends to be female-dominated.
Martinez, who teaches COM 313 during the summer, said though professors would love to build rapport and be there for students, the ask for mental support doesn't go to everybody.
"What is great about [students coming to us] is that we want to be there for our students, and we think that's part of the reason why we become professors," Martinez said. "On the other hand, our students are coming disproportionately to faculty members who do resemble their identities a little bit more, or who have those points of commonality."
This trend is also presented in the article "Teaching College in the Time of Covid-19: Gender and Race Differences in Faculty Emotional Labor," which says white cisgender male faculty are less likely to receive that request compared to their female colleagues, faculty of color and gender-nonconforming professors.
In this case, emotional labor on campus is also minority-oriented. It is further heightened in teaching diversity courses, according to a 2019 study in the International Journal of Teaching and Learning in Higher Education. In mentoring students over identity-based situations, professors often engage in deep acting, where people "evoke in ourselves the feelings we need in order to seem to feel the right feeling for the job" when demonstrating empathy and compassion, according to the article.
The phenomenon is alarming because the extra emotional burden can worsen mental health conditions, and the consequence is more likely to fall on certain groups than others.
According to research by Boston University's School of Public Health, 1 in 5 faculty agree that "supporting students in mental and emotional distress has taken a toll on their own mental health." Slightly less than majority believe universities should place more attention on faculty mental health.
Periodic faculty evaluation conducted by the Seaver College Rank, Tenure and Promotion (RTP) Committee comprises 50% teaching performance, 25% research plus 25% service, according to Chapter 3: Full-Time Faculty Responsibilities in Seaver College Faculty Handbook 2021-2023. While it is more centered around teaching, service such as professors' contribution to their community, professional associations and office hour mentoring occupies one-fourth of the evaluation. Those components under service are also harder to quantify and therefore less officially recognized.
Non-white faculty and staff at Seaver College only occupy 28.3%. Minority faculty often serve in various positions to meet the universities' need for diversity, Martinez said. This includes working for different committees on campus at the same time.
Stone Watt said while Pepperdine is aiming at an inclusive representation on its committees, the University tries not to overburden the faculty members by leaving them choices based on their own considerations.
In February 2021, Pepperdine established the Impact Awards for Outstanding Service to Students. The award often opens its nomination at the very beginning of the year. It recognizes Seaver faculty and staff who serve, mentor and support students as a step forward in demonstrating appreciation for community members dedicating service.
While institutional improvement takes time, all members at Pepperdine should work together to enhance the cultural affirmation of extra efforts made by diverse faculty members.
___________________
Follow the Graphic on Twitter: @PeppGraphic
Email Laury Li: yuting.li2@pepperdine.edu