Art by Leah Bae
The 2021-22 NFL season rolls into its sixth week after a jam packed Week 5.
The Ravens outlasted the Colts in an overtime shoot-out Monday night, and took control of a contentious AFC North division. The Chiefs sank to the bottom of their division after their meeting with Buffalo, while the Chargers took advantage of the vacancy at the top of the AFC West. The Raiders will look for a new head coach after the resignation of Jon Gruden, after a series of his racist, homophobic and misogynistic emails came to light.
More headlines from Week 5: the Jets, Lions and Jaguars all lost, the Bills put up more than 30 points and the Cardinals won an NFC West game at home. Truly, it was a week unlike any other.
To top it all off, the Bears won their game during Fat Bear Week, an annual celebration of the fattest bears residing in Alaska's Katmai National Park. And if that doesn't tug at the ol' heart-strings, you might very well be made of stone.
Emerging at the top of the NFL Picks pack after five weeks of action is Digital Editor Karl Winter. Close behind is staff writer Joe Doonan, after an impressive 13-3 showing in Week 5. Sports Editor Alec Matulka, Creative Director Ali Levens and staff writer Austin LeDe' will look to make up some ground in the 14-game Week 6 slate.
Without further ado, let's get to the picks!
Tampa Bay Buccaneers (4-1) at Philadelphia Eagles (2-3) (Thursday, Oct. 14 at 5:20 p.m. PDT)
Joe: Bucs
Karl: Bucs
Alec: Bucs
Austin: Bucs
Ali: Bucs
"The Eagles had a good win against Carolina, but the Bucs played way better last week. I think they're too good to lose to a less talented Eagles team." — Joe
"I would like to thank the Eagles for allowing me to hit on my upset of the week last week. I think they're headed in the right direction, but, as I like to say about Thursday night games, when you have less preparation, your talent tends to take over. The Bucs have just really been solid in every showing, other than that loss to a really, really good Rams team." — Karl
Miami Dolphins (1-4) at Jacksonville Jaguars (0-5) (Sunday, Oct. 17 at 6:30 a.m. PDT)
Joe: Jaguars
Karl: Jaguars
Alec: Jaguars
Austin: Jaguars
Ali: Dolphins
"I can't pick the Jags yet. And the split for this game is 69%, so I have to go with that. As much as I like jaguars, as an animal, I like dolphins more." — Ali
"Why do we always give London the [bad] games? Anyway, I feel like this is the game that you win when you're on a 20-game losing streak. As much as I'd like to see the Jags go for NFL losing streak record, they'd have to lose like six more games, and that's pretty hard to do." — Karl
Minnesota Vikings (2-3) at Carolina Panthers (3-2) (Sunday, Oct. 17 at 10 a.m. PDT)
Joe: Panthers
Karl: Panthers
Alec: Vikings
Austin: Panthers
Ali: Panthers
"I saw an infographic on Instagram this week which ranked different teams based on their overall rosters, and it put the Vikings at "elite" and it put the Panthers at "mid." I don't know if that's true, but at the same time, I completely trust Instagram infographics." — Alec
"I'm assuming the Panthers have [Christian] McCaffrey, and if they do, they should win this game, though I think it will be close." — Joe
Los Angeles Chargers (4-1) at Baltimore Ravens (4-1) (Sunday, Oct. 17 at 10 a.m. PDT)
Joe: Chargers
Karl: Chargers
Alec: Ravens
Austin: Chargers
Ali: Ravens
"Justin Herbert, baby. That's all I have to say." — Joe
"I think the Ravens are a really good team, and Lamar Jackson is just a fun player to watch. He gets a lot of unnecessary hate, and I like rooting for players that get a lot of hate." — Alec
Los Angeles Rams (4-1) at New York Giants (1-4) (Sunday, Oct. 17 at 10 a.m. PDT)
Joe: Rams
Karl: Rams
Alec: Rams
Austin: Rams
Ali: Rams
"The Giants have a lot of injuries this week: Daniel Jones is in concussion protocol and Saquon [Barkley] just got hurt again. The Rams have been not that good these past few weeks, but I think we'll have more momentum against a bad team." — Austin
"Obviously I'm going to pick the Rams. I'm not stupid. DJ's [Daniel Jones'] out with a concussion, and he'll probably need to pick up DJ'ing because he's probably not going to have a job here in a second. He's not playing that bad, but the fact that they do play bad is going to reflect on him badly, naturally, because everyone always blames the quarterback." — Ali
Houston Texans (1-4) at Indianapolis Colts (1-4) (Sunday, Oct. 17 at 10 a.m. PDT)
Joe: Colts
Karl: Colts
Alec: Colts
Austin: Colts
Ali: Colts
"I just can't pick the Texans with Davis Mills at quarterback. He's not doing well. The Colts don't look too good either, but I'll have to go with them because I believe they're the better team." — Austin
"I think the Colts are gonna start getting on track a little bit here. They had kind of a tough schedule to start things off and got on track with a win against the Dolphins. So I think we're going to see more from them than we've seen so far." — Karl
Kansas City Chiefs (2-3) at Washington Football Team (2-3) (Sunday, Oct. 17 at 10 a.m. PDT)
Joe: Chiefs
Karl: Chiefs
Alec: Chiefs
Austin: Chiefs
Ali: Chiefs
"It's pretty funny that Washington and the Chiefs have the same record. Who would've thought? I'm going to go with the Chiefs; I think they'll bounce back after an embarrassing Sunday night game. Their defense looked awful though, so maybe Washington will put up some points." — Austin
"I don't know, what is it gonna take for me to actually pick against the Chiefs? Because I still don't think I've done that, but their defense has been horrendous. So has Washington's actually, and these are two defenses that you would not have expected to be bad." — Karl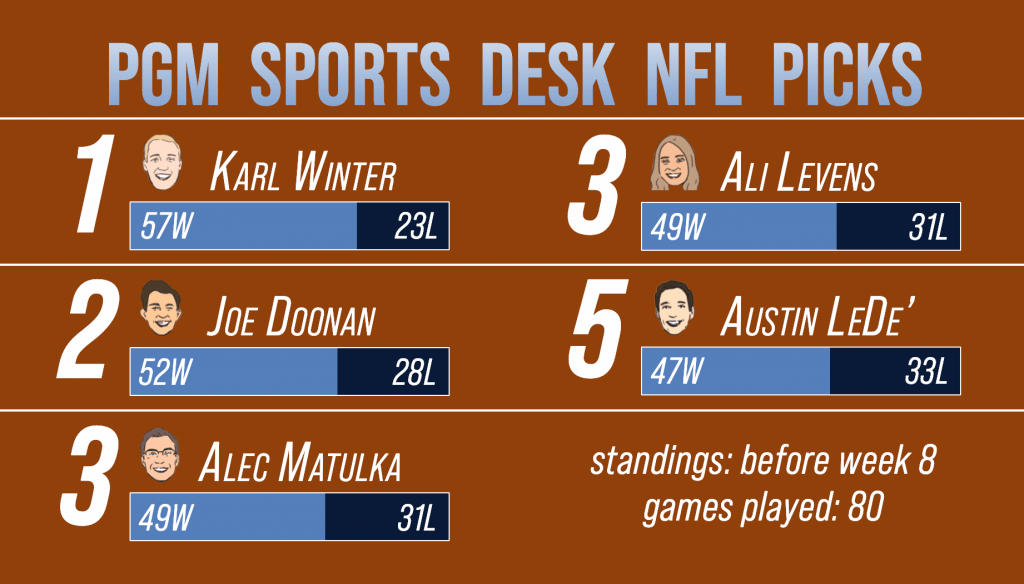 Art by Ali Levens
Green Bay Packers (4-1) at Chicago Bears (3-2) (Sunday, Oct. 17 at 10 a.m. PDT)
Joe: Packers
Karl: Bears
Alec: Packers
Austin: Packers
Ali: Packers
"Ever since Week 1, the Packers have been rolling. I know it was kind of close with the Bengals last week, but I think the Bengals are a good team. The Bengals have Joe Burrow, or Wheel-Burrow, as I call him. So it's not embarrassing to have a close game with them." — Alec
"I am absolutely, unequivocally taking the Bears this week, because I am a clown for picking against them last week. I was very encouraged by the way the Bears played in all three phases last week, and they're leading the NFL in sacks right now. Khalil Mack looks like the guy we traded for, the OG Khalil Mack. So, do the Packers dominate us with Aaron Rodgers? Yep. Do they dominate us in Chicago usually? Yep. Is Davante Adams the best receiver in the league? Yep. Do I care? Nope. Bears by 90." — Karl
Cincinnati Bengals (3-2) at Detroit Lions (0-5) (Sunday, Oct. 17 at 10 a.m. PDT)
Joe: Bengals
Karl: Bengals
Alec: Bengals
Austin: Bengals
Ali: Bengals
"Yeah, Bengals. I almost had them last week, and I'm not going to give up on them yet, especially against the Lions. I just hate [the Lions'] logo. I hate that blue." — Ali
"Ja'Marr Chase and Joe Burrow have looked as good as they did at LSU. It's true, the Lions have been in every game, and I think it's sad they haven't been able to win. I saw their coach was, like, crying in the press conference. I'm going to go with the Bengals on this one, but I think the Lions will keep it close." — Joe
Arizona Cardinals (5-0) at Cleveland Browns (3-2) (Sunday, Oct. 17 at 1:05 p.m. PDT)
Joe: Cardinals
Karl: Browns
Alec: Cardinals
Austin: Cardinals
Ali: Cardinals
"Kyler Murray is leading in the MVP odds right now, and just generally he's doing really, really well. I'm really proud of him. I didn't think he was that good, I'm not going to lie; I didn't really know who this dude was. But he's been proving me right on a number of occasions. I've been picking the Cardinals and it's been working for me." — Alec
"Oh baby, upset special! Browns, let's get it. I think the Cardinals are overrated, I'm not afraid to say it. I don't think they've played a running game as good as the Browns, and I think that something is going to give somewhere." — Karl
Dallas Cowboys (4-1) at New England Patriots (2-3) (Sunday, Oct. 17 at 1:25 p.m. PDT)
Joe: Cowboys
Karl: Cowboys
Alec: Tie*
Austin: Cowboys
Ali: Patriots
"I absolutely just do not like either of these teams. I'll pick a tie for this one. I was looking at this game and I was thinking, 'I hope both these teams score zero points and go home unhappy.' So that's what I think will happen." — Alec
"I don't like either of these teams, so I'll go by the analytics. The Cowboys look better. Their offense is better; I think they'll put up more points than Mac Jones, who is more of a game manager." — Austin
*Editor's Note: PGM Staff agreed on the following rules regarding picking ties: If a tie is incorrectly picked, the picker will take a loss. If a tie is correctly picked, the picker will get an additional two points.
Las Vegas Raiders (3-2) at Denver Broncos (3-2) (Sunday, Oct. 17 at 1:25 p.m. PDT)
Joe: Raiders
Karl: Broncos
Alec: Broncos
Austin: Broncos
Ali: Broncos
"The Raiders make me mad. They have a nice, fancy stadium, but I just don't like them. That stadium deserves a better team. There's something off about Derek Carr, and I just feel like I can't trust him, you know?" — Ali
"This is Joe Doonan's Upset Special of the Week. When the Raiders aren't beating themselves, they look spectacular, […] and I feel like they're due to not beat themselves this week." — Joe
Seattle Seahawks (2-3) at Pittsburgh Steelers (2-3) (Sunday, Oct. 17 at 5:20 p.m. PDT)
Joe: Seahawks
Karl: Steelers
Alec: Seahawks
Austin: Steelers
Ali: Steelers
"I have to go with the Steelers. I just can't believe in Geno Smith, and the Seahawks were really being held together by Russell Wilson. This looks like Pete Carroll's worst defense in years; I think they're on pace to give up the most yards ever. I mean, they've given up like 400-plus yards every week." — Austin
"Every time the Seahawks have won this year, it's been because of Russell Wilson. So, I cannot choose them when he's not playing. Geno Smith is one of those career backups, but he's not as good as Tyrod Taylor at being a backup." — Karl
Buffalo Bills (4-1) at Tennessee Titans (3-2) (Monday, Oct. 18 at 5:15 p.m. PDT)
Joe: Bills
Karl: Bills
Alec: Bills
Austin: Bills
Ali: Bills
"Derrick Henry is a beast, but the Titans are still a very inconsistent team. The Bills' offense is clicking, and their defense looks like the best in the league. Back-to-back prime time games for them is cool as well." — Austin
"The Bills are phenomenal. I will probably be riding them all the way to the Super Bowl, hopefully. I like Josh Allen and I like the talent around him. I feel like they play really well all together. And also they helped me get an extra point last week, so that was nice." — Ali
____________________
Follow the Graphic on Twitter: @PeppGraphic
Email Alec Matulka: alec.matulka@pepperdine.edu