Art by Leah Bae
Week 3 of the NFL season had crazy finishes, some surprising upsets and, of course, games that went exactly as one would expect.
Ali Levins, Joe Doonan, Alec Matulka, Karl Winter and Austin LeDe' all picked the Ravens against the Lions and were holding their breaths as Ravens kicker Justin Tucker set up for the 66-yard game-winning field goal. This was the record for longest field goal in NFL history, and he nailed it — much to delight of the PGM staff.
After three weeks Karl has a significant lead over the rest of the crew, as he is 33-15 on the season. Joe is closest to him with a 29-19 record.
It is difficult to predict NFL games, as anything can happen on any given Sunday, but after three weeks teams really show who they are. So here is Ali, Joe, Karl, Austin and Alec's picks for Week 4 of the NFL season!
Jacksonville Jaguars (0-3) at Cincinnati Bengals (2-1) (Thursday, Sept. 30 at 5:20 p.m. PDT)
Joe: Bengals
Austin: Bengals
Alec: Bengals
Karl: Bengals
Ali: Bengals
"The Jags are getting closer but not close enough on this one, they just turn the ball over too many times, and Tyler Boyd is on both of my fantasy teams so I'll be rooting for him to score touchdowns" — Karl
"Joe burrow is legit. Joe burrow is MVP. What a man. He played really well in the last game. I got the Bengals" — Alec
Tennessee Titans (2-1) at New York Jets (0-3) (Sunday, Oct. 3 at 10 a.m. PDT)
Joe: Titans
Austin: Titans
Alec: Titans
Karl: Titans
Ali: Titans
"The Jets are the worst team in the league. So until they win, I'm not picking them, and even if they do I still won't. " — Alec
"I'm gonna go with the Titans as well. They've looked impressive after that week one loss to the Cardinals, and I watched a little bit of the Jets game, and it's just … it's sad to watch. I feel bad for Jets fans." — Austin
Detroit Lions (0-3) at Chicago Bears (1-2) (Sunday, Oct. 3 at 10 a.m. PDT)
Joe: Lions
Austin: Lions
Alec: Bears
Karl: Bears
Ali: Lions
"I'll go with the Lions. The Bears are so ambiguous to me. I never understand them. I'll go with the Lions and the Bears will probably score 50 points to three, just my luck." — Ali
"I make a living sometimes off picking the Bears when no one else does. Even though, you know, they left absolutely nothing to be inspired by last week – although, actually, the defensive line didn't look bad, Robert Quinn and Khalil Mack played well." — Karl
Indianapolis Colts (0-3) at Miami Dolphins (1-2) (Sunday, Oct. 3 at 10 a.m. PDT)
Joe: Dolphins
Austin: Colts
Alec: Colts
Karl: Colts
Ali: Dolphins
"The Colts have a good roster, but with their QB issues — I can't take them." — Joe
"When a team is worse than their record they can either let that depress them, and be like, 'Oh we suck, we're just not going to win,' or it can light a fire under the team, and then they're going to go out and really play to improve that record and prove people wrong. I think that's what's gonna happen with the Colts this week against the Dolphins." — Alec
Cleveland Browns (2-1) at Minnesota Vikings (1-2) (Sunday, Oct. 3 at 10 a.m. PDT)
Joe: Browns
Austin: Browns
Alec: Browns
Karl: Browns
Ali: Browns
"This looks like a game the Vikings would love to win when I pick against them. But I have to go with the Browns, because they look really solid and their run game is always gonna be there. Kirk Cousins played well last week, so that probably means he won't play well this week." — Austin
"The Vikings, like I said last week, screw up my picks, every single time, every single time. They never play how I expect them to, and therefore, I am going with the Browns, because I don't want to pick [the Vikings] because they make me mad." — Ali
Washington Football Team (1-2) at Atlanta Falcons (1-2) (Sunday, Oct. 3 at 10 a.m. PDT)
Joe: Football team
Austin: Football team
Alec: Football team
Karl: Football team
Ali: Football team
"Washington has been disappointing to start off the season, but I think they will beat the Falcons. I see the Falcons and I see a mess, which is sad, considering they beat my team last week." — Joe
"The Falcon's offense does not look to be what it should be with the amount of weapons they have. Matt Ryan just has looked old all season, so I think he's gonna struggle a bit, and the Football Team will do just enough to hold them off." — Karl
Houston Texans (1-2) at Buffalo Bills (2-1) (Sunday, Oct. 3 at 10 a.m. PDT)
Joe: Bills
Austin: Bills
Alec: Bills
Karl: Bills
Ali: Bills
"Josh Allen looked like he was struggling the first two weeks, but he really came alive last week. He had like five total touchdowns and 340 yards against a good Washington defense. The Texans aren't as bad as we thought they'd be, but Tyrod Taylor got hurt. Unfortunately, Davis Mills is not looking too promising and the Bills are just too good." — Austin
"I will also be going with the Bills. I really like watching the Bills, and it will have to be very crazy for me to pick against the Bills. Also, no offense to anyone if they do pick the Texans, but who would pick the Texans in this situation? They're the Texans!" — Ali
New York Giants (0-3) at New Orleans Saints (2-1) (Sunday, Oct. 3 at 10 a.m. PDT)
Joe: Saints
Austin: Saints
Alec: Saints
Karl: Saints
Ali: Saints
"My God, I don't think I can get any more disappointed in a team, and then every year happens. Here we are going into week four, and you know, I can finally feel good about picking against them." — Ali
"The Giants lost the last two consecutive weeks on game-winning field goals. This week, they will not be subject to that pain, because it will not close." — Karl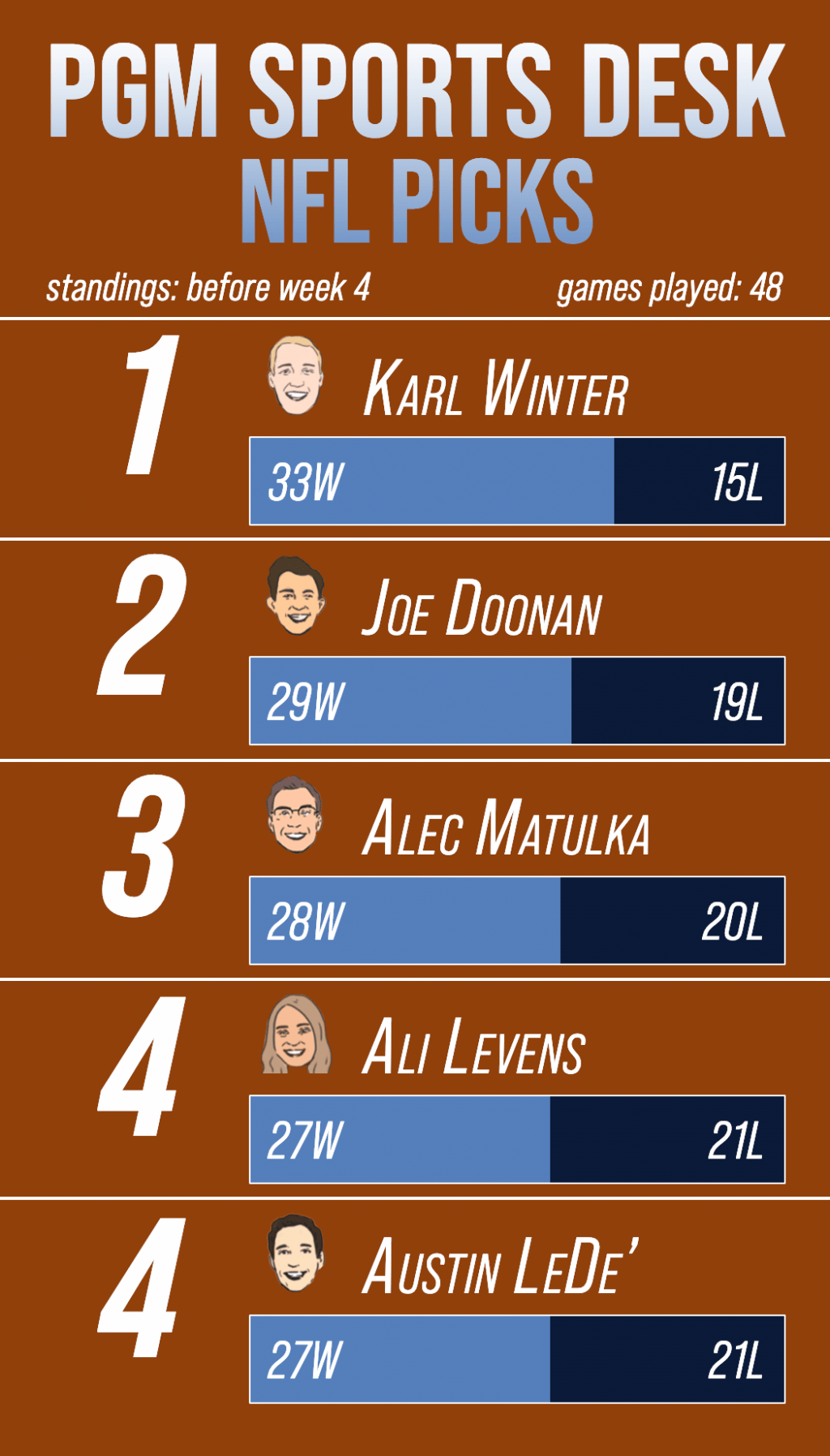 Art by Ali Levens
Kansas City Chiefs (1-2) at Philadelphia Eagles (1-2) (Sunday, Oct. 3 at 10 a.m. PDT)
Joe: Chiefs
Austin: Chiefs
Alec: Chiefs
Karl: Chiefs
Ali: Chiefs
"I am quite surprised that the Chiefs are last in their division right now. I know it's only three weeks in, but quite shocking that they're under .500 for the first time since 2015, but I'll go the Chiefs. I think they're way more talented than the Eagles and they'll be motivated after back to back losses." — Austin
"I will go with the Chiefs as well. I do love overreacting to small amounts of data – that's really fun – but at the same time, the Chiefs have a strong team." — Alec
Carolina Panthers (3-0) at Dallas Cowboys (2-1) (Sunday, Oct. 3 at 10 a.m. PDT)
Joe: Cowboys
Austin: Panthers
Alec: Panthers
Karl: Cowboys
Ali: Cowboys
"I'll take the Cowboys. The Panther's lost two impact players last week: Christian McCaffrey and Jaycee Horn, which makes me give the edge to the Cowboys. I think it will be a close game, though." — Joe
"I'm gonna go with the Panthers just because I don't like the Cowboys, and I think the Panthers look really good. I know they lost Christian McCaffrey and Jaycee Horn obviously but I think they have solid backup, backup running back I don't know and they just traded for a new corner actually. So, I like what I've seen from Sam Darnold and the Panthers." — Austin
Seattle Seahawks (1-2) at San Francisco 49ers (2-1) (Sunday, Oct. 3 at 1:05 p.m. PDT)
Joe: 49ers
Austin: Seahawks
Alec: Seahawks
Karl: Seahawks
Ali: Seahawks
"I will pick against the Niners one more time because they're a little suspicious to me, like they're hiding something. I will go with the Seahawks; I like their jerseys better." — Ali
"Seahawks have been underwhelming to start, and the Niners played well against the Packers; I'll take the Niners in their first big NFC West showdown of the year." — Joe
Arizona Cardinals (3-0) at Los Angeles Rams (3-0) (Sunday, Oct. 3 at 1:05 p.m. PDT)
Joe: Rams
Austin: Rams
Alec: Cardinals
Karl: Rams
Ali: Rams
"Should be an interesting game, but the Rams have done nothing but prove people right in terms of thinking they have a team without weaknesses this year. I'm sure they'll trip and fall somewhere, but not this week." — Karl
"Kyler Murray is absolutely balling right now. There's this famous Norwegian soccer player who plays in the German Bundesliga, Erling Haaland. Every time this guy scores, or almost every time, he does this meditation celebration, and this dude scores a lot. Kyler Murray did it after one of his touchdowns in the last game, and Bleacher Report soccer posted about it. So I just feel like the writing is on the wall." — Alec
Pittsburg Steelers (1-2) at Green Bay Packers (2-1) (Sunday, Oct. 3 at 1:25 p.m. PDT)
Joe: Packers
Austin: Packers
Alec: Packers
Karl: Packers
Ali: Packers
"Packers. The Steelers offense is in shambles and Packers are off a massive win. Aaron Rodgers is still a 'baaaad man' and the Steelers have a lot of injuries in their front seven." — Joe
"You guys know how much I hate the Steelers. I don't like Big Ben, I think it's time for him to topple over and die, literally and figuratively. I got Packers." — Ali
Baltimore Ravens (2-1) at Denver Broncos (3-0) (Sunday, Oct. 3 at 1:25 p.m. PDT)
Joe: Ravens
Austin: Broncos
Alec: Ravens
Karl: Ravens
Ali: Ravens
"I like the Broncos. I love Teddy Bridgewater. They are three and zero now, and the Ravens looked a little suspicious against the Lions. I'm gonna go Broncos because that's my gut feeling." — Austin
"I'm gonna go with the Ravens. I agree with Joe, much like we agree on other things, like being fans for horrible teams. The Broncos are off to too good of a start, I feel like they need a team to humble them, and I think that will be the Ravens." — Ali
Tampa Bay Bucs (2-1) at New England Patriots (1-2) (Sunday, Oct. 3 at 5:20 p.m PDT)
Joe: Bucs
Austin: Bucs
Alec: Bucs
Karl: Bucs
Ali: Bucs
"I'm going with the Bucs because I think they will play a little angry coming off that brutal loss to the Rams, and Tom Brady is going to want some vengeance over his former team." — Joe
"The truth is the Bucs are a really good team with a really good roster and the Pats are an average team with an average roster. I will being go with the Bucs as well." — Karl
Las Vegas Raiders (3-0) at Los Angeles Chargers (2-1) (Monday, Oct. 4 at 5:15 p.m PDT)
Joe: Chargers
Austin: Chargers
Alec: Raiders
Karl: Raiders
Ali: Chargers
"Justin Herbert is not having a sophomore slump and the league should be terrified. The Raiders will keep it close, but Herbert will be too much." — Joe
"I will be going with the Raiders, because there is a player named Alec Ingold on the Raiders, and that is almost my name. So I will go with them." — Alec
___________________
Follow the Graphic on Twitter: @PeppGraphic
Contact Austin LeDe' via email: austin.lede@pepperdine.edu