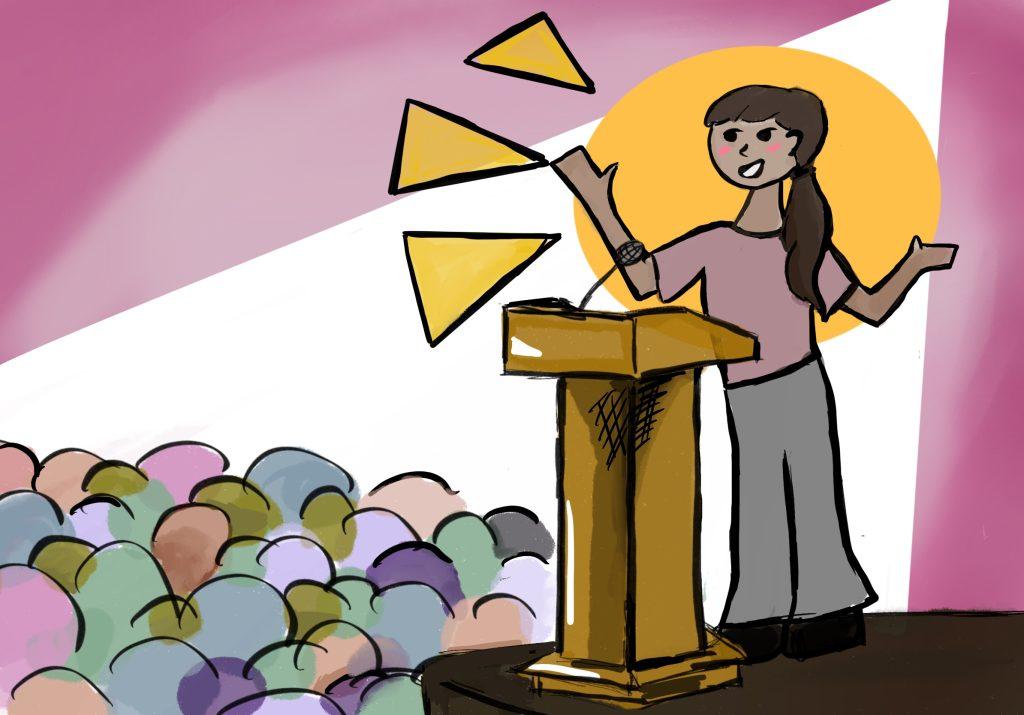 Transparency Item: The Perspectives section of the Graphic is comprised of articles based on opinion. This is the opinion and perspective of the writer.
Editor's Note: The writer of the story is a member of Pepperdine Waves Debate. To avoid a conflict of interest, Perspectives Editor Victoria La Ferla conducted the interviews with the debate team.
Sweaty palms. Frantic breaths. Pounding heart. These symptoms are all too familiar for those who dread public speaking. Why on Earth is public speaking a GE requirement?
Many colleges and universities require public speaking as a general education requirement because it is a practical skill, said Sharita Wilson, a visiting instructor of Communication at Seaver college.
"70% of jobs require some form of public speaking, and we know that it's a marketable skill for all students to have," Wilson said.
Students can use their public speaking skills to prepare for presentations and future careers. Greg Daum, the director of the COM 180 program, echoed this idea.
"Just about what anyone does for a career, they will use some level of public speaking," Daum said. "This is why it's incredibly applicable and relevant."
Not only are there marketable benefits, but individuals can also share their voices through public speaking. Each and every person has a distinct sense of self — both innate and formed by experiences — and our voices, in turn, shape the world.
"You have a voice, and it should be used," Daum said. "And it can be used."
Not everyone can speak or hear due to physical, mental or emotional disabilities. Yet they too have a voice — one that goes beyond auditory communication.
Albert Mehrabian, a researcher of body language, found that communication is 55% nonverbal, according to University of Texas Permian Basin.
One example of nonverbal communication is the American Sign Language performance of "Oedipus Rex" at the Getty Villa last fall. While the actors may not have spoken in the literal sense, their voice had a resounding impact on the audience.
The actors are part of Deaf West, a theater group based in Los Angeles that aims to be an "artistic bridge between the Deaf and hearing worlds."
While people may have different modes of communication, each and every person deserves to have their voice heard.
"If you have the skills to speak on behalf of yourself and/or your community, that is something that is yours forever and creates an immutable source of hope," said Abi Smith, faculty director for Pepperdine Waves Debate and assistant instructor of teaching.
Students attend college to achieve their goals; yet, they can easily lose much of what they accomplish.
"You can lose money, you can lose all of your connections, you can have your platform taken away," Smith said. "But your voice is something no one can ever take away from you."
Despite recognizing public speaking as a useful and beneficial skill for anyone, many people may face speaking apprehension.
Anxiety and nervousness are normal and even a good sign, Wilson said.
"When you talk about something that you really care about, you're going to get nervous," said Leyla Pisirici, a junior and student director for Pepperdine Waves Debate. "That is a part of it; that shows that you really care about the thing you want to talk about."
Speakers can reduce their anxiety by choosing a personal or meaningful topic, which is bolstered by their natural passion and enthusiasm — or, at least, knowledge and experience, Wilson said.
Finally, nothing is better than practice, practice, practice.
Outside of the mandatory COM 180 class, students have the opportunity to practice and embrace their speaking skills through debate and mock trial.
Pepperdine Waves Debate is a multifaceted, co-curricular program.
What really sets the team apart is Let's Argue, a student-led program teaching elementary and middle school kids to learn public speaking and debate.
Let's Argue is unique — Pepperdine is the first college in the country to offer a free educational program approaching debate as multi-perspective instead of only two-sided, according to Smith.
The program serves families without financial resources for extra educational experiences, Pisirici said. Kids gain confidence through public speaking and debate, and parents who work can pick up their children later in the day.
"As children, that is our age where we are learning the most and we are growing the most," said Ananya Jain, a junior and the president of Let's Argue.
Student volunteers support this formative stage of life by teaching and encouraging children to practice public speaking as a way to form life skills.
"First of all, when you meet elementary school kids, they don't fear anything," Jain said.
People of all ages can learn from their boldness, even "grown-ups."
"What we've been able to do at Pepperdine that I think is so unique and incredible is create a space where we're really reimagining what debate looks like," Smith said.
Pepperdine Waves Debate also plans on-campus programming, designed to spark conversation in the Pepperdine community and beyond.
For students excited to compete, Pepperdine Waves Debate offers two traveling competitive debate teams: Social Justice & Global Policy and British Parliamentary.
"I don't have to argue with people to win or to make them feel smaller," Smith said. "I can argue with people in order to find workable solutions."
Another opportunity for students to work on public speaking is through Pepperdine Mock Trial.
"I found that Mock Trial was able to help me kind of get over my fears as a public speaker," said alumna Alexandra Sagona (2017), a mock trial coach for Pepperdine and an attorney for Slater Slater Schulman LLP.
Mock Trial provides a safe environment to build confidence; participants learn to speak and act in front of an audience and alongside their peers, Sagona said.
Through public speaking, I have gained confidence and self-esteem. I grew up dreading even one-on-one conversations with strangers. This reticence was only amplified in any event requiring public speaking in front of a crowd or standing on a stage. I was the kid who hid behind everyone else in group photos.
I started out with baby steps — ordering in restaurants, saying "hi" to people and speaking to friendly audiences. Little by little, my confidence in myself and my abilities soared.
Today, I'm still nervous when I stand in front of an audience, but I've learned to manage my nerves and turn them into excitement. This past summer, I stood in front of audiences made up of 200 to 300 people for Vacation Bible School at my church.
My own story is a testament to how anyone can achieve public speaking through practice, and I thank mentors who have pushed me out of my comfort zone over the years. While I'm not sure if I will be completely comfortable on a stage, I am confident in my skills to speak through adversity.
While public speaking may feel like a daunting task, students can face their fears and strengthen their voices — to speak up and speak out — for themselves and their communities.
___________________
Follow the Graphic on Twitter: @PeppGraphic
Email Madison Luc: madison.luc@pepperdine.edu