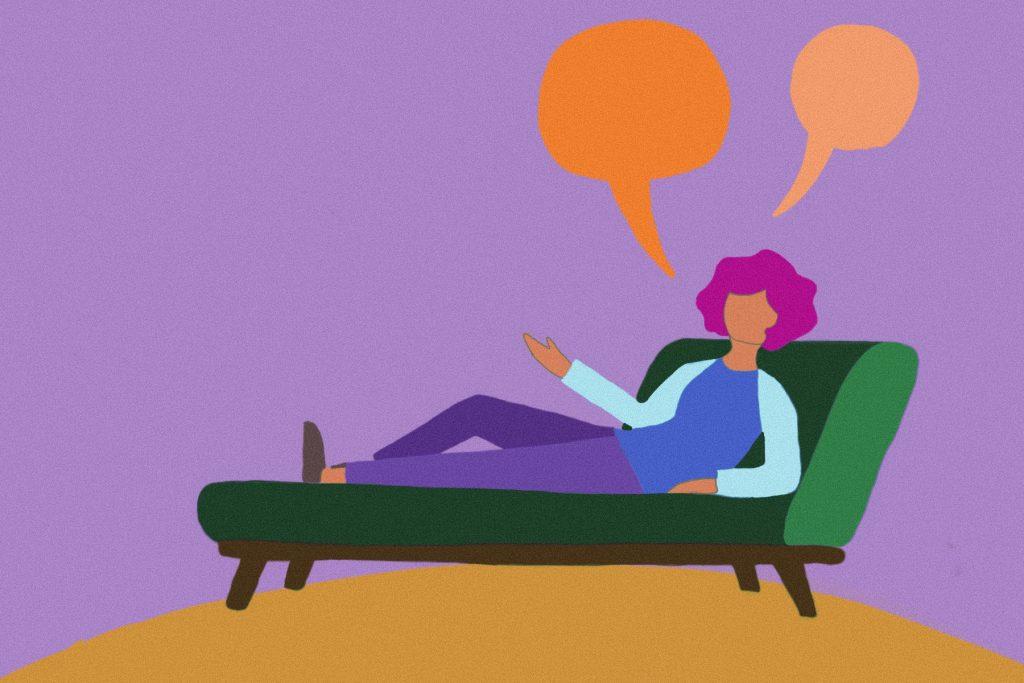 Art by Stella Engel
Transparency Item: The Perspectives section of the Graphic is comprised of articles based on opinion. This is the opinion and perspective of the writer.

As college students, it can be easy to neglect our mental health. When we are expected to focus on our academics, jobs, future careers and social lives, it can feel impossible to allocate time to take care of our mental well-being.
Thirty-six percent of young adults in the United States experience mental health concerns — the highest rate in the country — according to Forbes Health. It's important, now more than ever, to highlight the efficacy and necessity of therapy.
Therapy is essential for college students because they are expected to balance several different responsibilities while they experience one of the most transitional and developmental periods of life.
Our brains can change in structure and function when we undergo external stressors. In the same way, therapy can modify our brains into a healthier state, according to a Mental Health America article.
"For instance, studies have found that as people get better at controlling their emotions, the brain's prefrontal cortex (which is responsible for reasoning and rational thinking) changes," according to Mental Health America.
As someone who was once apprehensive about the idea of going to therapy, I understand the concerns people may have regarding it. However, being in and out of therapy for four years, I can confidently say the benefits quickly pushed those fears aside.
It may seem scary to invite a stranger into the most vulnerable and intimate parts of yourself. Although, the fact they are a stranger may be the very reason why it's the most beneficial. Therapists provide an unbiased, objective viewpoint backed by scientific research — something you can't always get from friends and family.
Maybe you feel like there is nothing 'wrong' in your life, or you don't struggle with mental illness, so there is no need for therapy. But therapy is valuable to everyone, regardless of their mental state.
"Developing healthy coping skills isn't only appropriate for individuals struggling with a mental illness," according to a BetterHelp article. "All humans face difficult challenges in life that may seem overwhelming at times; anyone can benefit from learning to handle them effectively."
Maybe you want to avoid your feelings, whether out of fear or feeling like you don't have the capacity to confront them.
Maybe, with the stigma around therapy, you are scared of what people may think of you. Maybe you are afraid it will make you look weak. However, allowing others to help you and guide you is a sign of maturity and one of the bravest things you can do.
It takes strength to realize you need help. It takes courage to let someone in.
Maybe you believe you are above therapy and you don't need it because you can help yourself. But, "there's no substitute for a skilled counselor using evidence-based treatment methods," according to a Calm Clinic article.
Whatever preconceived ideas of therapy or apprehensions toward therapy one has are valid. Yet, I hope you can push them aside and give therapy a try.
Before you search for a therapist, first assess what you would like to work on. From there, you can decipher what type of therapy best suits your needs; there are seven different approaches: cognitive behavioral therapy, dialectical behavioral therapy, psychodynamic therapy, eye movement desensitization and reprocessing, humanistic therapy and mindfulness therapy.
Therapy is also something where you get what you give. It takes vulnerability, honesty, effort and application of the tools given in order to see results.
I started therapy in 2019. I went for four months and then stopped because I felt I wasn't making progress and believed it wasn't working.
In reality, I wasn't doing the work outside of my therapy sessions to change my unhealthy behaviors.
It took me two years, when my mental health was at an all-time low, for me to go back to therapy. And I have stuck with going to therapy every two weeks for the past year and a half.
Therapy has provided me with a system of accountability. My therapist gives me homework, and in the following session, she checks in to see if I've completed it and if I found it helpful.
"This is a very impactful part of therapy that not only provides the reward of accomplishment but also sets you up for continued success," according to BetterHelp. "Accomplishing goals contributes to healthy self-esteem and increased confidence."
Even though, at times, I feel like I have nothing important or 'heavy' to say, even just telling someone the events of my week or how I'm doing feels good and is helpful. More often than not, I find that I do have some underlying worries and anxieties my therapist is able to pinpoint and help me process.
When I am experiencing more complex feelings, therapy has allowed me to understand the source of them and provides options on how to manage them. It has also allowed me to work toward being more loving and gracious toward myself.
"Having a healthy relationship with yourself is essential to having healthy and full relationships with others," according to BetterHelp.
Going to therapy allows me to be more empathetic toward others and the struggles they go through. Through learning how to understand my own emotions, I have learned how to be more understanding toward the emotions of others.
At times it can feel like I haven't made any progress in improving my mental health, but when I reflect back, I can see that I have. I can look at the ways in which therapy has given me the tools to better myself and my thought process when experiencing a stressful or anxiety-inducing situation.
"For most people, therapy isn't much of a 'quick fix' for a specific issue as it is a tool to increase your resiliency so that you're better able to cope with the many challenges we all face throughout life," according to Mental Health America.
For anyone who may be struggling with their mental health or need a support system, I encourage you to give therapy a chance.
If you are in need of or want to go to therapy, a good place to start is through the Pepperdine Counseling Center. Students have unlimited access to therapy on campus because of the Wellness Fee. You can call 310.506.4210 or email student.counseling.center@pepperdine.edu to schedule an appointment.
______________________
Follow the Graphic on Twitter: @PeppGraphic
Contact Yamillah Hurtado: yamillah.hurtado@pepperdine.edu