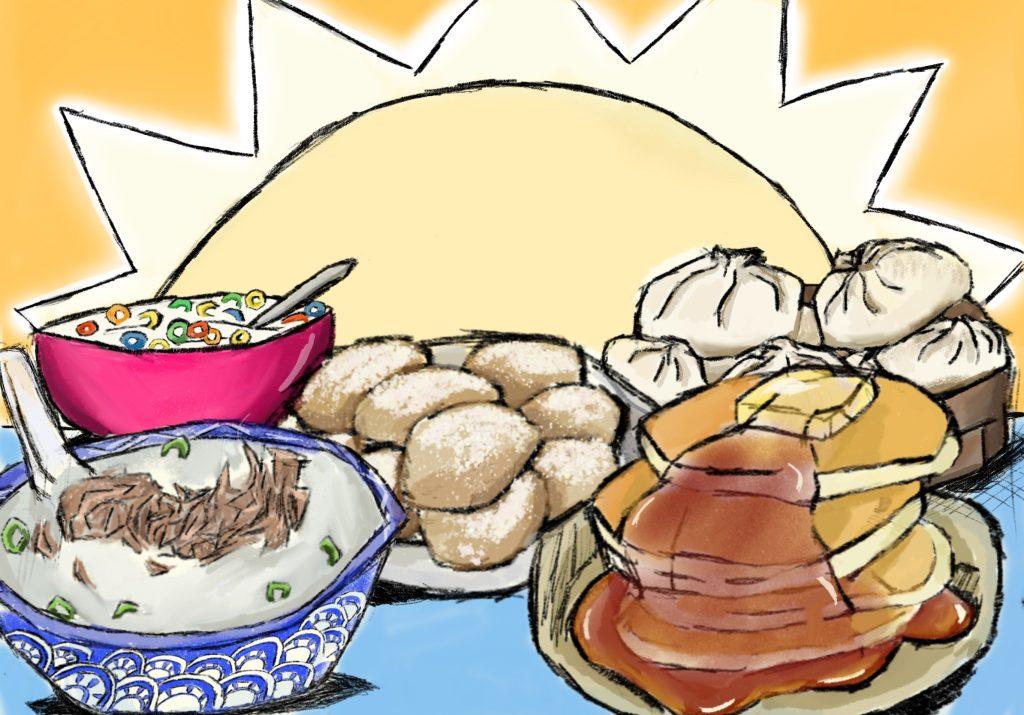 Art by Jackie Lopez
Transparency Item: The Perspectives section of the Graphic is comprised of articles based on opinion. This is the opinion and perspective of the writer.
Hungry, stomach growling. When I wake up in the morning, my first thought is, "What will I eat for breakfast?" After the long stretch of not eating through the night, I'm ready to break my fast.
Sometimes, the smell of bacon wafting through the air or the welcome scent of buttery pancakes and waffles greets me. Breakfast, hands down, is the best meal of the day.
Not only do I indulge in traditional American breakfast foods but I am also blessed to have a mother who teaches me about our heritage through Chinese breakfast foods. For those who are curious, a blog post by Elaine of China Sichuan Food showcases some examples of traditional Chinese breakfast foods.
Eating a nourishing breakfast gives people fuel to kick-start their days, improve their heart health and reduce brain fog, according to Cleveland Clinic.
Many students have busy routines and hectic lifestyles that make it hard to find time for breakfast, but setting aside time to eat breakfast can give them the energy they need. Especially for students prone to exhaustion from insufficient sleep, breakfast can boost their day.
Everyone's schedule looks different, but breakfast needs to be prioritized. If you struggle with finding time, see if there is anything you can eliminate from your morning routine to set aside time for breakfast.
I often eat breakfast and have a cup of tea while reading the Bible, the news or a book before class. Even if a last-minute homework assignment is due, I make sure to sneak in a bite or two.
What to eat for breakfast is important too. A balanced breakfast is made up of protein, fiber, vitamins and minerals, according to Healthline.
Some healthy breakfast options Healthline recommends are eggs, avocado toast, fruits, Greek yogurt, oatmeal, nuts, seeds, coffee and tea. These options provide a variety of proteins and sides to choose from. Grab-and-go options that can be prepared ahead of time could be hardboiled eggs, precut fruit, trail mix or parfait bowls.
People love their daily cup of joe — 74% of Americans drink coffee daily and 49% drink three to five cups a day, according to Drive Research.
Coffee and tea can be healthy beverage choices but only in moderation. Naturally, these drinks contain a high amount of caffeine.
Moderate doses of caffeine, about two 8-ounce cups of coffee, can help people stay awake and alert, but high doses — 12 cups or more — can cause feelings of anxiety, high blood pressure, difficulty sleeping and headaches, according to an article from the American Heart Association.
As always, everything in moderation, including moderation. Individual consumption of more indulgent options — yummy, but not for everyday consumption — like pastries, crepes or anything with lots of sugar and processed carbs, should be measured against personal dietary needs.
A practice called "precision nutrition" does not push blanket rules but instead advocates personalized diets, recognizing individuals' bodies can respond differently to specific foods, and the best diet for one person may be very different for another, according to an article by Harvard T.H. Chan School of Public Health.
A balance of health-conscious and indulgent choices is a perfect blend for every morning. Ultimately, what one's choice of breakfast looks like depends on their personal dietary and lifestyle needs.
Breakfast can refer to meals that are consumed in the morning, but breakfast foods can be eaten at all hours of the day. Steak and eggs anyone?
Pepperdine even recognizes the importance of breakfast. During the Sunday of finals week each semester, Pepperdine hosts a Late Night Breakfast. This fun student tradition is an experience that creates bonds within the Pepperdine community while providing reinforcements for students to power through late-night studying.
My favorite part of breakfast, besides the food, of course, is the people I share it with. When I get the chance, I spend my morning meals catching up and connecting with friends and family.
With today's tech capabilities, this interaction can sometimes look like a phone or video call home or to a friend around the globe, but it is not an excuse to neglect face-to-face interactions.
Food is meant to be shared in a communal gathering with family or friends, and dim sum is one of my favorite brunch options for gatherings. With steamy and fragrant smells in the air, dim sum restaurants serve Cantonese foods like sticky sweet buns, dumplings and noodles.
Waiters with metal carts bring out small platters of food and stop by each table in the restaurant. Patrons can request the number of dishes they want, and the waiter will stamp a sheet of paper for the tab. Waiters place dishes in the center of the table on a lazy Susan to be passed around the table.
Since many of the dishes are fried and greasy, hot tea, or "chá," is served in a teapot left on the table to cleanse the palette.
If you have never tried dim sum, Pepperdine is located in a perfect place to try different ethnic cuisines. For authentic dim sum, visit LA's Chinatown on a day off — only a 30-minute drive away.
Some of my most cherished memories are of my family sharing conversations and life experiences together over bowls of congee — rice porridge with toppings like chicken, century eggs, salted duck eggs and green onions.
Breakfast is not simply a meal or time of day; it is a chance to make memories with loved ones. It represents family, friends, community, hospitality and feelings of warmth. It is a time to renew body and mind for the new day ahead. Breakfast is a meal you should not miss.
____________________
Follow the Graphic on Twitter: @PeppGraphic
Email Madison Luc: madison.luc@pepperdine.edu