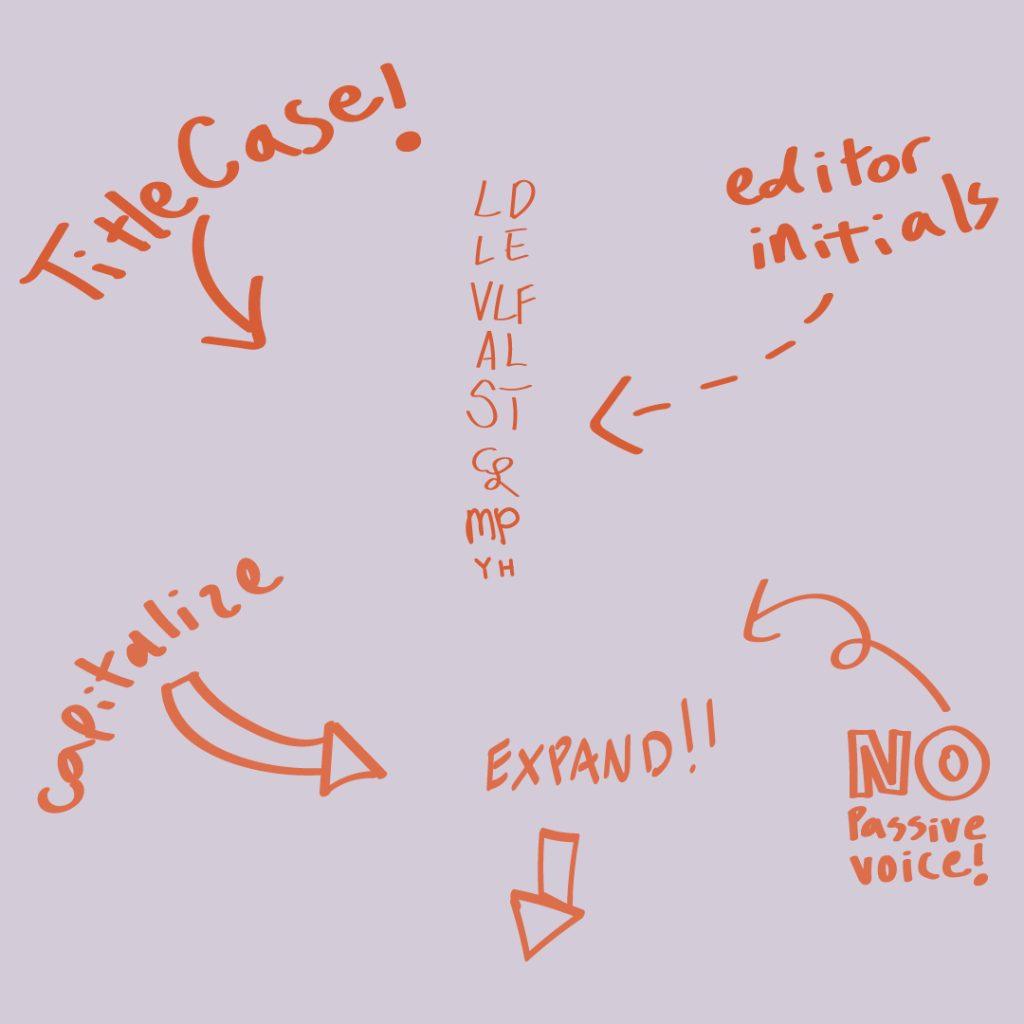 Examples of edits that may be made to a story during the editing process of Currents Magazine. Art by Lydia duPerier
Writing a magazine article starts with having something important to say and the motivation to convey it.
It requires a clear vision and a team of dedicated people to bring a Currents Magazine article to life.
At Currents, we want to create enjoyable and informational content — such as this transparency piece, which will explain the steps of magazine writing.
The first step for an editor-in-chief is to determine the goal and vision of the magazine. This includes deciding story topics, design inspiration and the overall flow of the magazine.
We strive to produce new content that appeals to a diverse audience. Once editors decide and organize the content, they assign stories to writers to begin the reporting process.
Currents Magazine is part of the student-led news organization Pepperdine Graphic Media. PGM consists of digital and print editions of the Graphic, GNews, Podcasts, Advertising and Currents Magazine.
At PGM we aim to include all angles and perspectives of a story. This means conducting interviews with multiple people with different stories, experiences, perspectives and backgrounds. We also prioritize conducting face-to-face interviews.
There are specific guidelines we follow, such as not interviewing roommates, friends, significant others or people affiliated with PGM. We do this to ensure fair and sound reporting on our community.
Once planning, research and interviews are done, a writer focuses their topic based on where the evidence leads them. Then, the writing can actually begin.
Each article depends on a staff writer's ability to transform notes, research and hours of interview footage into a digestible story for readers.
Creators must overcome challenges like writer's block, deadlines, transcribing interviews or a sudden change in direction. Editors are there to help writers overcome these roadblocks and make suggestions to ensure each story reaches its highest potential.
At Currents Magazine, once the story is done, it goes down a line of editors where they fact check and proofread for clarity, proper grammar, attribution and Associated Press and PGM style.
Editors suggest edits to writers, and writers can choose to follow or dispute them. Editors highlight what points need to be clarified, cut or expanded on.
After writers and editors have finalized and made all major changes to an article, the piece goes to the design team. While the writers and editors work on the article, photographers and artists create visual elements.
From there, designers format the story's page to combine story and design with important information about photo subjects and article contributors to the page.
A major aspect of designing a magazine page is balancing readability with aesthetic visions. Designers bring the magazine to life using a combination of colors, photos, art, fonts and composition to improve the readability of the stories.
Once designers are finished, the page goes through three more rounds of editing before the team compiles it into a digital file, which the team sends to the printing company. We publish the digital edition on our website, while the printer prints physical editions on glossy, high-quality paper.
These physical, or print, editions are then finally delivered to the newsroom, in the Center for Communication and Business, where our staff can then distribute the magazines to various newsstands across campus so students, faculty and staff can pick them up.
___________________
Follow Currents Magazine on Twitter: @PeppCurrents and Instagram: @currentsmagazine
Contact Hope Lockwood by email: hope.lockwood@pepperdine.edu