Photos courtesy of Pepperdine Athletics
Pepperdine Women's Tennis swept the courts clean over the weekend by dominating Maryland 4-0 on Saturday and Oregon 4-0 on Sunday.
The matchups against both schools were a part of the Intercollegiate Tennis Association's (ITA) Kick-Off Weekend, which included 56 other teams competing across the country to earn a bid to the ITA National Team Indoors.
The Waves' two victories secured them a spot in the tournament for the second-consecutive season.
With the #ITAKickOff Championship sweep, the #6 Waves advance to the #ITAIndoors championships in Wisconsin in early February! #WavesUp

— Pepperdine W. Tennis (@WavesTennis) January 28, 2018

Heading into the weekend, the Waves looked to clinch both wins with contributions from the whole roster.
"Our goal was to advance with two wins this weekend," Head Coach Per Nilsson said. "Everyone got to play some matches, which we needed."
The weekend proved to be challenging weather-wise — high winds made play conditions tough — but the Waves weren't deterred.
"The team competed very well and with the conditions as difficult as they were," Nilsson said, "We are happy to have had a successful weekend."
Senior Laura Gulbe emphasized that the team's ability to cope with the conditions helped lead them to success over Maryland.
"I think what we did well in our match against Maryland today was dealing with the windy conditions, having good energy, and trusting each other that everyone will give their best no matter what," Gulbe said.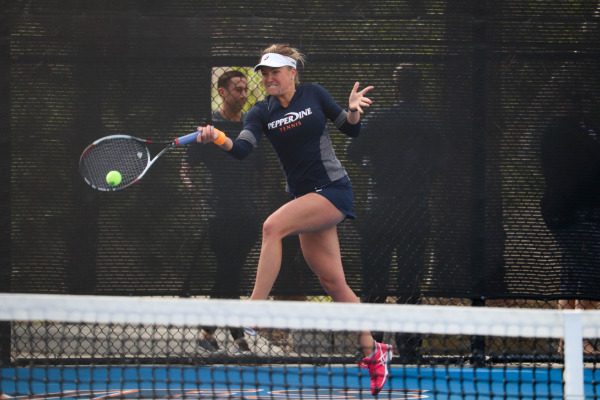 Pepperdine's main focus in their matchup against Maryland was to acquire the doubles point as quickly as possible.
"One of our goals for this match was to get the doubles point, bring the energy up, and set the bar of how we wanted to be for the rest of the match," junior Luisa Stefani said.
The Waves did just that. They cut right to the chase, clinching a quick win on court one with a 6-0 doubles victory from Stefani and senior Mayar Sherif. Shortly afterwards, in their first feat as doubles partners, sophomore Ashley Lahey and Gulbe secured the point on court three with a 6-1 win.
Heading into singles play, the Waves were aiming to use their momentum from doubles to carry them through each of their sets.
"The goal was to have good energy and execute the things we have been working on in practice," Gulbe said.
Momentum was a key factor in the success of the Waves according to Gulbe.
"Tennis is a game of momentum," Gulbe said. "Therefore, it is important to keep it going and have a lot of energy when it's going our way. Even though tennis is an individual sport, we fight as a team, and every match is different, yesterday's match is not important if you don't take care of the one ahead."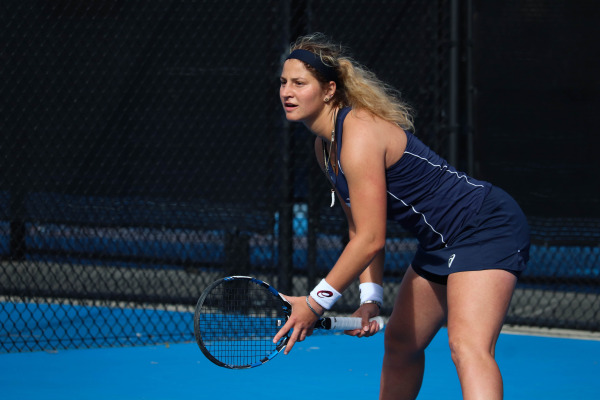 Freshman Evgeniya Levashova used that momentous fuel and got right to work, shutting down the opposition in 6-1 and 6-0 sets. Sophomore Adrijana Lekaj also made a strong statement, dominating on her court with a pair of 6-1 set scores.
Up 3-0 at the end of the match, it was Stefani who brought it home for Pepperdine gaining a 6-3 and 6-0 win on court one to secure the 4-0 sweep for the Waves.
Following their victory over Maryland the Waves set out for the same results against Oregon.
HIGHLIGHTS: Peep 👀 these highlights from today's 4-0 sweep over Maryland! #WavesUp #ITAKickOff pic.twitter.com/Gz6RpmtChs

— Pepperdine W. Tennis (@WavesTennis) January 27, 2018
Once again, Stefani and Sherif came out swinging with a 6-1 doubles win over 17th-ranked Oregon. Lahey and Lekaj paired up on court three, where they battled for a challenging 6-6 tiebreaker. It was a heated challenge with each side working for four points in the tiebreak, but it was the Waves who stepped up by nailing the next three points for the 7-6 (4) win and securing the doubles point for Pepperdine.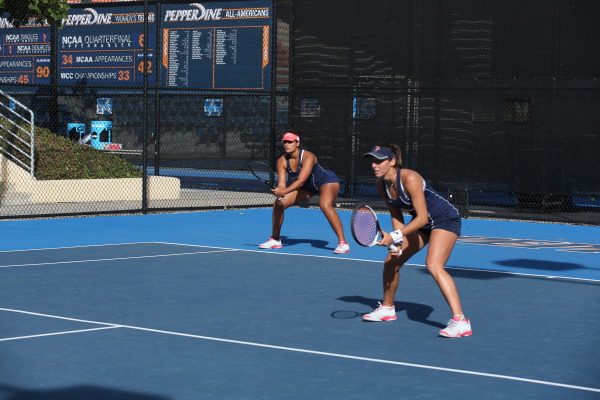 The Waves kept their strides strong in singles play as well. Lahey, at No. 28 in the Oracle/ITA Division 1 Women's National Singles Rankings dominated her opponent finishing with a 6-2 and 6-0 win. Levashova found success as well, beating her Oregon opposition 6-1 and 6-3, but it was No. 31 Sherif who locked the victory in for the Waves with 6-3 and 6-1 set wins.
#WavesWin Sherif clinches on the 6-3, 6-1 double fault on three! #WavesUp #WinningWaves pic.twitter.com/qEhjGRtKJy

— Pepperdine W. Tennis (@WavesTennis) January 28, 2018
On the wins against Maryland and Oregon: "It always feels great to win especially on our home courts with the home crowd— we have some true troopers that are always there for us," Gulbe said.
"It is always nice to play at home and to start our season off with a positive win like today's feels good. We know there will be bigger challenges coming up as we move forward this season but a win is always a win and it will give us more confidence and motivation to keep up this feeling going into the next matches," Stefani added.
"Sweeping Maryland and Oregon was great. It's tough against weaker teams to keep the same intensity since you know you don't have to play your best to win, but none of us backed off for a second. We all fought for every point," Lahey said.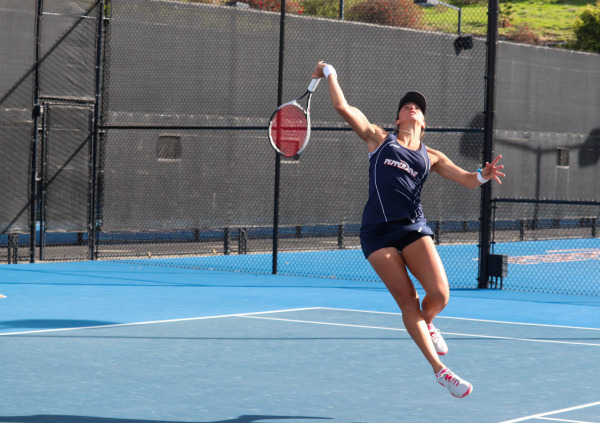 On the future of this season: "There are so many great things to look forward to this season, but most importantly, we have to take it point by point, match by match, fight for each other, and trust our coaches— that they are doing everything in their power for the whole team to the best we can, and improve," Gulbe said.
"All the players are working on specific things during matches and the goal was to do that in these two matches. We have to improve a lot in doubles if we want to compete with the top teams. That will be a something we pay close attention to in the next two or three weeks. If we can continue to improve each day we have a chance to compete for a national title at the end of the year and that's our goal," Nilsson said.
On the importance of the team atmosphere: "The atmosphere is everything. Energy and enthusiasm from teammates is infectious, and can pull you through in extremely tight moments. On most days we are able to give off an aura of positive vibes that everyone feed off when they need it most. That is key in tough moments, especially against tough teams," Lahey said.
"Having support from teammates is crucial — there is nothing like playing for Pepperdine and for each other. Our coach always tells us that being a good teammate is easy when things are easy — and it's much harder to be a good teammate when things are difficult — this is very important to keep in mind throughout the whole season whether it's a match day, or practice. It is an unbelievable feeling to know that the girls have your back no matter what, and it is so much fun playing for each other," Gulbe said.
Up Next:
The Waves host UC Santa Barbara on Friday, Feb. 2 at 1 p.m.

____________________________
Follow Sam Marlott on Twitter @sam_marlott