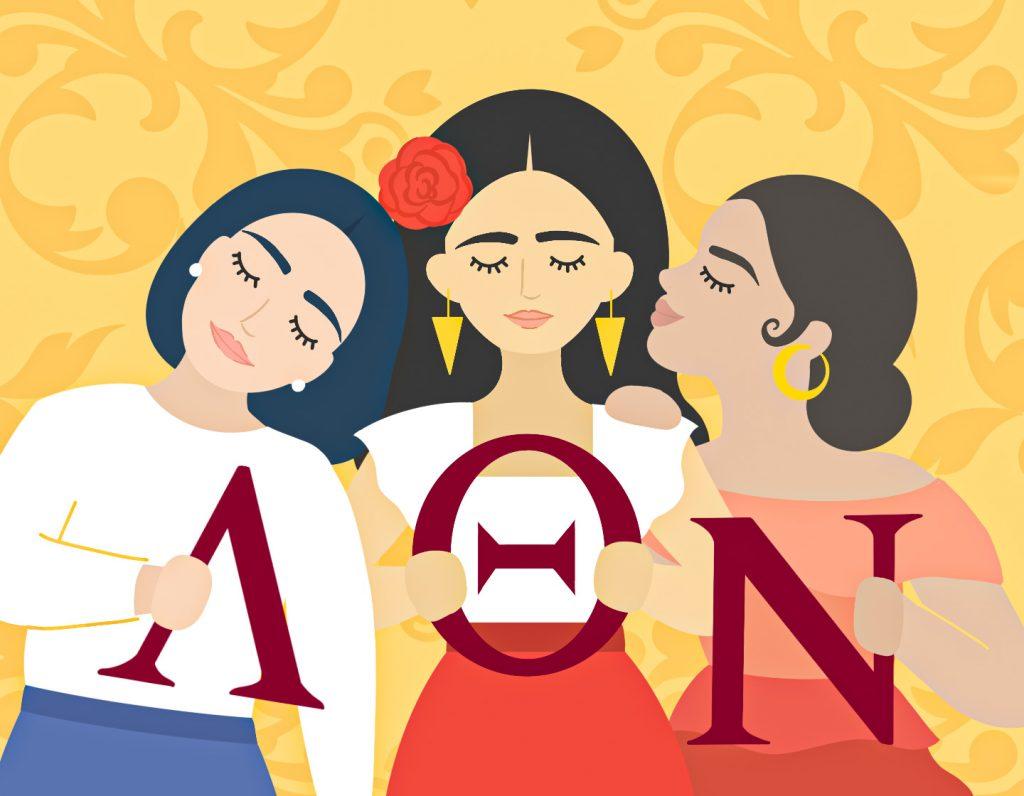 Art by Vivian Hista
Lambda Theta Nu is an international sorority founded in 1986 with a mission to introduce opportunities for and support Latina women as they give back to their communities, according to the sorority's national website.
Senior Paulina Gandara, who is of Mexican descent, is one of the founders of Lambda Theta Nu at Pepperdine and said she is passionate about bringing the sorority to campus. Gandara said she had the idea for a Latina sorority then found others to start the chapter with her in May 2021. The intention behind the organization is to have more Latina representation on campus.
"There aren't a lot of minorities on campus, so we just wanted the Latinas in our community to feel as if they have a place at Pepperdine," Gandara said.
At Pepperdine, 15% of the Seaver College student community is Hispanic or Latino, according to the 2020 Admissions Fast Facts. Latinos/as are those from or descended from Latin American countries and communities.
Junior Kim Banda, who is also of Mexican descent, is another founding member of Lambda Theta Nu. Banda said she would've benefited from an organization like this when she started college.
"When I came to Pepperdine, I didn't see any other girls like me on campus. It was a culture shock," Banda said. "Having this sorority would be a way to be more relatable to everyone, I feel like diversity is such an essential part of a community."
Banda said she hopes this sorority will add a new perspective to Pepperdine and will be for women of different backgrounds to come together and give back to the Pepperdine community.
Philanthropy is a huge aspect of a sorority organization, and Lambda Theta Nu's Tijeras is the national philanthropy program. The goal of Tijeras is to increase access to education and put a strong focus on Latinx literacy.
The symbolism of Tijeras — scissors — is the two blades being held together by a pin. Blades signifying community service and academic excellence and the pin being the sisterhood of Lambda Theta Nu.
Lambda Theta Nu plans to host service events and table on main campus to gain awareness while also taking a more philanthropic approach, Banda said.
"The service events we mostly spoke of were tutoring at the Guadalupe Center in West Hills, as well as volunteering at local churches in the Latino community and simply offering our education and help," Gandara said. "We were also considering hosting educational seminars for the Pepperdine community."
Through these seminars and events, Gandara and Banda said they hope to grow the sorority. Banda hopes the new chapter becomes a network of connections and relationships to help other women succeed.
"We hope it continues to grow into a whole network of mentors and allow others to have access to that and give other minorities and minority women a voice in the world," Gandara said.
The new chapter is coming to fruition with the first discussions of a Latina sorority starting over three years ago with a petition titled, "Bring a Latina sorority to Pepperdine!"
There are 79 signatures and 79 supporters of the cause, however, it didn't take off until now.
Banda said she thinks it has taken so long to create this chapter as a result of intimidation in a tight-knit community such as Pepperdine. However, she believes it will be worth it in the end when Latina women find their sisters.
"There are not a lot of Latinas on campus, so it can be intimidating creating a sorority, and sororities, in general, can be intimidating," Banda said. "It's scary, but it's gonna be so worth it. It's new, and new things can be scary sometimes, but good things come with a battle and this battle is almost won."
Banda and Gandara both said Lambda Theta Nu has funding and approval, both from the University. Their next step is to create an interest group so they can participate in official recruitment, and they are only in need of two more girls to make their sisterhood an official club.
"We are open to all who are interested and need people who are fully committed," Banda said.
Banda said she hopes Lambda Theta Nu at Pepperdine will accomplish numerous endeavors as a sorority that gives Latina women the knowledge, advice and empowerment they need when dealing with struggles such as "imposter syndrome."
"We all have our own versions of what community is, based on our experiences and the life we have lived until this moment," Banda said. "Culture shock is prominent and really exists within the Pepperdine community."
Gandara said she hopes by the time she graduates in December 2022, the sorority will have a strong group of women who are looking to give back and support each other in their endeavors.
"We have all been blessed because we have the opportunity to have an education, and we have so much knowledge that other people don't, so I think it's a blessing to share that and to be able to help others understand their potential," Gandara said. "We want others all over Pepperdine to not feel limited. I want others to be limitless and I hope this sorority will help accomplish that."
Beth Gonzales contributed to this reporting.
____________________
Follow the Graphic on Twitter: @PeppGraphic
Email Emily Chase: emily.chase@pepperdine.edu