Photo by Jennevieve Fong
MoviePass subscribers have surged from a significant subscription price drop, giving college students and everyday movie-goers an opportunity to go to the movies on a budget.
With a $9.95 a month subscription price for one movie ticket a day, MoviePass extended their reach beyond the above-average movie lovers who once shelled out up to $50 a month for unlimited movie tickets through the Pass. And college students like California State University, Channel Islands junior Francesca Seta are rejoicing.
"I think it's a great opportunity for college students to really enjoy movies at a lower price," Seta said. "It's making it a lot more affordable for college students to go and enjoy a night out without having to worry about checking their bank accounts constantly."
MoviePass was created in 2011 with a high price point and a modest customer base. Now it's under the control of former Netflix Executive and Redbox President turned MoviePass CEO, Mitch Lowe. The Pass surpassed 2 million users on Feb. 9 after lowering their subscription price to a competitive monthly fee, in a similar ballpark with streaming services Netflix and Hulu.
In an unofficial survey conducted by the Graphic, just over a quarter of 40 participants said they were MoviePass subscribers.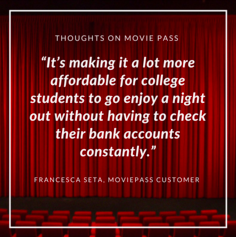 An adult movie ticket costs $15.20 at the Regal Cinemas Edwards Calabasas Stadium 6 theater, $12 at the Regency Agoura Hills Stadium 8 theater and $11 at the Regency Westlake Village Twin. With those price points, MoviePass subscribers would be saving money if they saw just one movie a month.
Small, family-owned movie theater branches have benefitted from the uptick in MoviePass subscriptions, said Karissa Smathers, house manager at the Regency Westlake Village Twin movie theater in Thousand Oaks. She has seen an increase in movie ticket sales and more concessions purchases.
"I think [customers] are more likely to go to concessions because sometimes people are turned off by ticket prices, so if they don't have to buy tickets, they can splurge on purchasing concessions," Smathers said.
Movie theaters don't make most of their money off ticket sales, said Demosthenes Vardiabasis, professor of Economics at the Graziadio School of Business and Management and former Economic Commissioner in California, appointed by Governor Schwarzenegger. Most of the revenue generated comes from concessions purchases.
"It's all the other money when you spend on the premises there," Vardiabasis said. "By advising you to visit the theaters more often, by the end of the day it's going to increase the revenue from the non-ticket items."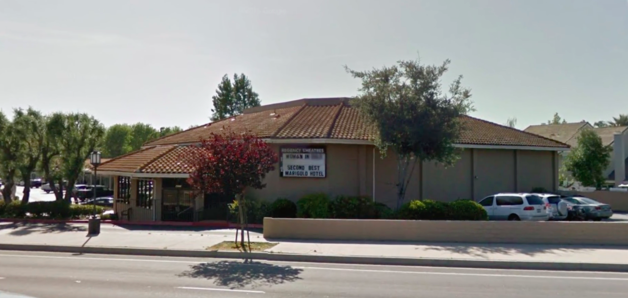 Regency Agoura Hills Stadium 8 House Manager Tristan Weatherwax said his theater has also seen an increase in ticket sales and concessions, but the downside to the MoviePass is the app sometimes glitches for customers at the box office.
"It has brought in a few more people. The only thing is there are just too many problems with the actual app," Weatherwax said. "That's the only downfall to it."
With the influx of subscribers, developers are trying to keep up with the demand, according to MoviePass' website. But there have been glitches that have left customers having to pay out-of-pocket and request a refund through MoviePass.
"Due to high volume, our website and app are experiencing a few glitches," MoviePass customer support associate Max (with no last name) wrote. "Our developers are working to solve the issue as quickly as possible. In the meantime, if you encounter freezing or crashing, please try back later."
Both Smathers and Weatherwax confirmed that when a customer goes to purchase a ticket using their MoviePass credit card, the ticket is fully paid for by MoviePass, so the theater is not losing any money from customers using their Pass.
"MoviePass is paying for it," Weatherax said. "It doesn't affect any sales."
Media Production Professor Jacob Michael said he doesn't think MoviePass' business model is set to last if they don't up their prices any time soon, since they are losing money on most tickets sold to subscribers. But if MoviePass sold their data to marketing and advertising companies, similar to how Netflix started out, then the model might stand a chance.
"It's one of those double-edged swords, though, because every person that signs up is actually costing them money," Michael said. "But, yet, they want people to sign up in part because they are wanting the data."
Netflix collected subscribers' data and sold that data to advertising and marketing companies, Michael explained. As the streaming giant accumulated more data, they began to analyze it and use it to create their own content based on what their subscribers preferred in the TV shows and movies they watched.
Michael anticipates a similar model with MoviePass.
"Part of their model is yes, financial, but it's also to collect a bunch of data that they can then use to help track people, sell to companies to help them better advertise to customers, so in some ways they're trying to build their base so they can market better," Michael said.
When Michael first learned about MoviePass, he thought it was too good to be true.
"My first thought about MoviePass was that it was a joke, that there's some sort of scam or con and that the companies were just trying to sucker people out of money," Michael said. "But that's when I heard about it, so apparently it's been around for several years, but the prices were really high so they were kind of cost-prohibitive for people who see it as a value."
Vardiabasis said he thinks MoviePass will eventually approach the participating movie theaters and ask for a cut of the profits from the ticket sales, since the movie theaters are not just making money off the tickets sold, but are also making profits off additional concessions sales.
"They might have to work with the theaters so they can get some type of a percentage of the additional revenues to be generated, because if I'm going to send you to the theater to watch a movie, I pay and subsidize your ticket," Vardiabasis said. "The theater will be OK because in addition to the revenue they are receiving from me, they are going to collect money from all the purchases you're going to make there."
If MoviePass were to raise their prices anytime soon, Seta said that might be enough for her to opt-out.
"I think that if they were to raise their prices then a lot less people would come, especially college students, because we don't want to spend that much money for the movies, especially now having Netflix so accessible at home," Seta said. "It makes it that much harder for you to come out and see the movies in person yourself."
For now, Smathers said she continues to see MoviePass positively for her theater.
"I think it's good because it brings more people to the movies and people still buy concessions," Smathers said.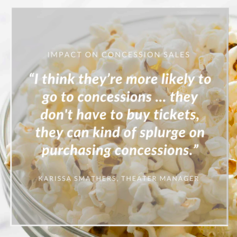 Jennevieve Fong contributed to this report.
_____________
Follow Rachel Ettlinger on Twitter: @RachelEttlinger