The characters direct their attention toward Mary Bennet, sitting at the piano. Photos courtesy of Bradley Griffin
The Pepperdine Theatre Department's latest production "Miss Bennet: Christmas at Pemberley" debuted at Lindhurst Theatre Jan. 28. The play, directed by theatre professor Bradley Griffin, was performed by an all-student cast and ended Feb. 2 after a successful five-day run.
Senior Josh Sparling, an avid theatergoer, said he walked in unsure of what to expect from the play but was pleasantly surprised.
"I thought the acting was absolutely phenomenal," Sparling said. "The four lead women did an exceptional job at staying in character and making you feel like you were actually there with them."
The play, presented by Pepperdine's Fine Arts Division, was sold out for every performance. Written by Lauren Gunderson and Margot Melcon, it serves as a sequel to Jane Austen's acclaimed novel "Pride and Prejudice." In true Jane Austen fashion, the actors managed to successfully sustain British accents throughout the entirety of the play.
Junior Theatre and Music major Sydney DeMaria — who plays Elizabeth Darcy in the play — said the actors eventually got used to speaking in an accent.
"We spent a lot of time working on it," DeMaria said. "But by the time we got into it, it became second nature."
The plot follows the life of the Bennet sisters — Elizabeth, Jane, Mary and Lydia — and their eventful Christmas holiday in Pemberley. They all seem to get along, but the youngest, Mary (Lauren Drake), feels ostracized due to her love of facts and literature. She soon develops affections for fellow bibliophile Lord Arthur de Bourgh (Morris Chen), leading to a series of comical situations and entangled character relationships.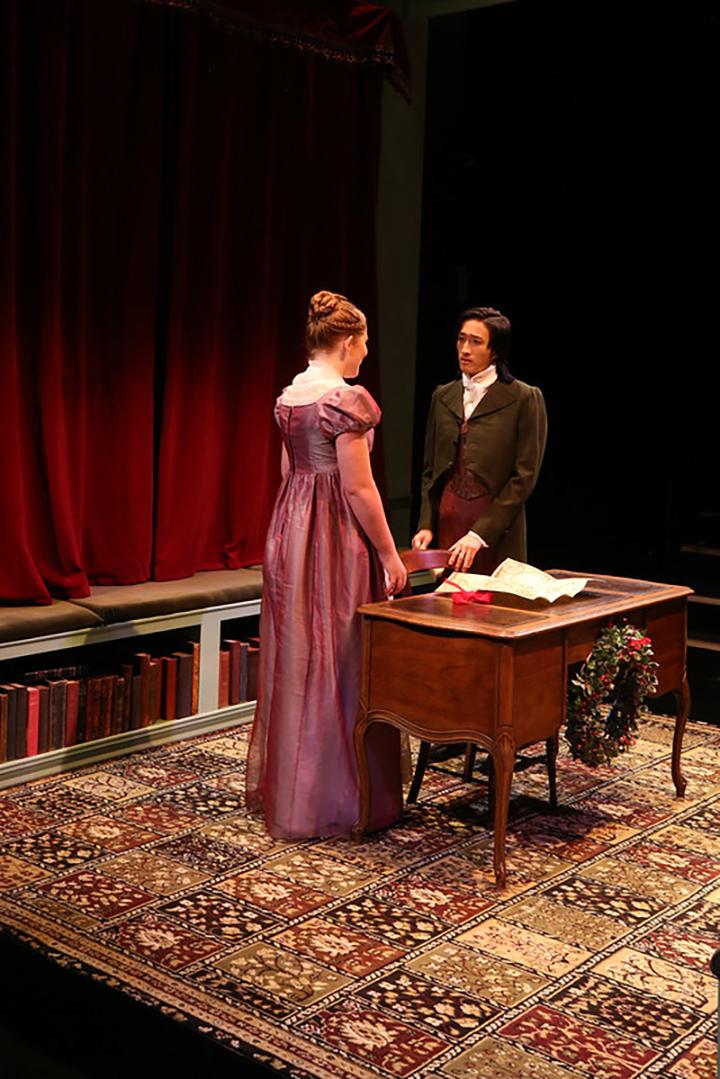 The main actors — Cat Bigelow, Morris Chen, Yayabell Debay, Sydney DeMaria, Lauren Drake, Marcela Ferrarone, Joshua Fredenburg and Coby Rogers — exhibited chemistry onstage and performed with a cool and confident demeanor.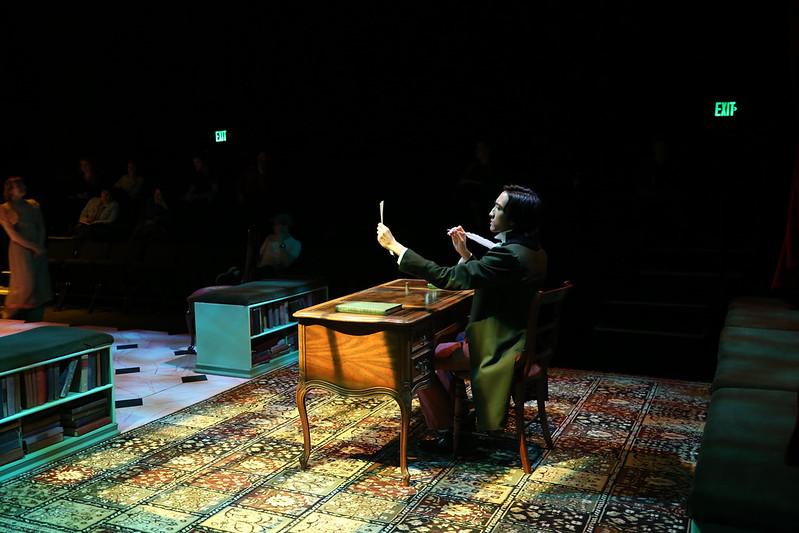 DeMaria said extensive practice over winter break brought the cast together.
"The cast for this show was great," DeMaria said. "We had long rehearsals during winter break — from ten in the morning to six in the afternoon — sharing this really brought us together."
Griffin's conscientious display of British culture comes at a time of marked anglophilia, displayed in the success of films like "Downton Abbey" or Netflix's "The Crown." The play has attracted all audiences, young and old, and received praise for its infectious humor.
DeMaria said it is this cheerfulness that makes the play so special.
"The show is so happy and lighthearted," DeMaria said. "It's really an uplifting experience for everyone involved, actors and audience."
The play's run has officially ended, but the Fine Arts Division has a series of events coming up soon for seasoned theatergoers and first-time attendees alike.
The Flora L. Thornton Opera program is setting up two performances in conjunction with the Pepperdine University Orchestra featuring Purcell's "Dido and Aeneas" and Puccini's "Gianni Schicchi." The productions are scheduled for Feb. 27 and Feb. 29. The Theater Program is also presenting Anton Chekhov's final masterpiece "The Cherry Orchard," which will run from Apr. 15 to Apr. 18.
Both events are only $10 for Pepperdine students.
_________________
Email Maria Belen Iturralde: belen.iturraldechiriboga@pepperdine.edu