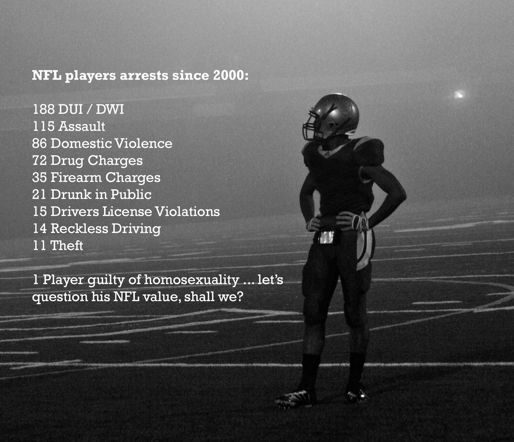 Photo by Marisa Padilla
"Winning isn't everything, it's the only thing," said football legend Vince Lombardi. The football player-turned-coach-turned-executive had many accolades to his name, including five NFL Championships with the Green Bay Packers as well as having the Super Bowl trophy named after him. Michael Sam's "coming out" on ESPN's "Outside the Lines" on Feb. 9 would have been received by Lombardi with a simple question: "Can he play ball?"
Michael Sam can definitely play.
Sam, a defensive lineman for the Mizzou Tigers, was named the SEC's Defensive Player of the Year. This First Team All-American is expected to be drafted into the NFL come spring. The Tiger announced his sexual orientation in order to inform coaches, scouts and teams about this part of himself before entering the draft.
His story is nothing short of inspiring. Sam comes from a childhood where he witnessed his brother killed by a gunshot wound, learned his sister died before he knew she existed, and had another brother who went missing and was proclaimed dead years later. He also has two living brothers who are incarcerated. In an interview with ESPN, Sam said he didn't want to "follow the path of his brothers," so he found a sanctuary in the sport of football.
Sam told his teammates he was gay in August and has received acceptance from his team and field family, many of whom admitted that they had already guessed he was gay. Now, as Sam is preparing to enter the biggest stage of his football career, he spoke in an interview with ESPN, stating that he wants "to own my truth, to tell my story."
If drafted, Sam will become the first openly gay player in the NFL. Media opinions — good and bad — took up Sam's story and placed their spin on his sexual preference. It appears now that his sanctuary in football is being threatened.
Scouts, players, analysts and executives have stated how Sam's announcement will hurt his chances of being drafted due to the controversy that could arise. Most of them were granted anonymity for their honesty. The New Orleans Saint's LB Jonathon Vilma is one player who has openly expressed his discomfort with the possibility of playing alongside Sam. Vilma said in an NFL Network interview that he wouldn't feel comfortable changing in front of Sam in the locker room.
To assume Sam cannot conduct himself in a professional manner in his workplace and for Vilma to flatter himself by thinking that Sam would even be interested in every man he sees is not only contrary to Sam's track record as a consummate professional, but demonstrates pure ignorance on Vilma's part. Fortunately, others don't seem to share Vilma's homophobic beliefs. Players and fans alike have actively supported Sam on social networks and in the press.
Hall of Fame WR Deion Sanders tweeted, "Michael Sam isn't the 1st gay player in the NFL although he is the 1st 2 come out. #realtalk. Let's show him love like a family member. Truth." The NFL also released a statement supporting Sam's announcement, stating, "Michael is a football player. Any player with ability and determination can succeed in the NFL. We look forward to welcoming and supporting Michael Sam in 2014."
In response to those football fans, players and coaches who see Sam's brave admittance to his homosexuality as "controversial," I remind them to think about the various felons and criminals revered as athletic gods in the NFL, who have been able to thrive in the sport regardless of their criminal backgrounds. We've heard about former Falcon's QB Michael Vick's dog fighting activities (which landed him 21 months in prison), but it didn't seem to affect his "draft stock" too much once he was released, as he was able to land a starting role with the Eagle's soon after.
In line with Vick are other prominent football stars who have found themselves in hot water but retained their star status. These include 188 cases of DUI / DWI, 115 assault charges, 86 domestic violence charges, 72 drug charges, 35 firearm charges, 21 drunk in public charges and much more since 2000. It is disturbing to think that Vilma would be more comfortable playing beside a player convicted of murder or rape than a guilt-free gay man.
Social media has turned something as simple as an individual "coming out" into an amplified and hotly debated issue. In the midst of the opposing views, it is appalling to hear about tweets and critics deeming Sam's sexual orientation as a sin, while players charged with domestic abuse suit up to play and are revered.
On the Daily Show, comedian Jon Stewart said it best: "No pro team wants the type of controversy [that] having a gay player would cause … if he had been convicted of [a] DUI Vehicular man slaughter, or obstruction of justice in connection to murder, or had been accused of sexual assault, or screamed the n-word at a concert, or killed a bunch of dogs and buried them in his backyard … you know, [they're] NFL material."
Ultimately, through the tides of controversy, Sam made a heroic act and is being commended by many for hopefully opening the door to greater tolerance and giving other player's the potential opportunity to come out themselves.
After asking around within the Pepperdine athletic community, track athlete senior Chloe Levray expressed her opinion on the media coverage of Sam's announcement.
"I think that it was brave of him to come out but I also wish that it didn't have to be as big of a deal as it is turning out to be. On a more positive note though, there are probably many others in the NFL who are homosexual but have been too embarrassed or scared to show their true selves. I'm hoping that by Michael coming out, he has opened an even bigger door for others to show their true colors as well," Levray said.
Basketball followers might recall 12-year NBA player Jason Collins coming out in a Sports Illustrated article at the end last year's season. He has not played for a team since. In 2013, MLS midfielder Robbie Rogers became the first openly gay male athlete to play on a U.S. professional team when he began playing in May 2013.
During times of heightened racial discrimination in sports, similar arguments were made against African American players. Critics contended that white players playing alongside blacks would be "uncomfortable" and "wrong." That notion, for the most part, is an archaic idea from the past. Hopefully, Sam's announcement will be the first step in eliminating stereotypical taboos of heterosexual and homosexual athletes playing beside one another.
"It's just saying to another person, 'Hey I'm gay … it shouldn't matter. If I work hard, if I win games, it shouldn't matter. I can help teams make plays,'" Sam said in his ESPN interview. Sam is a football player with the talent to go pro in the sport that has been so much more to him than just a game.
Like Sam, I look forward to the day when an athletic "coming out" announcement does not garner so much media attention and controversy. The guy wants to be known as a great football player who happens to be gay, not the other way around.
"The measure of who we are is what we do with what we have," Lombardi, a Hall of Famer, said back when he was a prolific coach on the NFL. Michael Sam is a college graduate, a D1 football player and a gay man. With the courage to overcome a family life riddled with tragedy and to face a future that promises adversity, Sam promises to define himself by a lot more than what the critics give him credit for.
_____________________________________________________________________________

Follow Stasia Demick on Twitter: @sdemick12