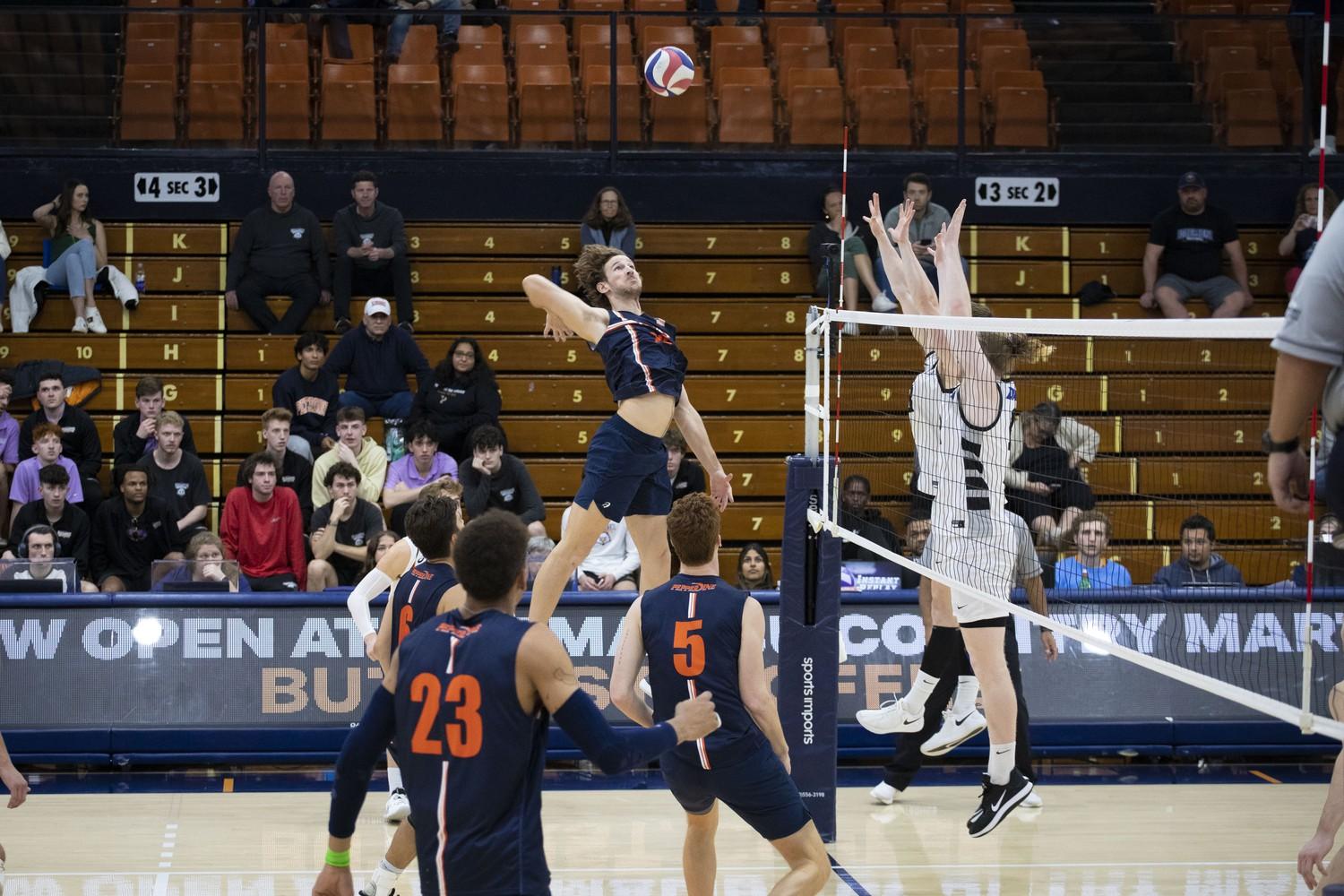 Redshirt junior opposite hitter Jacob Steele goes for a kill against Daemon on March 17, at Firestone Fieldhouse. Pepperdine swept Daemon 3-0. Photos by Mercer Greene
No. 7 Pepperdine Men's Volleyball swept Daemon University Wildcat's 3-0 March 17, at Firestone Fieldhouse. This is the Waves' fourth win in a row and puts them at 14-8 on the season.
The Waves won the first set against Daemon 25-13 and never looked back as they completed the three-set sweep. Graduate outside hitter Jaylen Jasper led the way with 11 kills, followed by junior middle blocker Anderson Fuller and senior outside hitter Akin Akinwumi, who each had seven kills.
"It builds confidence when you win matches," Head Coach Jonathan Winder said. "We've won four in a row now here, and we're starting to get healthier and better in some key areas."
After Pepperdine won the first set, Daemon seemed to have adjusted, as the Waves and Wildcats were battling point-for-point. Jasper said this happened because the Waves have a tendency to struggle at the start of matches.
"Just reminding ourselves we have a standard to play up to and not to play down," Jasper said.
With Daemon having a 9-8 lead, Pepperdine went on to score seven unanswered points as they took a 15-8 lead. With the momentum on their side, Pepperdine won the second set 25-18.
The Waves came out firing in the third set, taking a 7-1 lead early on. Daemon was not able to recover from their slow start, as they never held the lead in the third set. With a 24-17 score, Daemon committed a service error securing the Waves a sweep and their fourth straight win.
Redshirt junior opposite hitter Jacob Steele said part of the reason Pepperdine was able to sweep was because of how well they served.
"On our end serving, we did really well," Steele said. "That's huge. That was the biggest difference there."
Steele said working on serves is something the team has emphasized throughout the season since serving well can have a big impact on offense and defense.
"If we can knock the team off the net even a little bit, it helps our defense so much," Steele said. "It saves a lot of effort, and being able to score from the service line is huge."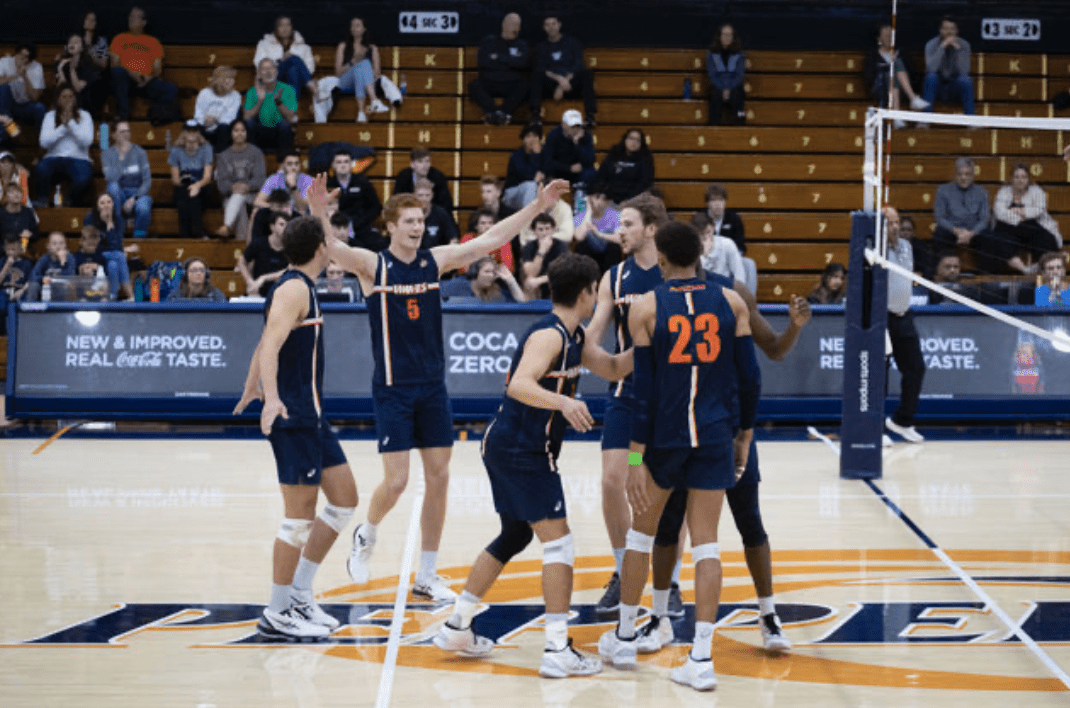 Pepperdine Men's Volleyball come together after they scored a point in a game against Daemon on March 17, at Firestone Fieldhouse. This was Pepperdine's fourth straight win.
Junior setter Bryce Dvorak was another difference maker in the game. Dvorak leads the NCAA in assists and added 31 more to his total. Steele said having a player like Dvorak is important for having a strong offense.
"It puts all of us hitters at ease knowing we have a guy running our offense all the time," Steele said. "We can always trust him to make good decisions and put up a good ball for us."
Before the Waves four-game win streak, they traveled to Hawaii, where they lost two games against No. 1 University of Hawaii. Winder said this experience helped the team get hot.
"It was a good time to come together as a team," Winder said. "We learned a lot by playing against them of what we need to do to be successful and achieve the goals we have."
Pepperdine has seven games left in the season, and six of them are against teams in the Mountain Pacific Sports Federation. Jasper said the team has high morale as they head into a lot of conference play.
"It's electric," Jasper said. "Volleyball — when it's done correctly, and when people make plays — it's just so much fun to be a part of."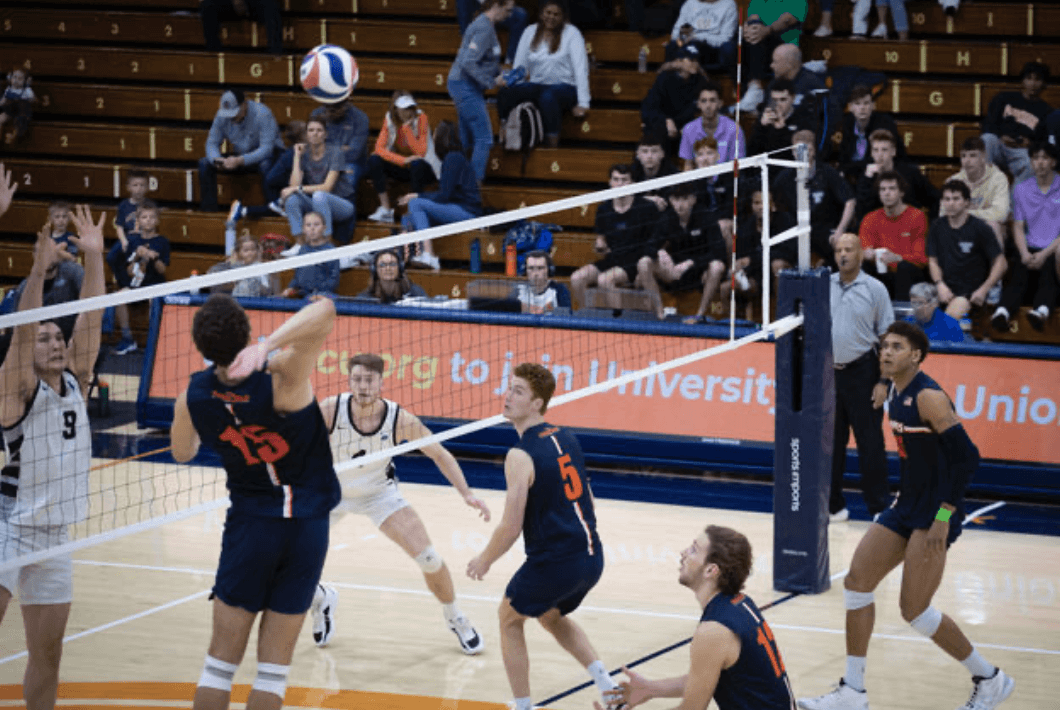 Redshirt sophomore outside hitter Joe Deluzio goes for a kill against Daemon on March 17, at Firestone Fieldhouse. Deluzio had six kills in the match.
The Waves will travel to Utah to play a two-game series against Brigham Young University on March 24 and 25 for their next two games. Jasper said he's confident the team will play well in Utah because BYU is the type of place they enjoy playing in.
"Very lightly, very loud," Jasper said. "That's the kind of environment that we thrive in because we pull on each other's energy, and hearing other teams' energy really fires us up."
Despite having a 9-2 record at home and 3-5 record on the road, Winder said the team has still performed well on the road and is ready to compete against BYU.
"We've played really well on the road; just some of the times we've lost a couple," Winder said. "We're more experienced now. Our team is just a little more prepared now."
With the end of the season approaching, Jasper said that the team has continued to improve all year and is looking forward to finishing the season strong.
"We've seen ourselves getting better and better as time has gone on," Jasper said. "Seeing how we finish and where we end up is going to be very exciting, but we're all confident we can do well."
_________
Follow the Graphic on Twitter @PeppGraphic
Contact Tony Gleason via email: anthony.gleason@pepperdine.edu