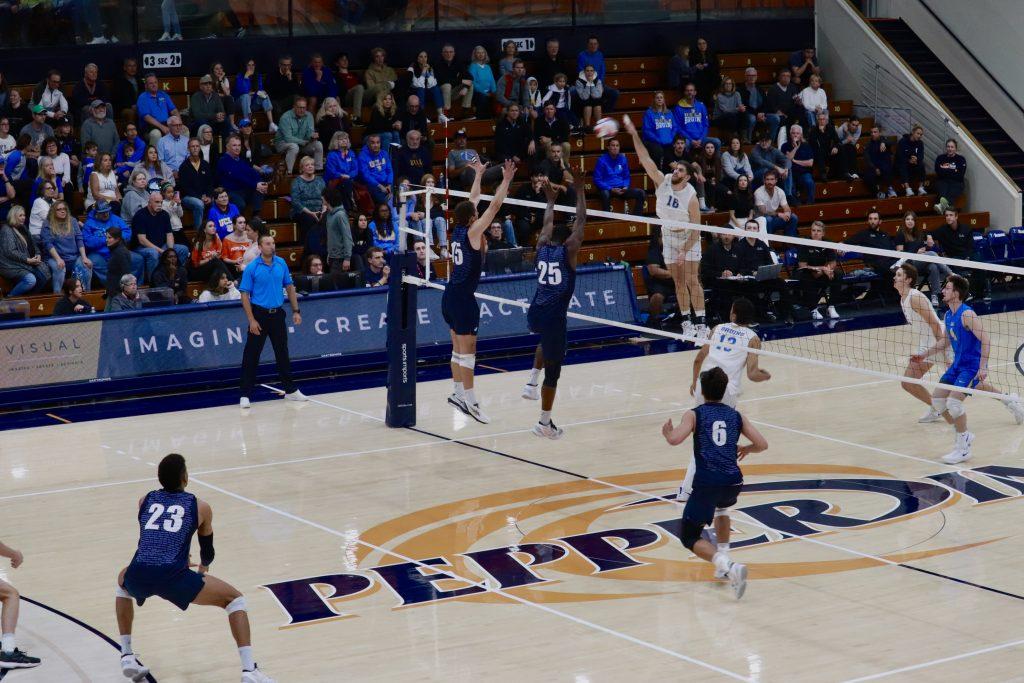 Redshirt sophomore outside hitter Joe Deluzio and senior outside hitter Akin Akinwumi go up for a block against UCLA on April 13 at Firestone Fieldhouse. The Waves lost to the Bruins 3-1. Photos by Denver Patterson
No. 9 Men's Volleyball lost in a close match to No. 2 UCLA Bruins 3-1 on Thursday, April 13, at Firestone Fieldhouse. This puts the Waves at 16-12 on the season.
Graduate outside hitter Jaylen Jasper and sophomore outside hitter Joe Deluzio led the team on offense, with 17 and 11 kills, respectively. The Waves started strong with a 32-20 win in set 1 and went on to lose the last three games in a tight competition throughout.
"There were just some plays that in other games when we've pulled it out, like, we were making them, and then we just weren't really making them today," Jasper said.
The first set was a back-and-forth battle between the Bruins and the Waves — with the largest deficit being 11-15. The Waves pulled away with a kill from Jasper, and then redshirt junior opposite hitter Jacob Steele scored the winning point, beating UCLA 32-30.
"In the first set, we did a good job of communicating and making sure that we were running our systems," Jasper said.
Despite winning the first set, Steele said the Waves needed to work on their communication to avoid the small errors.
"Something we've been harping on for a while is just communication to help us clean up all these little plays," Steele said.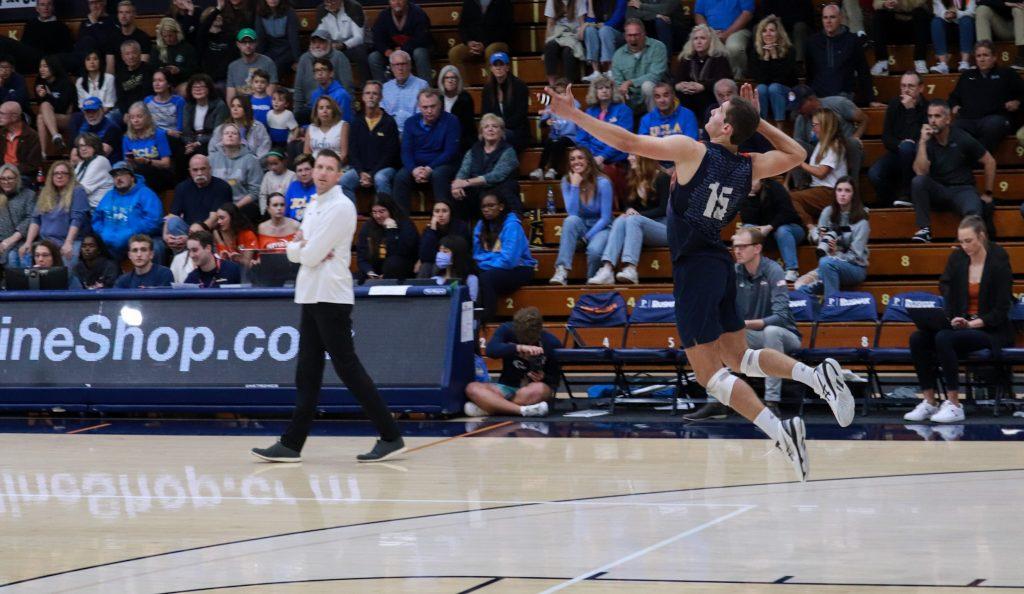 Set 2 started with the same point-by-point energy, with two back-to-back kills early on by Jasper. After the Waves and Bruins were tied 6-6, Jasper scored two more kills, making the score 8-6.
UCLA pulled ahead at the very end, after three consecutive kills, winning 25-21.
The Bruins committed a service error right off the bat to start Set 3. Steele and Jasper both then scored back-to-back kills, giving the Waves a 3-1 lead.
The Waves kept a small lead throughout, until the very end when the Bruins scored two consecutive kills to make the score 25-23.
Junior middle blocker Anderson Fuller started Set 4 off strong with two back-to-back blocks, but the Waves started to fall behind early on.
Steele, Jasper and senior outside hitter Akin Akinwumi all delivered kills in an attempt to catch up, but the Bruins won 25-23.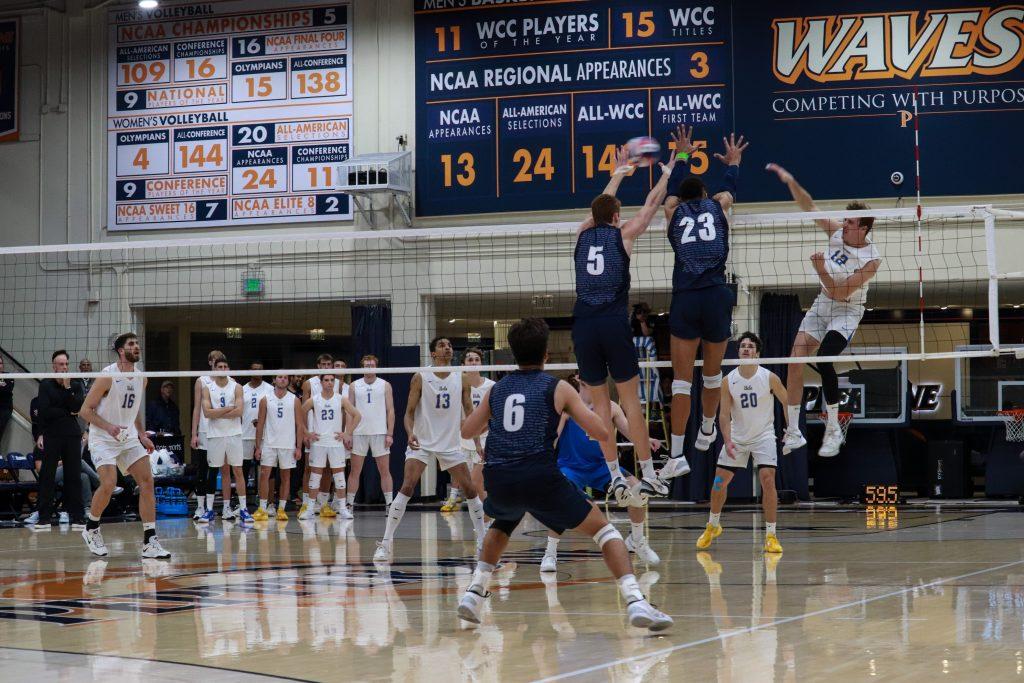 The matchup against UCLA was also both Jasper and Steele's last game at home, at Firestone Fieldhouse — and they said they left it all on the court.
"It's pretty surreal," Jasper said. "It's just crazy to think that my time in the MPSF NCAA is coming to a close."
While Jasper said he wishes they won, he was thankful for his time at Pepperdine coming to an end.
"I wish it would have gone differently," Jasper said. "But I could not be happier with the career that I've had here."
The Waves will face the Bruins again on Saturday, April 15, at 7 p.m. at UCLA. This will also be the Waves' last game before the MPSF Tournament.
_________________________________
Follow the Graphic on Twitter: @PeppGraphic
Contact Abby Wilt via Twitter (@abby_wilt) or by email: abby.wilt@pepperdine.edu