Pepperdine Men's Basketball sophomore forward Maxwell Lewis goes for a layup in a game versus Rice University on Nov. 7, at Firestone Fieldhouse. Lewis is averaging 20.1 points, 6.2 rebounds and 2.9 assists while shooting 42.2% from 3-point range, according to ESPN. Photos by Colton Rubsamen
Pepperdine Men's Basketball spent a week in Costa Rica over the summer of 2022 supporting local youth organizations. The team also played the Costa Rica National Team in a summer league scrimmage game.
During the game, sophomore forward Maxwell Lewis saw a lane open in transition.
Two dribbles later, the Las Vegas native was flexing over his defender while the bench was doing the "on his head" celebration — indicating a poster had occurred. Lewis' dunk went viral — amassing a little over 700 likes — and took the attention of scouts.
"I think that just set the tone for the whole year really," Lewis said. "I just caught the ball on the wing, and I saw a defender, and it was an instinct. I didn't even think about it; it just happened."
Josh Christopher, a U.S. scout for On Point Scouting, was at the Alabama State game Nov. 13, and said Lewis' range in terms of getting drafted will probably be mid-to-late lottery.
"He's definitely a first rounder I'd say," Christopher said. "Probably the middle of the first round is where I kind of have him right at this moment."
Where His Journey Began
Lewis said he grew up with five siblings and was the second one to play basketball. He started playing basketball in middle school, but it wasn't serious, he said.
"Everyone else either did track or football," Lewis said. "I just wanted to do something different, and I found the love of the game."
In his senior year of high school, Lewis said he committed to a program called Charmeleon BX, which was an alternative route to the NBA for top recruits. Players would take the whole year to train for the NBA draft rather than participating in college basketball to bypass the NBA's eligibility rule, according to The Washington Post.
Lewis said COVID-19 was the reason it didn't work out. Lewis signed with Pepperdine in July 2022, according to Pepperdine Athletics.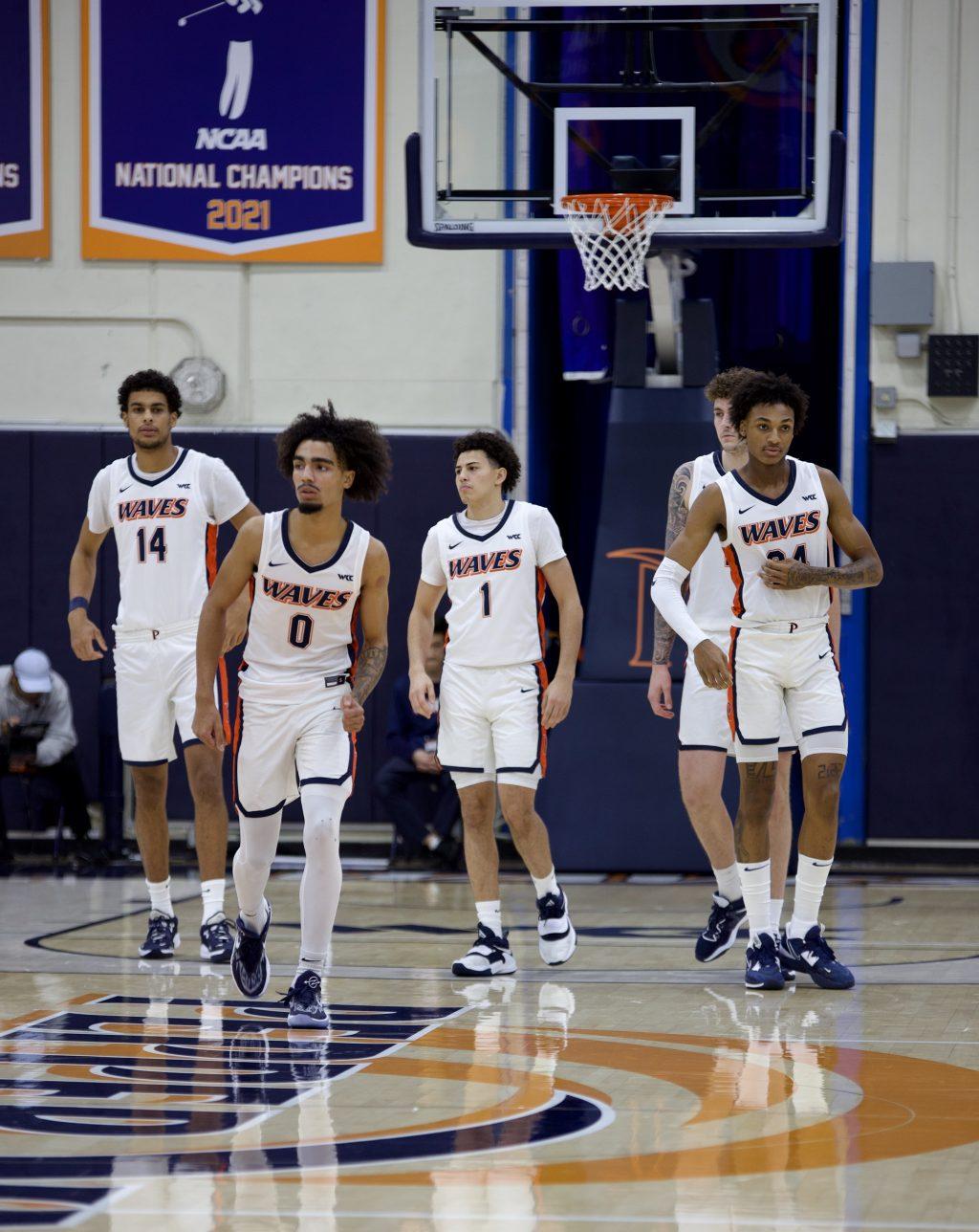 "We had known about him a year or two ago," Men's Basketball Head Coach Lorenzo Romar said. "But, we didn't know if we could get him yet. I think we talked to him a couple of times, but we got serious in the June and July before he got here."
Lewis is the second-highest recruit Pepperdine signed in the past 15 years, according to Pepperdine Athletics. Lewis, at one point, was ranked in the top 100 recruits in the nation of the class of 2021 and had offers from Utah, Arizona State, Baylor and DePaul, according to 247 Sports.
What Makes Lewis So Special
Romar said one of the attributes that makes Lewis a unique player is his quick first step.
"You have to get up on him because he can really shoot the ball," Romar said. "But then, he's so quick with that first step he's [past] you. Now, he's using his athleticism where he gets to the rim, and he's up there above everyone."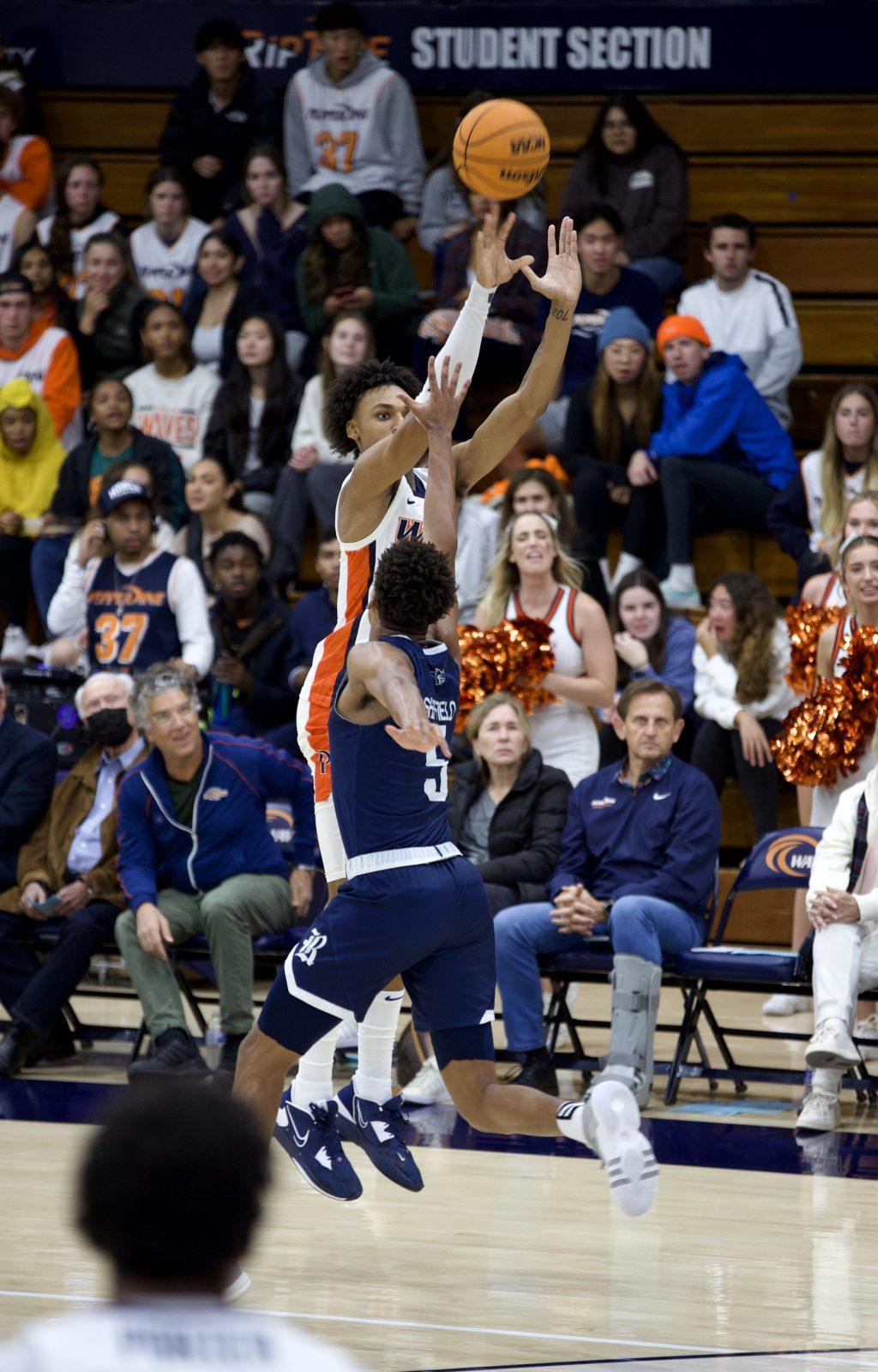 Lewis' 3-point shooting has improved from his first year to his sophomore year. In the 2021-22 season, Lewis shot 36.3% from 3-point range, but he has increased his percentage to 42.2% on more than five attempts per game, according to ESPN.
"I think one of the best aspects of his game is that he's always on balance," Christopher said. "So, he can kind of get a shot off at any point. He's very balanced on his crossovers, or when he tries to get to a spot, he's always able to find balance."
Another reason for Lewis' increased production was his health, he said. Last season, due to NCAA rules, he was unable to participate in training camp over the summer and only played in 21 games due to injuries, according to ESPN. Romar said Lewis has been able to practice, get reps and not only listen and watch but go out and do it.
"He was able to go out and make a mistake and correct a mistake," Romar said. "Because he's getting reps with other players that understand what we're doing, and he was able to learn."
In terms of making an improvement from year to year, Romar said in his 26 years of coaching, he's not seen a player that made the jump that Lewis made.
"He deserves all the credit because he watches film, and he asks questions," Romar said. "He accepts criticism and instruction. He just wants [to get better]. He has a passion for it. When you've got those traits, along with the ability that he has, he's gonna get better. He spends a lot of time in the gym. He's made himself into a player."
During the offseason, Lewis said he and Romar watched a lot of film.
"I asked a lot of questions, and I need to watch film every day," Lewis said. "We watched all the games last year, and I think that just helped me a lot, and I still do it."
Lewis said he attributes his improvement to letting the game come to him and knowing when and when not to go.
"Knowing that if I'm going to shoot a lot of shots and I have to make a lot of shots, I can't just be shooting just to shoot like I did last year," Lewis said. "I was just taking a lot of shots, so I just trusted myself and put in a lot of work in the offseason to do what I'm doing now and more."
Lewis said he doesn't model his game after anyone in the NBA.
"I play like Maxwell Lewis to be honest," Lewis said. "I don't really have anyone [in comparison]. Everyone asks me that, and I say I don't see myself like anyone else."
Christopher said he sees Lewis' ideal role as someone who is a secondary playmaker.
"The thing with his skill set is he has the ability to shoot off movement," Christopher said. "He can slash, attack a closeout. He can cut off the ball and finish a dunk and catch lobs. So, I think he's definitely an asset off the ball, kind of like the way OG Anunoby is used on the Toronto Raptors."
Romar said people compared Lewis to Los Angeles Clippers forward Paul George because of his length.
"But, I can't think of anyone," Romar said. "He's pretty unique."
Managing Expectations
With the increased hype around Lewis, Romar said Lewis has done a really good job managing expectations.
"That's one of the most difficult things a young person can go through," Romar said. "You're getting a lot of attention like this, and everyone is telling you how great you are, and everyone wants to be a part of this road to success. So, just talking about staying grounded, living where your feet are right now."
Lewis said he's staying humble and trying not to let this get over his head.
"How fast and how much [attention and success] I got – it can be taken away from me as soon as possible," Lewis said. "Just staying consistent and just doing what I did to get here, staying on that path."
Men's Basketball continues their WCC play versus Saint Mary's College on Jan. 19.
_______________
Follow the Graphic on Twitter: @PeppGraphic
Contact Jerry Jiang via Twitter ( @j_jiang30 ) or via email: jerry.jiang@pepperdine.edu