Infograph by Ella Gonzalez
Concern for Malibu's homeless population has prompted the Malibu and Pepperdine communities to offer opportunities to residents and students to help provide adequate resources, like shelter and food, for the homeless. The homeless populations of LA County, especially in affluent communities like Malibu and Santa Monica, have increased from 8,371 in 2013 to 8,688 in 2015, according to the 2015 Greater Homeless Count Results for Supervisorial District 3.
Malibu City Councilman Skylar Peak said the homeless population of Malibu is estimated between 80 and 100 individuals.
Peak said that alleviating homelessness is a big challenge for the community.
The homeless in Malibu includes transients, individuals with mental impairment, addicts, individuals who live in cars and vans, families, pregnant women and single older women who have grown up in Malibu and have always lived here, said Carol Moss, founder of the Community Assistance Resource Team (CART), a grassroots organization in Malibu designed to help the homeless community.
"By creating a little vessel, there are many local agencies that have mandates to serve the local areas, and Malibu is one of them," Moss said.
CART's inception began when Moss began emailing with the head of the Malibu United Methodist Church, Sandy Liddell, who Moss described as very "social-work oriented," to express concern about undocumented children in the area. After a series of emails, they met in March 2015 at the church and CART was born.
Peak said Malibu has taken steps to provide resources for the homeless community with programs like Malibu Homeless Connect Day, which provides medical and healthcare services, clothing, veteran services, food and shoes to the homeless.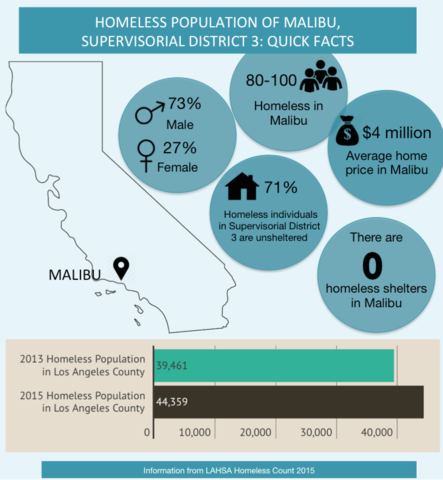 The first Malibu Homeless Connect Day took place last October at the courthouse of the Malibu Civic Center, providing resources for the Malibu homeless community. CART and the offices of Sheila Kuehl, who represents the 3rd District, which includes Malibu and Santa Monica, organized the event.
Moss said Malibu Homeless Connect Day is going to take place again in May.
In addition to the resources provided at Malibu Homeless Connect Day, the Malibu United Methodist Church also offers two dinners a week through the program Standing on Stone. Moss said the churches in the area are also working on organizing a laundromat service for the homeless.
Moss said her organization needs Pepperdine students to help with CART's efforts to serve the Malibu homeless.
Student McKayla Rosen, the hunger and homelessness volunteer coordinator and Ventura Specialist at the Pepperdine Volunteer Center, said there are many opportunities for students to help the homeless, like volunteering at Malibu Homeless Connect Day, the Malibu Homeless Count with LAHSA and Standing on Stone.
"There are significantly more services available to those experiencing homelessness in the greater Los Angeles and Ventura counties than there are in Malibu," Rosen wrote in an email.
Junior Kayla Martin, the Hunger and Homeless Coordinator and Skid Row specialist at the PVC, wrote in an email that helping the local homeless community is a great opportunity for students to learn about their community
"It's awesome to get to know the people we share our community with," Martin wrote.
While the services provided have successfully alleviated some of the problems, Peak said Malibu's lack of physical resources for the homeless is an obstacle.
"There are no physical resources in our city in terms of shelter," Peak said. "It's one of the challenges that our community faces because we [represent] a very small fraction of that large number. The city just wants to serve the most amount of people."
Moss said her organization supplements the lack of shelter with a shuttle that takes the homeless to a shelter in West LA.
Peak said the lack of shelters is his central concern.
"The No. 1 thing you can do is get a roof over their head, and then everything will fall into place," Peak said.
Housing the homeless is more cost effective than leaving them on the streets, according to a 2014 study by the University of North Carolina at Charlotte. The study found that permanent housing in Charlotte, North Carolina saved taxpayers $1.8 million by reducing emergency visits and decreasing arrest rates and the average time spent in jail.
Moss also emphasized the importance of permanent housing, saying her organization has discussed a Housing First Model.
"If you put people in safe places to live, the problems will be solved," Moss said.
Moss said even though there are no physical shelters, Malibu is still appealing to many individuals who have previously lived in the area.
"They've grown up here, spent time here, raised a family here and feel safer," Moss said.
Peak said there are also many areas in Malibu where they can dwell, including the beach next to Zuma Creek off Westward Beach Road, the area below Malibu Bluffs Park between Pacific Coast Highway and Malibu Road, and next to Trancas Creek near the shopping center. This, coupled with the rural coastal landscape and the friendly Malibu community, is why homeless individuals have stayed in this area, Peak said.
Moss said that the Artifac Tree, a thrift store that helped the homeless community in Malibu for 40 years, closed down a year ago. The Artifac Tree, which was located on Cross Creek Road, gave the homeless employment opportunities and clothing, and helped find places for them to live.
However, Moss was grateful for and optimistic about the future of the community's outreach.
"It's amazing what's happened, how much response you get. So many people have come forward in the community and have given their time and effort," Moss said.
______________
Follow the Pepperdine Graphic on Twitter: @PeppGraphic