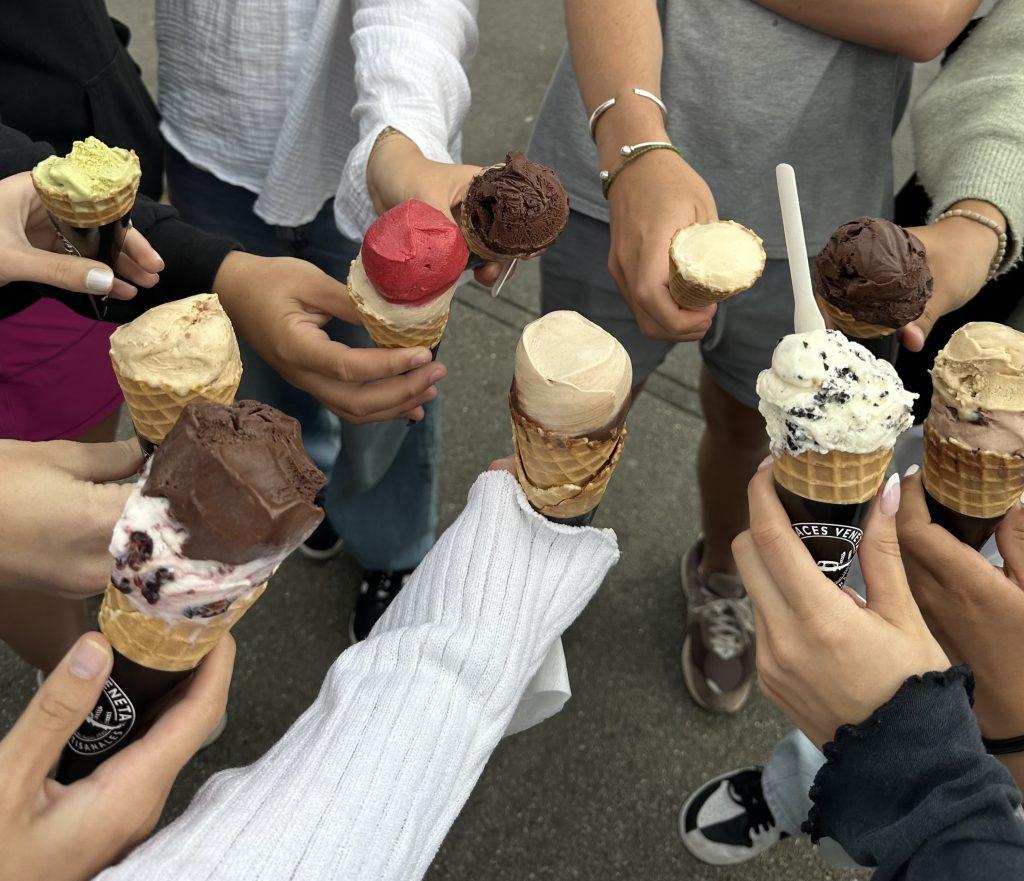 Lausanne: a picturesque gem nestled on the shores of Lake Geneva, where time seems to slow down and every corner unveils a delicious gelateria.
In Switzerland, modernity and tradition coexist harmoniously. The efficiency of the Swiss rail system is a marvel, whisking you from centuries-old towns to cosmopolitan cities with clockwork precision. Yet it's the warmth of human interactions that truly leaves an impression.
In a world attached to technology, making genuine connections can sometimes feel like a lost art. However, friendships blossomed effortlessly among the last group of students who roamed the halls of Maison du Lac.
Conversations we sparked in the cafeteria turned into late-night discussions on anything and everything. In these moments, we wove bonds of friendship.
In the heart of Lausanne, a charming gelateria became our sweet spot. Every day we would gather to indulge in the velvety embrace of gelato. Gelato is a beautiful paradox — something so cold yet so inviting.
But this encounter wasn't just about the gelato — it was about the shared experience, the collective "mmm" of delight that came with each first taste. Our gelato outings became a ritual of bonding, a daily reminder that life's simplest pleasures are best enjoyed in the company of friends.
The lush Swiss countryside and the glistening waters of Lake Geneva held more than just scenic beauty; they were reminders of the fragility of life. I took a Biology class while abroad, and I discovered a new side of life. Learning about ecology and conservation made me see the world as a delicate puzzle, where every creature matters.
The idea that we all depend on each other became clear, like pieces fitting together. It is almost as if the Earth is intertwined like vieux amis (old friends) and everything relies on something else to thrive.
I discovered a newfound purpose: to embrace the world as an endangered species itself — deserving the same care, compassion and devotion we reserve for humans.
And so, my time in Lausanne became not only a chapter of delightful memories but also a catalyst for forming a deeper connection with the world around me — or le monde qui m'entoure.
As I reminisce about those days of laughter, exploration and gelato, I'm reminded that life's true treasures lie not only in extravagant experiences but in the connections we make and the memories we create. Lausanne will forever hold a piece of my heart.
And the gelato? Well, it became a delicious metaphor for the sweetness that friends bring to our lives. Just as each flavor has its unique charm, every friend brings something special, whether it's a sprinkle of wisdom, a scoop of humor or a pint of encouragement.
___________________
Follow the Graphic on Twitter: @PeppGraphic
Contact Victoria La Ferla via email:
Victoria.laferla@pepperdine.edu or by instagram @vlf_insider