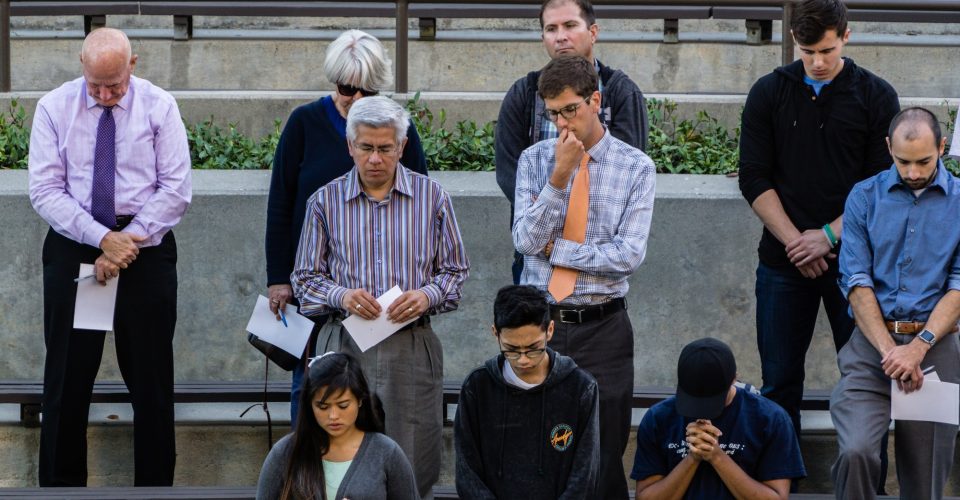 Photos by Hansol Hwang and Ashley Allen
Pepperdine faculty, staff and students gathered Monday evening to uplift those in need of healing in light of recent events, including the Las Vegas tragedy and ongoing natural disaster recovery efforts.
Pepperdine President Andrew K. Benton said a prayer at the gathering for everyone who has been affected by the mass shooting in Las Vegas, including several members of the Pepperdine community.
"We are touched by the fact that Savannah Schmidt, one of our own, lost a friend last night." Benton said. "Others lost friends last night. Cory Wills lost his best friend in the shooting yesterday. Michael Mahony, his uncle was shot in the leg and will likely lose that leg. Jenna Ruston who graduated from our midst in 2006 was shot in the back."
Benton said there are others who he was not able to name because he did not have their names.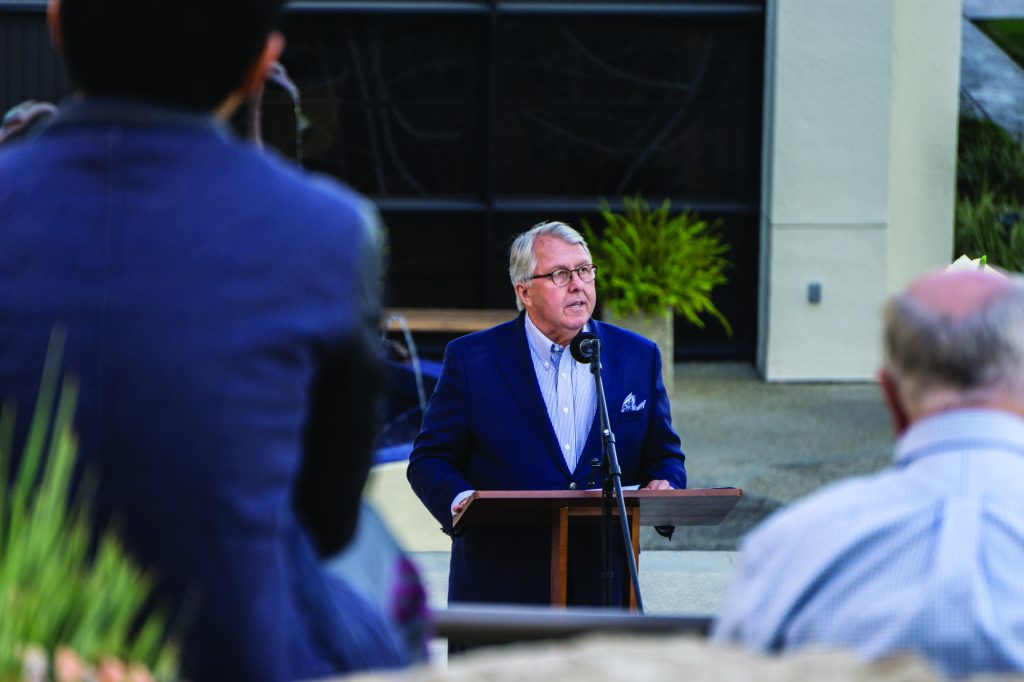 On Sunday, country music singer Jason Aldean was performing on stage when a gunman opened fire on the crowd of more than 22,000 people from the 32nd floor of the Mandalay Bay Resort, killing 59 people and injuring 527 others, Clark County Sheriff Joseph Lombardo said during a news conference Monday. Investigators do not yet know the motive for the attack.
Pepperdine alumna Ashley Allen attended the country music festival, but left before the shooting began.
Allen, who graduated from Pepperdine in 2010, said she attended all three days of the festival. She said she decided to leave early on Sunday night because she began a new job Monday morning and she had seen Jason Aldean perform before.
Allen said she left the festival around 9 p.m. then after getting home she received a text about the shooting from her friend's cousin who stayed at the concert. She said her friend who stayed behind at the concert had to shelter in place until the next morning.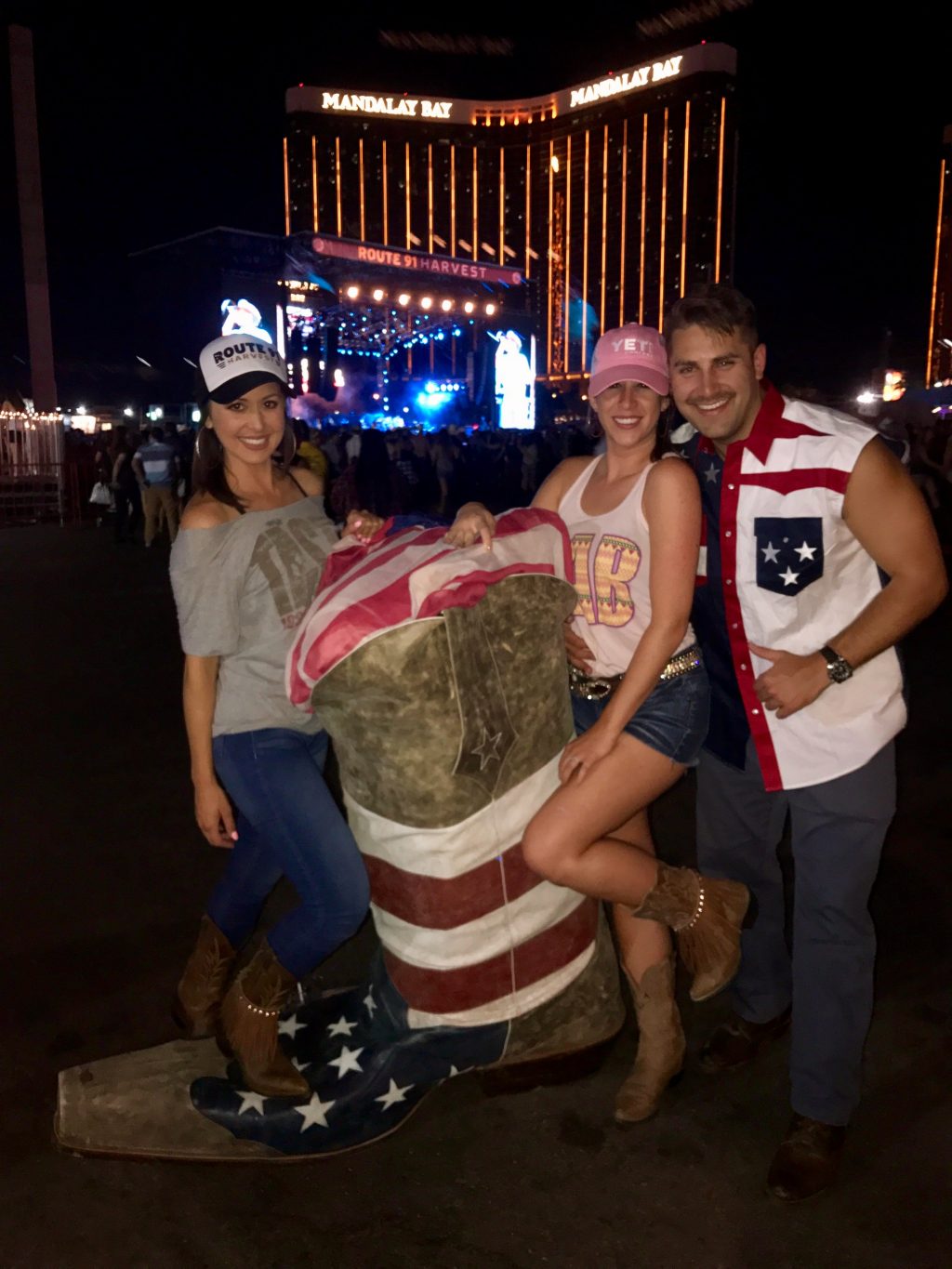 "Anyone who was on the ground hiding got stuck there overnight because it was such a fluid situation with them not even knowing where the shooter was, then finally finding him, not knowing if there was anyone else," Allen said.
Allen said the security and police working at the festival were top notch.
"Security was great at the venue itself," Allen said. "When you went through the metal detectors, there were people even feeling your boots to make sure that you didn't have something in your cowboy boots."
She said she was shocked that the festival ended with the tragic event because the whole weekend went on without a hitch and she had a great time at the festival. She said no one could have planned for what happened.
"I was shocked that it ended that way, but I was not shocked that it was someone outside of the festival because honestly, I met so many great people that weekend," Allen said.
Pepperdine Chaplain Sara Barton encouraged attendees at the prayer gathering to read, listen and pray the Psalms when they are grieving and not sure what to do.
"They give us words for times like this when we feel like we are in a hole, or a trench, or a pit or a ditch that we cannot get out of on our own," Barton said.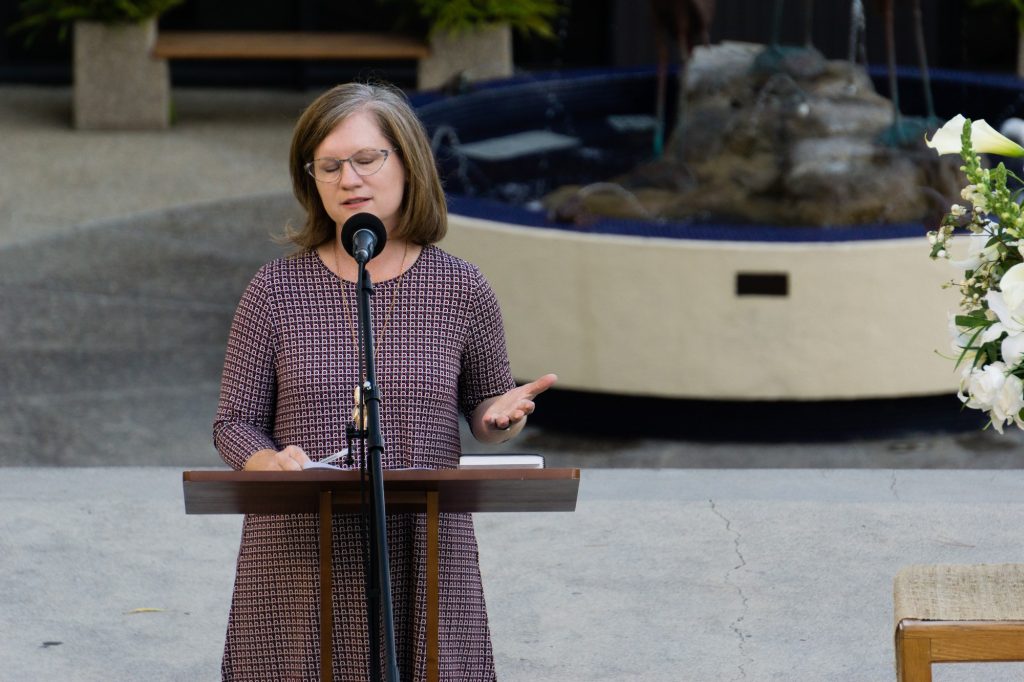 Benton told the audience that this is a time when thoughts need to be articulated and expressed. He said he believes it is important for people to speak with others about their feelings during times of hardship.
"One should not bottle this up," Benton said. "I learned a long time ago about the value of conversational prayer. I can go to quiet places and I can say anything I need to God. There is something therapeutic about that."
Junior Valentine Douglas who attended the prayer gathering said he believes everyone is looking for love.
"I think everybody, victims as well as the shooter, is looking for hope and community and love and just screaming for that in different ways," Douglas said.
Douglas said he hopes the recent event will bring people closer to those around them.
"I think what we can definitely do is pay attention to your neighbor and honor, respect and love those around you," Douglas said. "Tomorrow is not guaranteed for any of us so hold people close and love people but also people who are lost and looking for someone to show them the love of God and walk with them."
The Dean of Seaver College Michael Feltner and Vice President of Student Affairs Connie Horton sent an email to students Wednesday to let them know that Pepperdine is prepared for an active shooter situation.
"For years, we have partnered and trained with local and federal law enforcement to be well-prepared to intervene immediately in the very highly unlikely event that a shooting incident would occur at Pepperdine," the email said. "Many in our community, including Public Safety officers, faculty and staff have received specific training."
Anyone who is concerned about an active shooter situation is encouraged to visit the university's emergency website emergency.pepperdine.edu for tips on how to respond to an active shooter situation. Anyone who sees or hears anything suspicious should call the Department of Public Safety at (310) 506-4411 or use the LiveSafe app to report their concerns.
Feltner and Horton also reminded students that they should feel free to reach out to any faculty or staff member when they need support or just want to talk. Students can also contact the Pepperdine Counseling Center at (310) 506-4210 or Office of the Chaplain at (310) 506-4275.
_____________
Follow Bryce Hanamoto on Twitter: @bryce_moto