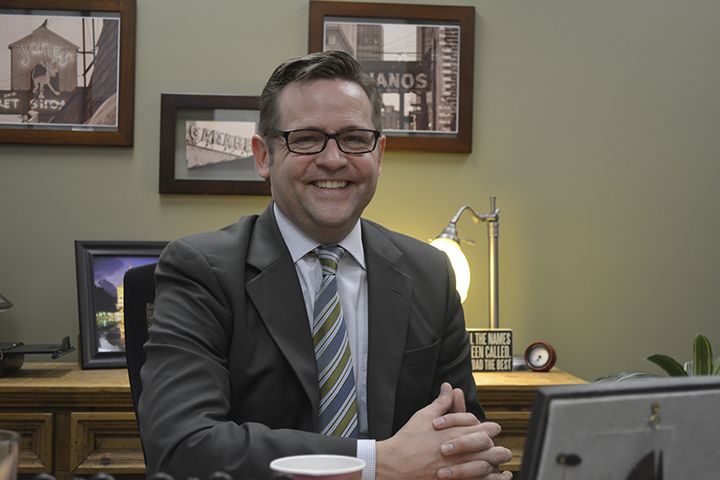 Photo by Esther Kang
Lance Bridgesmith is the newly appointed associate vice president of planning, operations and construction and of the Department of Public Safety. He graduated in 1999 with a law degree at Pepperdine University's School of Law.
"What is beautiful about this is that this is like coming home," Bridgesmith said. "This is a homecoming for me and my wife."
Bridgesmith worked for the university at the general counsel's office and with regulatory affairs as a student worker during law school. He decided then that he wanted to work at Pepperdine instead of pursuing a more "traditional legal track." But before returning to the university, he worked in Tennessee for the district attorney's office, the attorney general's office, the felony division in the district attorney's office and in the state attorney general's office before running a private corporate and transactional law practice for 15 years.
"God had something different planned for a time," Bridgesmith said.
Bridgesmit described working here at Pepperdine as a result of God's graciousness.
"It's as if in looking back there had been some loose strands of thread," he said. "They were great experiences, but what does working in the DA's office have to do with the corporate law practice? What does being chairman of the board of a nonprofit health clinic that oversees in providing services in mental health and clinical care to uninsured folks have to do with each other? I began to see God tightening those loose threads and a pattern beginning to emerge, tightening the weave and then all of a sudden there is reason for all that."
Bridgesmith said it is God's graciousness to use many of his experiences to bring him and his wife back to a place that is dear to them.
"I get to contribute to the mission of this institution and the service to this student population and fostering the next generation of folks who are going to impact this world greater than any generation before," Bridgesmith said. "What a gift."
Bridgesmith voiced his plans for both departments.
"My determination is to stand on the backs of giants because there has been great work done before me," Bridgesmith said. "There's great leadership and great teams already in place right here, so part of me is very intent on not messing that up."
Bridgesmith said there will be a lot of future plans for construction on campus, and though he is not able to disclose what these projects will be, he said everything at the top of the list is all about the students.
For DPS, Bridgesmith said he will be joining in the ongoing quest for improvement and excellence.
One of the changes, Bridgesmith said, include the DPS officers in new class-A uniforms.
"The air of professionalism that they carry physically in their appearance is matched by the level of professionalism with which they interact with others, so we are going to continue to grow our excellence in that," he said.
The people working in DPS and planning, operations and construction are some of the highest servants of this entire campus, Bridgesmith said.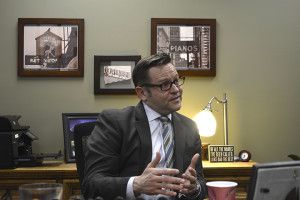 "They are selflessly serving the needs of others by maintaining a level of excellence and care," Bridgesmith said.
Bridgesmith started his undergraduate journey at Abilene Christian University, also affiliated with the Churches of Christ, in Abilene, Texas. He studied English Literature and minored in Public Service, Greek, Biblical Studies and History.
At Abilene, Bridgesmith met a man by the name of Ronald Phillips, the current dean at the Pepperdine School of Law.
Bridgesmith said he had hesitations about going to law school, but his encounter with Phillips gave him clarity.
"Meeting Dean Phillips was a pivotal time for me," Bridgesmith said. "[It] helped me realize that there is a nobility to the profession that a lot of people don't see because of the stereotype of lawyers. It … helped me kind of come to terms with that decision for me."
Bridgesmith said he went to law school not for the money or prestige but to be a counselor.
Bridgesmith said he served that role with his friends and his family, and he enjoys understanding situations and people well enough to help them achieve their objectives and become better along the way.
The counseling element of practicing law defined that nobility, Bridgesmith said.
"A lot of times as a lawyer, you have access and you may have power and persuasion but you're not smarter than anyone," Bridgesmith said. "But you may have special access to knowledge about a certain thing, and … am I going to serve others with that or am I going to just use that to elevate myself?"
Bridgesmith said that though it may seem ironic, "a transactional and corporate practice really provided a number of opportunities to help put things together and build things on the front side the right way. I really enjoy building things and growing things and putting things together and improving processes … It's a lot of strategic thinking and a lot of forward thinking and a lot of planning."
Bridgesmith said he gets to use his past experiences in his role here at Pepperdine. He uses his investigative background and knows how to put a case together. He also knows how to lead people, counsel businesses in organization, mobilization and strategic planning.
"Some people would think this is a big left turn or just a crazy move," Bridgesmith said. "[But] when you are led by faith and you are called and God has you in His hand, what might look nonsensical to someone else, can create the steady hand of confidence that I have about His leading and the decision that we made."
"So it was a big deal to leave the private practice of law; that's a pretty big investment of 15 years and clients and relationships and networks and relationships with your partners and developing younger attorneys."
Bridgesmith said he did not leave his practice lightly. He said he was thankful for the gift of the opportunity.
"The appreciation I have could only be matched by my thankfulness for the opportunity to return my life as an offering as a service and thanks to that," Bridgesmith said.
__________
Follow the Graphic on Twitter: @PeppGraphic