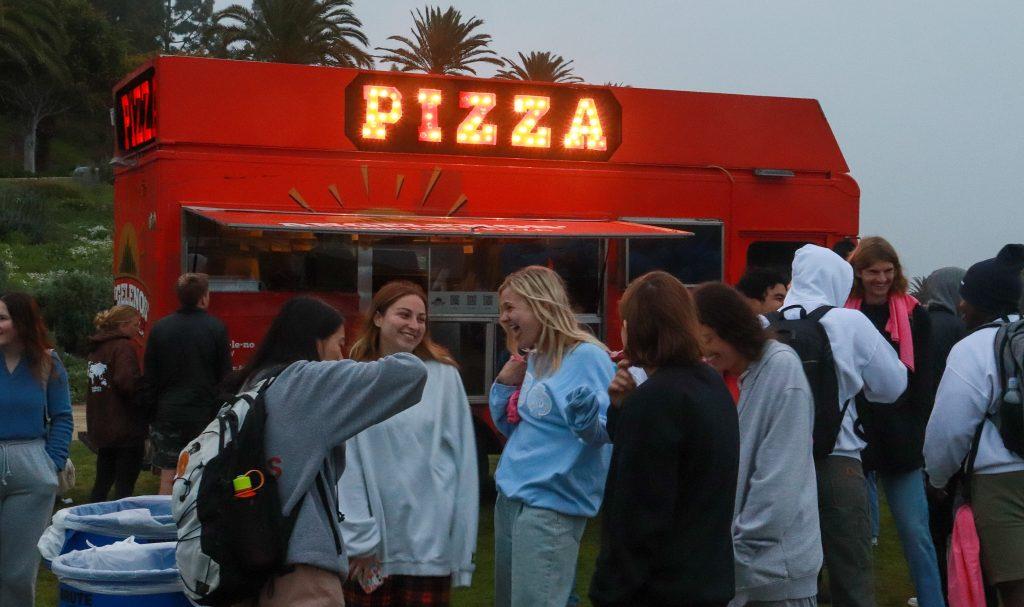 Angeleno's Wood Fired Pizza truck sits on Alumni Park at the SWAB's Recess event with glowing lights March 13. Students waited for their fresh pizza while talking with friends. Photos by Denver Patterson
As semester tests and projects are in high swing, the Student Wellness Advisory Board (SWAB) hosted Recess — an event of fun activities including an inflatable obstacle course, and food and game trucks at Alumni Park on March 13.
SWAB hosted Recess for students, faculty and staff. The event's theme is reminiscent of recess in elementary school. SWAB members said the event was intended to give students a break from their busy schedules and classes.
"This event actually falls under our healthy minds branch," SWAB Healthy Communities Ambassador Kaitlin Gartrell said. "And so we're really focusing on the mental health of students and how sometimes having fun and kicking back can really be good for your mental health."
The total attendance count for Recess was 278 people, said senior Sierra Moses, co-president of SWAB's Healthy Minds Branch. During the planning stages of the event, the SWAB team prepared for a high attendance number.
"This is probably one of our bigger events and so a lot of time and effort went into planning this and making sure that it was as fun as possible for everyone," Gartrell said.
SWAB focuses on promoting wellness within the Pepperdine community, according to Pepperdine's website. Recess specifically aimed to help with students' mental health.
"The purpose of this event is really to help students relax amidst midterms and busy schedules and just have fun like a kid," Gartrell said.
Taking place from 5 to 8 p.m., Alumni Park was full of students socializing with friends while they ate, played games and participated in hands-on activities throughout the park.
"It's a lot of fun things that can bring people together," junior Philip Young said. "I've met a few people that I didn't know before. So I would say overall [there is] great community building."
The three video game trucks invited students to play popular games including Super Mario, Super Smash Bros, Just Dance and Wii Sports. Besides these games, SWAB members were seated at tables and led more activities.
"We also have different little events where we're doing face painting, temporary tattoos, coloring books and bracelet making," SWAB Healthy Minds Ambassador Sydney Wilson said.
When students entered Alumni Park, SWAB members scanned them in and handed out pink T-shirts for everyone to take home. Pink and purple food tickets allowed attendees to grab a slice of Angelenos' Wood Fired Pizza or a hot dog from Berlin Truck and a Happy Ice snow cone.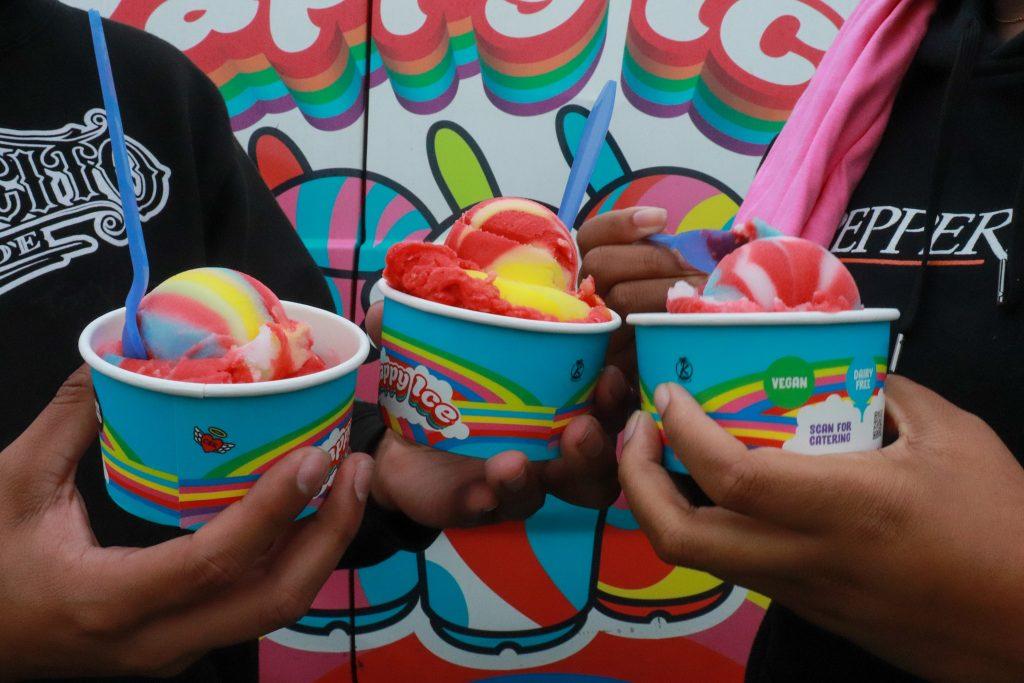 Recess was originally scheduled to take place March 10, but Wilson said due to rainy weather, members moved the date to March 13. Even though it was not raining the day of the event, it took place on a foggy, cold day. Senior Serena Woon said the weather may have held more students back from attending the event.
"If it was advertised more, or there was just better weather period, I feel like it would have been a huge hit because it's so much fun," Woon said.
______________________
Follow the Graphic on Twitter: @PeppGraphic
Contact Jackie Lopez via email: jacqueline.lopez@pepperdine.edu