DJ Kevin Romar poses for a picture at Firestone Fieldhouse on Sept. 2. Romar said he started DJing 10 years ago and got a job with Pepperdine Athletics through his uncle, Men's Basketball Head Coach Lorenzo Romar. Photos courtesy of Kevin Romar
DJ Kevin Romar, age 34 and a native of Long Beach, Calif., first rose to fame as a professional skateboarder, touring internationally and appearing on skate videos, such as, "This is Not a Test," where he displayed his iconic Nollie 360 trick.
He'd eventually establish himself as a DJ as well, leading him to DJing at several events, including at Pepperdine.
"I started DJing about 10 years ago," Romar said. "Then one thing led to another where people found out that I'm a pro-skater. They're like, 'A pro-skater is DJing. Take them to this club, and we'll get his people to come here.' I kind of dove in head-first with DJing without knowing the experience of DJing clubs and stuff like that. It was a learning process."
Four years ago, as Romar mixed beats during events at Firestone, senior Asher Witham, galvanized by Romar's music, made a lasting impression as an enthusiastic and particularly energetic member of Riptide — Pepperdine's student cheering section. Witham is now the current head of Riptide.
Romar is an essential component of creating the environment that Witham and his fellow Riptide members hope to work toward.
"My freshman year I was known as the dancing guy," Witham said. "It's huge in cultivating a culture and a community where everyone feels like they have a place and everyone can get excited and have fun and just feel welcome."
Witham said Romar is an essential part to keep people engaged — he has an ability to keep things fresh and consistently high-energy. In addition to this, Witham said he feels a sort of connection with Romar due to the intersection of their duties.
"DJ Romar is always very clutch and definitely makes an awesome environment," Witham said. "Without that, the energy might die. But, DJ Romar keeps it fun, keeps it hype."
Romar said he is able to bring a special attribute to the games, elevating the experience for all. Through this, he said he is able to engage fans at Pepperdine and foster a positive atmosphere during sporting events.
"DJ Romar and I don't necessarily talk a whole lot outside of this, but it's been cool to cultivate a cool work relationship and be a part of a team with him like that," Witham said.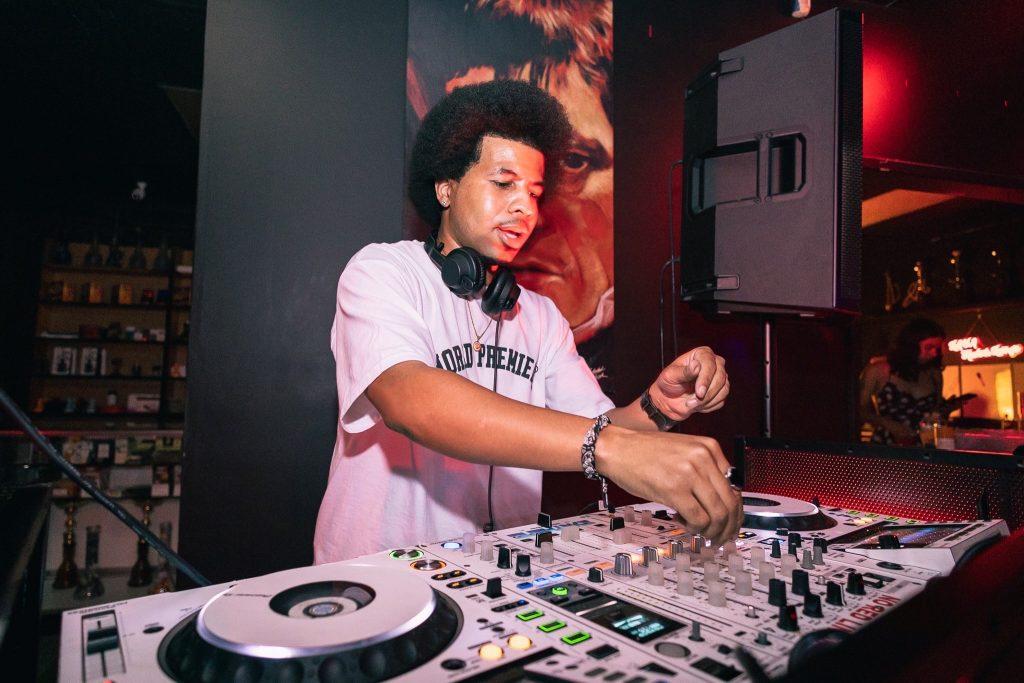 Romar said he went on to DJ at several clubs and bars in Hollywood, which eventually led to him making contacts within the field. Romar said eventually, his consistent performances and flair caught the eye of Billboard-charting rapper Hopsin, which allowed him to get his foot in the door.
Romar's DJing for Hopsin— along with touring with other notable artists, such as Ludacris and B.O.B — solidified his status as a DJ, Romar said.
"I couldn't just tell [the skate community], 'I am a DJ now,'" Romar said, "I just kinda had to show them that this is what I like to do on the side."
Along with performing sets at various locations — including Pepperdine athletic events — Romar has produced and collaborated on several projects, including the track "Goat," which Romar released two years ago in collaboration with artist Ponzoo.
Romar said he got involved with Pepperdine athletics through his uncle — Men's Basketball Head Coach Lorenzo Romar.
"They didn't have a music program going on for the games, it was just kind of one person just pressing play on a computer or something [along those lines]," Romar said. "They were looking for a DJ, and my uncle knew that I DJed and he was like, 'Hey I'm going to recommend you to Pepperdine, and see if they're down to hire you as their DJ.' And they're like, 'Yeah, we're looking for a DJ and you would be perfect.'"
Since then, Romar said he continues to keep audiences hungry for more during athletic events at Firestone.
"I always like to get people guessing, like, 'What's he going to play next?'" Romar said. "That's where I like to shine, is showing people my music caliber [in terms of] of what I have is just so much music that could blow you away."
Equipped with a decade's worth of sets and samples to add flourishes, Romar said he enjoys supplying a musical set that accents what is happening in front of their eyes.
"Definitely take them on a journey," Romar said. "Especially when it gets really intense. That's where I think I shine the most is when it's so intense. A volleyball game may be like 23-23, the last set I'm playing the most intense stuff."
Romar said he finds himself creating mixes and playing songs in real time as he composes a set that acts as a soundtrack to life itself. Much of Romar's DJing relies on the energy of students and fans.
"That's all I'm doing," Romar said. "Since they have me facing off the court, I can't see behind me where the students are sitting. I can just hear things, so I'm trying to generate the energy [based off] hearing things, how people are screaming at the game. I really get off that."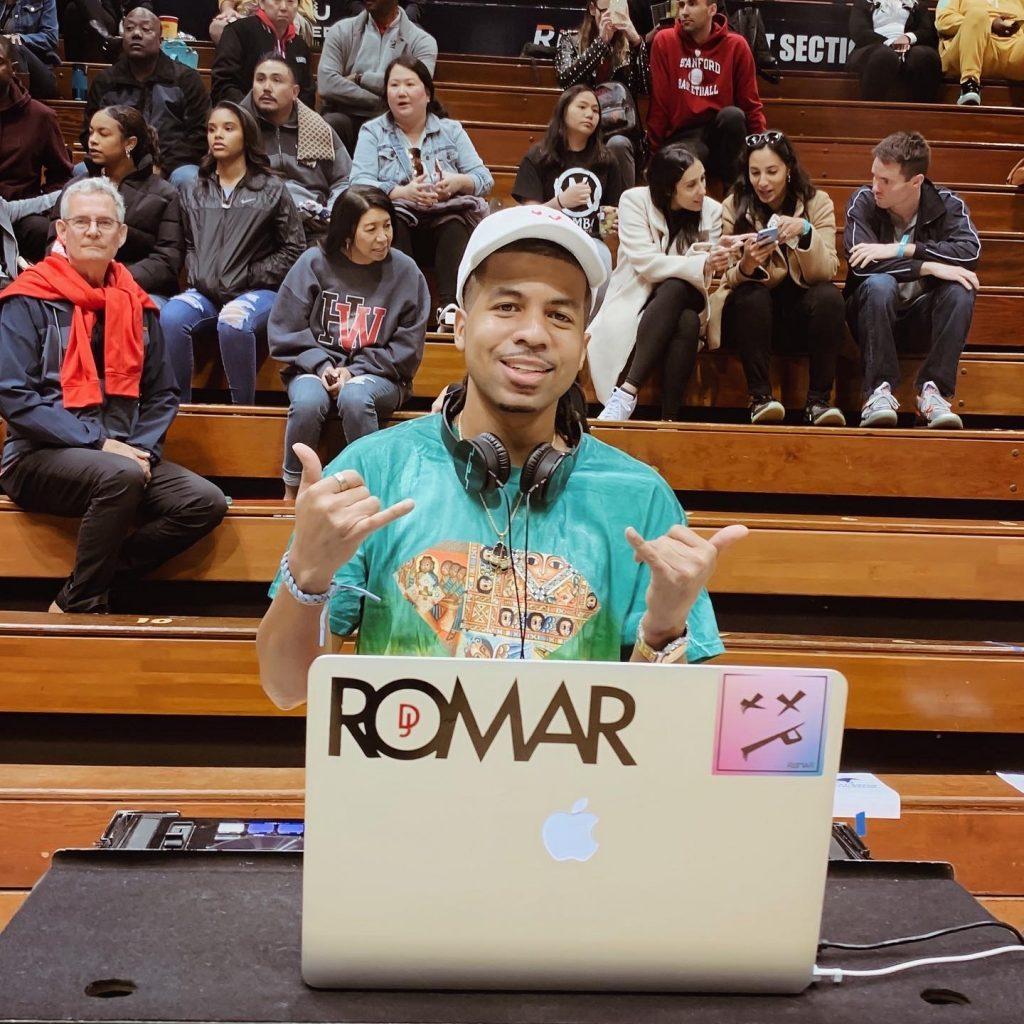 Witham said he felt the energy of the crowd through Romar's selections as a DJ. He has more than a few favorite out of Romar's mixes. Romar said he uses the energy of the crowd.
"Usually one that's very popular is something that was popular a little bit ago, usually if it's something that we listened to," Witham said. "The one that always makes me get hyped is 'Jimmy Cooks' by Drake."
Witham said there's something special about sports — the throng of the crowd cheering on resolute and determined players.
"I've always believed in sports' power to bring a community together," Witham said. "What's special about collegiate sports, and particularly Pepperdine, is we have such a tight community outside of sports. [My goal is] to bring that community here into sports and sort of make it a better all around experience."
His ability to do that is something he takes pride in, Witham said. It's something Romar also said he takes pride in. That, along with his overwhelmingly positive attitude, is something said he shares with Romar.
"Just focus and pay attention to what really makes you shine," Romar said. "Don't pay attention to the negatives, they don't last for so long, you can always change the outcome. You have to stay positive within yourself and really know that the grass is greener on the other side and just keep pushing, because life is too short to stay negative and all those things, so staying positive is key within yourself."
While Romar said he recognizes it's not an easy thing to do constantly, he likens it to a discipline. Similar to how he once would spend upward of four hours filming at a single location to get the perfect shot for a trick, Romar said one must discipline oneself to keep pushing and know things could be positive.
Romar said this philosophy extends outwards from skateboarding and DJing, to a universal outlook on life itself.
__________________
Follow the Graphic on Twitter @PeppGraphic
Contact Max Pohlenz via email maximilian.pohlenz@pepperdine.edu