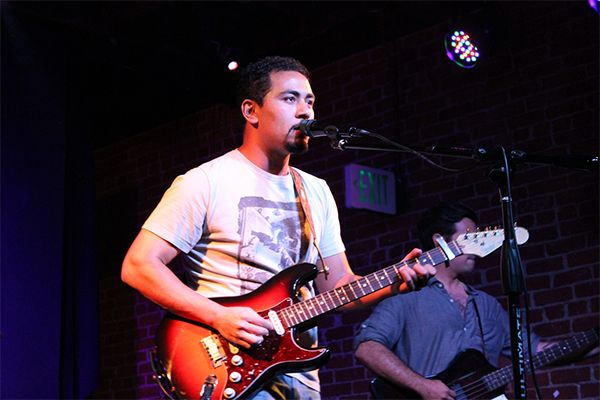 Photo Courtesy of Justin Ibrahim
Palmdale, Calif. graced the music world with All4One in the 90s, Afroman at the beginning of the millennium and now Justin Ibrahim.
Ibrahim is a musician, songwriter and 2008 Pepperdine graduate. Driven by relationships and connecting with others, Ibrahim said his alternative rock style provides melodic tunes that are "accessible to the people." Music and songwriting is something Ibrahim said he has been drawn to, and he loves the pictures words can paint.
Looking back, Ibrahim recalls how Palmdale has not only produced musical legends, it has also provided him with a childhood full of memories with his sister and music.
"My sister and I got along really well, which is a different experience than other people," Ibrahim said.
Laughing at the memories, Ibrahim described his sister as the alpha while he played the role of the dreamer. The two siblings were confidants, friends and even performing partners. Ibrahim's first performance was a talent show where he and his sister performed a piece from the 1986 animated musical, "An American Tail." This musical about a mouse and family who immigrate to NYC is one of the earliest memories Ibrahim has about enjoying the art of performance.
Scattered talent shows and piano lessons got Ibrahim involved with music, but it wasn't until his mom bought a guitar at a garage sale when he was 14 years old that Ibrahim realized his connection to music.
"I just started playing it and I haven't put it down since," Ibrahim said.
One of the first instances where Ibrahim put his songwriting to the test of an audience was his freshman year of high school when his crush, Anna, was moving to Mexico. The support he got for being courageous and singing that song was the first time Ibrahim realized "what's going on in [my] head and [my] heart is also something that brings people together."
The reward that connection brings to Ibrahim has continued to motivate him today. Ibrahim said he finds inspiration in many things: a simple sentence from an old friend can lead to a huge and profound foundation. Something that may not be significant to others can be the "key to something I've been thinking about for a long time."
"The foundation to how I write songs is through relationships … with God and with other people," Ibrahim said. This sense of connection can make art more powerful when life experiences are shared.
Today Ibrahim enjoys a full-time job at Pepperdine while also producing music on the side. Ibrahim started his career with Pepperdine as a student, walking up the many stairs and gazing at the beautiful sunsets just like the rest of us. According to Pepperdine's directory, his title is Senior Client Technologies Analyst in the IT audiovisual department. He may spend most of his time in the "tiny little dungeon" also known as the basement of the Sandbar, but he also is a program coordinator with HRL.
Working with the Light House, a sophomore themed dorm, has given Ibrahim the chance to play music with students, build relationships and express it all through lyrics and song. Knowing that "relationships and connecting with others" is what drives Ibrahim, the gain he receives from working with HRL is one he looks forward to continuing.
Enjoying a break from "the dungeon," Ibrahim and his friend, musician Ian McCarter, set off for London Tuesday, where they are excited to check out the music scene the city has to offer.
Music and adventure in London may lead to the musicians occasionally grabbing open mic opportunities, Ibrahim said. If the streets of London are lucky, audiences may be able to hear songs from Ibrahim's first album, "Daybreak," released January of last year.
His album is a great expression of Alternative Rock that creates songs to belt out like "Rochester," but also has the classic emotional ballads, which can be heard in "Raindrops." Some of the songs in his album, such as "A Lesson Lived is a Lesson Learned," remind me of my middle school and early high school days when "All Time Low" filled the car.
Intentional about the layout of the album, these songs have more depth than just good sound. Ibrahim said the first half expresses emotional hardship and anger, while the second half redeems these emotions by finding peace and revelation. The tone in his music and the progression of emotion in "Daybreak" help listeners relate to the different phases relationships can go through and feel affirmation in life's journey, which is what Ibrahim said he was hoping for.
At the moment Ibrahim is holding off on formal performances and is instead shifting his focus to songwriting. By entering a "season of songwriting," Ibrahim hopes to continue writing songs people can resonate with.
Don't confuse this break with a lack of passion for performing, however; Ibrahim said he just enjoys songwriting more at the moment. He said he has been selling some of his lyrics lately, and when people ask him why he doesn't sing them himself, he shares how he believes that "as long as the song is being portrayed in a genuine manner" he is okay with someone else singing it.
Knowing that Ibrahim is driven by connection, works with students at HRL and is a songwriter, he is a resource for musicians looking to produce music with someone. While Ibrahim is going through a "season of songwriting," he said it is always a treat to jam with students who are interested in "sharing songs, journeys and experiences."
For those who happen to lack musical talent but still appreciate the art, check out Ibrahim's work — it's worth it. All it takes is a simple click to visit his website, justinibrahimmusic.com, and listen to a few songs while browsing the rest of the site. And if more is what you desire, take a trip to iTunes to buy his album, "Daybreak."
_____________________________________________________________________________
Follow Ashlie Benson on Twitter: @ashlie_corina