Photos courtesy of Pepperdine University
Joline Gash began her role as the first lady of Pepperdine in August and has since settled into a constant whirlwind of getting to know the community.
She first came to Pepperdine as a junior transfer student and graduated from Seaver College as a Biology major in 1992. Since then, Joline cannot seem to stay away from Pepperdine.
"The thing that has kept Jim and I so involved with Pepperdine is the mission of trying to prepare young men and women for lives of purpose, service and leadership," Joline said, smiling.
President and husband Jim Gash, who graduated from the Pepperdine School of Law in 1993, returned as a professor in 1999. Joline came with him and began hosting Bible studies and plugging into the campus church. Her support for her husband soon turned into a support role for the entire university.
Joline holds her diploma upon graduating in 1992.
Joline's Commitment to Students
Joline said the main function of her role as first lady is to be there for the students.
"It's been three decades of that commitment to [Pepperdine's] mission," Joline said. "When we started as students, we really felt that we had people pouring into our lives and helping us find our way. So when we had the opportunity to come back and serve that role, we took it."
In addition, she said she hopes to host people who come to campus, be an ambassador when traveling and promote helpful organizations for students. Her current project is promoting the Pepperdine Resilience Program, a campaign that focuses on helping students prepare to face challenges.
"I decided that focusing on our student's health and wellness would be an area where it was natural for me, with my background as a teacher and in biology," Joline said. "I had just seen the struggles that my students were having, and an increase in anxiety and depression."
Through hosting students at Pepperdine for the past 20 years, Joline said she saw an increase in anxiety, depression and loneliness among college students. She met with the Student Wellness Advisory Board and Connie Horton, vice president for student affairs, who are collaboratively spearheading the project.
She said the goal of the project is to help students understand how to deal with struggles in a positive way.
"Pepperdine does a great job of helping students that are in crisis," Joline said. "We have our Counseling Center, our student care teams, and other areas in the chaplain's office. But we also want to help our students learn skills so they're ready before [these struggles]."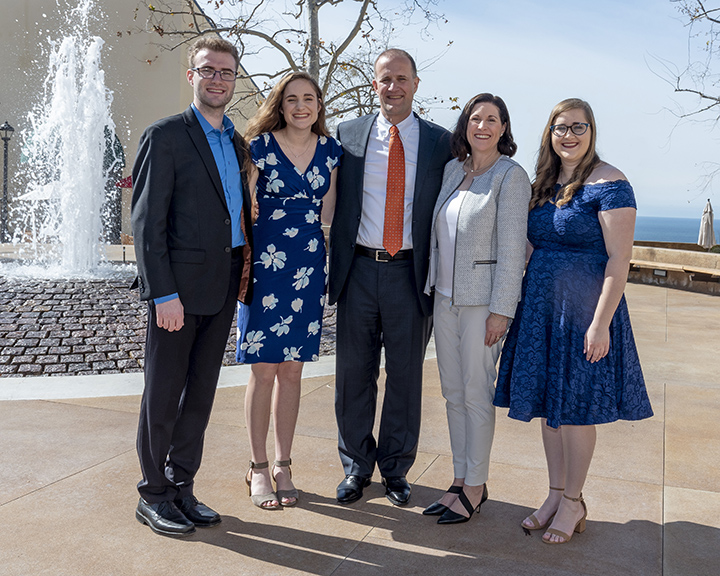 Joline stands with President Gash and their three kids Jessica, Joshua and Jennifer.
The Making of a First Lady
Joline said that she experienced many struggles growing up.
"The reason I think resilience is so important is because I've had to develop that in my own life," Joline said. "Coming from a broken and blended family, those are some challenges that I went through that definitely shaped me."
She was the first person in her family to graduate from college, which she said made the navigation process difficult.
"Coming as a first-generation student had its own challenges and financial stresses that I had to figure out," Joline said. "There's just been a lot of times in my life where I've had to be willing to ask for help."
Having transferred from Abilene Christian University to Pepperdine her junior year, Joline said she understands the importance of developing the ability to ask for assistance when needed, whether it be related to financial, family, mental or health problems. She said she hopes that having been through these challenges herself will help her to support students.
Joline said she regards Pepperdine as a character-building place.
"Jim and I are who we are because of Pepperdine," Joline said. "We were shaped by this community. I really feel like Pepperdine has raised us in a way."
Fortunately, Joline said their background here has made her and Jim's transitions into their new roles seamless.
"We're doing the same kinds of things we were doing before," Joline said. "But on a much larger scale and at a faster pace, of course. It's been a really fun and rewarding experience."
However, she is not going through the transition alone. One of Joline's closest friends, Lucy Perrin, was the first lady at Lubbock Christian University for seven years. The two friends hosted Bible studies together and raised their kids alongside one another while their husbands were professors at the law school.
"She's such a wonderfully gracious, hospitable woman," Joline said. "I learned a lot from watching her as the first lady."
Joline said she visited Perrin in Lubbock when her husband was inaugurated. Now, Perrin has come back to Malibu and is supporting Joline during the period leading up to Jim's inauguration.
Joline said she wouldn't necessarily call it a dream come true, but it has created a special bond between herself and Perrin.
"It was just us following the call," Joline said. "God was leading us. But we spent a really important part of my life together for many, many years and to have her back at this particular time has been a huge blessing."
Passion for God's Creation
Joline said she has strengthened her faith through her love for nature and science.
"The reason I wanted to study science was because I see God in the creation," Joline said. "The more I studied science, in high school, college and as a teacher, the more I learned about God's creation and the more I could see God. It's really been encouraging me."
One of the things she said she appreciates most about Pepperdine's location is how accessible nature is.
"I love watching the waves and thinking about all the animals that are below the water that we can't even see," Joline said.
Her love for nature inspires her to take frequent walks on the beach. Joline said if she is not somewhere on campus, she is most likely by the ocean.
"Yesterday I was walking along the beach," Joline said. "I saw two dolphins pop up out of the water, and I saw the pelicans diving down in the water — that just brings me joy."
Pepperdine is the perfect intersection of her passions for God's creation and for students, Joline said. To take the role of mentorship here is an incredible honor.
"I can't think of anything more important in helping shape our future generation," Joline said. "I mean, you guys are the ones who are going to go out and change the world."
__________________
Email Vernie Covarrubias: vernetta.covarrubias@pepperdine.edu