Shanghai Program Director Charlie Engelmann and his family celebrate the Chinese New Year in Malaysia in January. During their trip, Pepperdine suspended the Shanghai program, the first time in International Programs' history.
Photos courtesy of Charlie Engelmann
In most parts of Shanghai, life returned to normal. Restaurants filled with diners, movie theaters packed with viewers, but the Pepperdine Shanghai Jia remains devoid of students.
Shanghai Program Director Charlie Engelmann recounted his experience leading the first suspended International Program, quarantining in the U.S. for seven months and planning his family's careful return to a city where most lives are normal except his.
"As directors, we do this job for the students first and foremost, and not having that direct access to investing in students takes away a huge aspect of meaning in my life," Engelmann said. "I'm craving for that to come back, probably more than anything; but I know we need to do it in the right way."
A Seaver alumnus (2001) and former Heidelberg program participant, Engelmann credits studying abroad his sophomore year as the catalyst for his career in international education.
"I fell in love with learning about other cultures and experiencing places that were different than what I was accustomed to," Engelmann said.
After graduation, Engelmann took a teaching opportunity in China, only planning to live abroad for a couple of years, but ended up teaching for seven because he loved it. Engelmann then moved back to the States for five years to work and to complete his master's degree when the Shanghai program director position opened, bringing him back to Pepperdine.
"I believe in Pepperdine's mission, I believe in International Programs — especially how transformative it can be — and to help support that as the program director was a dream come true," Engelmann said.
Sending Shanghai Home
The Shanghai spring 2020 program was the first International Program to ever be suspended in IP's 57-year history. Engelmann said the University pulled a team together in January to assess COVID-19 as it first impacted central China, posing questions about the viability of keeping students in Shanghai.
Ultimately, Pepperdine decided to pull program participants from Shanghai.
"There were a lot of questions about that from the students, and I empathize with where they were at about whether it was legitimately a concern in Shanghai and whether we should have waited a little longer," Engelmann said. "But I think everyone has since looked back and said, 'Yeah, it was the right decision.'"
The suspension happened during the program's two-week travel break for Chinese New Year, a national holiday in which Chinese citizens receive a seven-day break from work. Few students remained in Shanghai during this time, Engelmann said.
Engelmann wasn't even in Shanghai at the time of the suspension; he was with his wife and three kids visiting family in Malaysia. Engelmann and Shanghai staff scrambled to help students leave China, booking flights and making last-minute plans. Engelmann took a one-day trip to Shanghai to gather some belongings, and then he and his family flew to the U.S.
"Malaysia is a tropical place; I literally didn't have a pair of long pants — it was just shorts and flip flops — so I came back to get proper clothes, grab a few important documents," Engelmann said. "At that time, we weren't sure how long this thing would be — maybe it would be a month, maybe two, we didn't know."
Pepperdine required students to return to their permanent addresses to quarantine for two weeks prior to coming back to Malibu to finish the semester. Engelmann and his family, at the urging of the University, also made plans to finish the semester in Malibu. The Engelmanns spent the two weeks in Seattle, where Engelmann is from, prior to moving into faculty housing on campus.
Life in the U.S.
The Shanghai cohort experience wasn't meant to end with the return to Malibu, Engelmann explained. IP understood students' loss and tried to make up for it through alternate Shanghai-only programming, such as a weekend trip to Catalina.
"I was going to help the Shanghai students continue to have a significant group experience together, just in a new context," Engelmann said.
Shanghai participants spent only a month on campus, however, because the University closed March 14, forcing students to return home again.
Engelmann and his family booked a flight to return to Shanghai after, but China closed its borders March 28 and suspended all foreigners' visas. Unable to return home, the Engelmanns moved to a house in Oregon.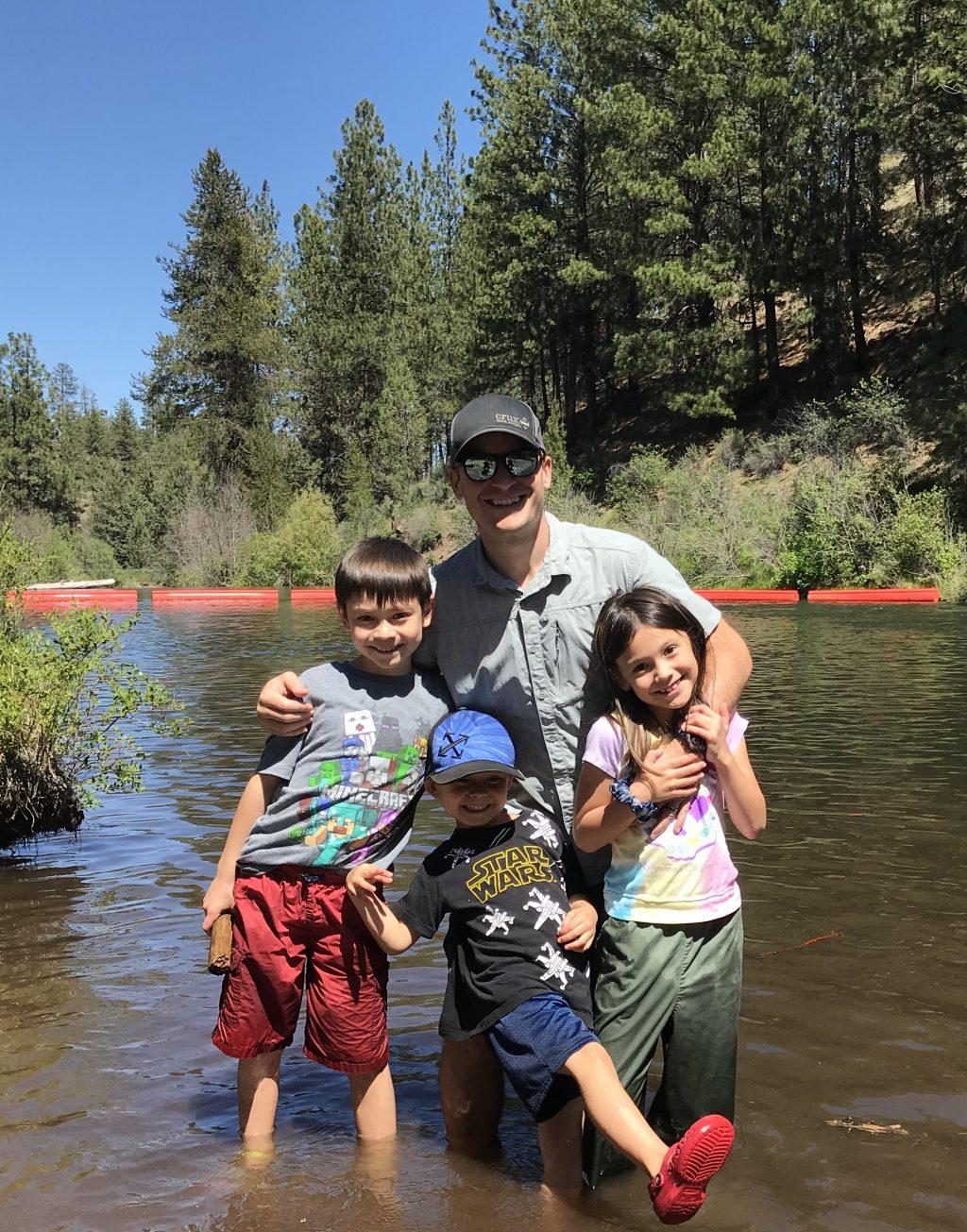 Being in quarantine was difficult, Engelmann said, from homeschooling three kids with his wife to being away from home for seven-and-a-half months.
"That took a toll on us," Engelmann said. "Even though we had great situations in Malibu and in Oregon, we wanted to be back to the place that physically we connected to as home."
China reopened a special visa process for foreign workers in June, allowing the family to reapply for entrance. Engelmann and his family returned to China in late August.
Life in Shanghai
In Shanghai, the other program staff adjusted to remote work and a lack of students as well as new COVID-19 regulations. Restaurants and schools closed in March, and a mandatory mask policy was in place in public spaces, but there was no stay-at-home order, Engelmann said.
"There was a period — mainly in February and probably early March — where everybody was having sympathy toward the staff members in China," Engelmann said. "That pivoted quickly as things got under control there and they were concerned about us in the U.S."
As case numbers dropped in China and rose in the U.S., the Shanghai staff did their best to support Engelmann and his family; Program Coordinator Gigi Zhang even offered to send masks during the PPE shortage in March.
"I think there was a perception at one point that things were apocalyptic in China," Engelmann said. "They never were, especially in Shanghai, and in many ways, it was handled really, really well here [and] continues to be."
In returning to the city, Engelmann's family faced strict re-entering procedures, he said. Engelmann took four separate COVID-19 tests during the visa reapplication process alone.
Upon arrival to Shanghai, the family received additional tests and spent a night in a hotel room in quarantine. Because they were a family with young children, the Engelmanns received transportation to return home and quarantine there for 14 days. They weren't allowed to leave their home under any circumstances, and a nurse came by daily to take temperatures and check for virus symptoms. At the end of the 14 days, they received a QR code allowing them to leave their house and travel freely throughout the country, Engelmann said.
"At that point, there's a confidence you don't have COVID," Engelmann said. "In that confidence, you can see people live life normally."
Churches and schools have reopened, Engelmann said; there is no social distancing, and only in few instances, like riding in taxis or using public transportation, do people wear masks.
Looking Forward to the Shanghai Program
Despite Shanghai's suspension, Engelmann and his staff are taking advantage of this time to improve the program and hope for students returning soon.
"This has given us the opportunity to do a lot of long-term things we otherwise never have the time to do during the normal craziness," Engelmann said.
Engelmann is developing a well-being curriculum, he said, focusing on students' mental and spiritual health to help develop resilience and give meaning to their life — all key components of the abroad experience. In the meantime, however, he misses the energy of students in the Jia.
"This place feels so dead," Engelmann said. "And so sad
— quiet without students around. Gosh, I miss that a lot."
Associate Director William Wu, Academic Assistant Mona Chen and Zhang continue to work, Engelmann said, but faculty and other staff have found employment elsewhere for the time being.
Engelmann remains in contact with Pepperdine students, reaching out to future program participants and answering questions for applicants. One of the biggest questions for students revolves around spring semester, Engelmann said, much of which depends on safety concerns from the University.
"Right now, students still can't get visas to come back to China, so that's really the main hurdle," Engelmann aid. "Once we're over that, we can ask some of these ancillary questions."
____________________
Follow the Graphic on Twitter: @PeppGraphic
Email Ashley Mowreader: ashley.mowreader@pepperdine.edu