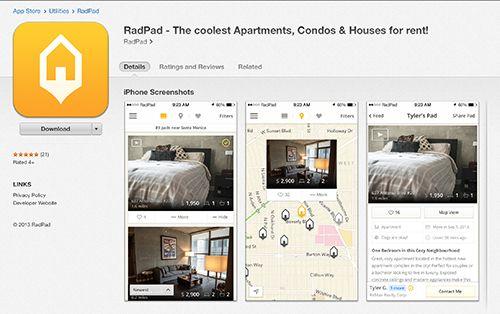 Photo Courtesy of the Apple app store
Apartment hunting can be a chore; a monotonous, stressful and time consuming affair that feels more like a job than the exciting prospect it should be. Jonathan Eppers is looking to change that by introducing a new way for people to find the ideal place to live.
Eppers is the Founder and CEO of RadPad, the first ever photo-based mobile renting marketplace service and app for apartment hunters and sellers that's aiming to change the way people buy and sell apartments.
"I knew it had to be mobile. I knew it had to be fast. And I knew it had to be photo based," said Eppers, who launched RadPad this January. Eppers came up with the idea for RadPad while searching for an apartment of his own. Disillusioned by the amount of work needed to browse and research multiple listings, many of which lacked sufficient visual photos of the properties, Eppers decided to develop RadPad as a fun, simpler and more convenient way for people to house hunt.
What makes RadPad different from its competitors is its focus on providing visual listings. Every listing on RadPad is required to have a minimum of three photos, and according to Eppers, the average number of photos for listings on RadPad is nine.
"You can't lie with a picture…and if you have at least three it's much harder to cover up the things that may scare off a renter." RadPad also allows listers to upload videos, providing potential renters with a visual tour of the listing.
RadPad even allows for apartment hunting on-the-go, using the GPS capabilities of smartphones to locate nearby listings viewed on an interactive map. Eppers hopes this will allow users to visually scour a city for listings or to cruise through specific neighborhoods or districts that appeal to them in person and then easily track down listings nearby.
RadPad takes the authenticity of the listings provided through their service very seriously, and makes contact with each user who posts a listing through RadPad to verify their information and ensure that the listing is legitimate. Verified users are then marked with a badge, allowing renters to know they are dealing with a verified lister. Potential renters and apartment listers are also able to directly communicate with each other through RadPad's quick message feature, allowing them to ask questions and set up walkthroughs on the fly.
Eppers has likened the development approach taken by RadPad to that of other rising tech companies that appeal to the young adult demographic, including Instagram and Snapchat, in that they want to create a visual, interactive and socially driven experience that makes the process of apartment hunting less of a drag and more of an exciting prospect.
"I want people to open RadPad and I want them to feel good, I want them to feel optimistic, and I want them to feel like they will find the place they want to live and have fun doing it."
Eppers believes that the nature of RadPad and its community has allowed for a user-driven curation of listings, ensuring that high-quality properties are featured through the service.
RadPad originally began as a listing service for the greater Los Angeles area. The service is continuing to grow, and has expanded to more cities across the United States including Chicago, Boston and San Francisco.
RadPad is available free of charge, and can be accessed online at www.onradpad.com or downloaded as an app in the Apple App Store, with plans to launch an Android Marketplace app in the near future (Android users can still access RadPad through their smartphone or tablet web browsers). For more information and to get updates on RadPad, follow them on Instagram @OnRadPad or Twitter @RadPad.
_____________________________________________________________________________
Follow Breanna Grigsby on Twitter: @Bre_Louise
Follow Chirag Patel on Twitter: @cbpatel86
As published in the Nov. 7 issue of the Pepperdine Graphic.